If you already have Membership Portal Account as an registered Volunteer
Follow the Link:
https://portal.specialolympics.ca/
and Login to your Portal Account
Step 1 – Portal Email and Password
Select Login from Portal Home screen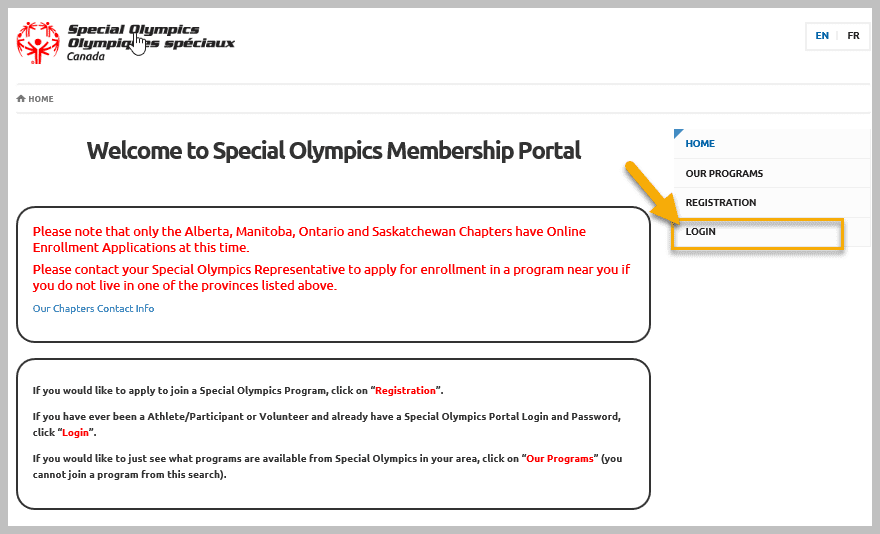 Enter your email address and password you selected when you created your account and click Login button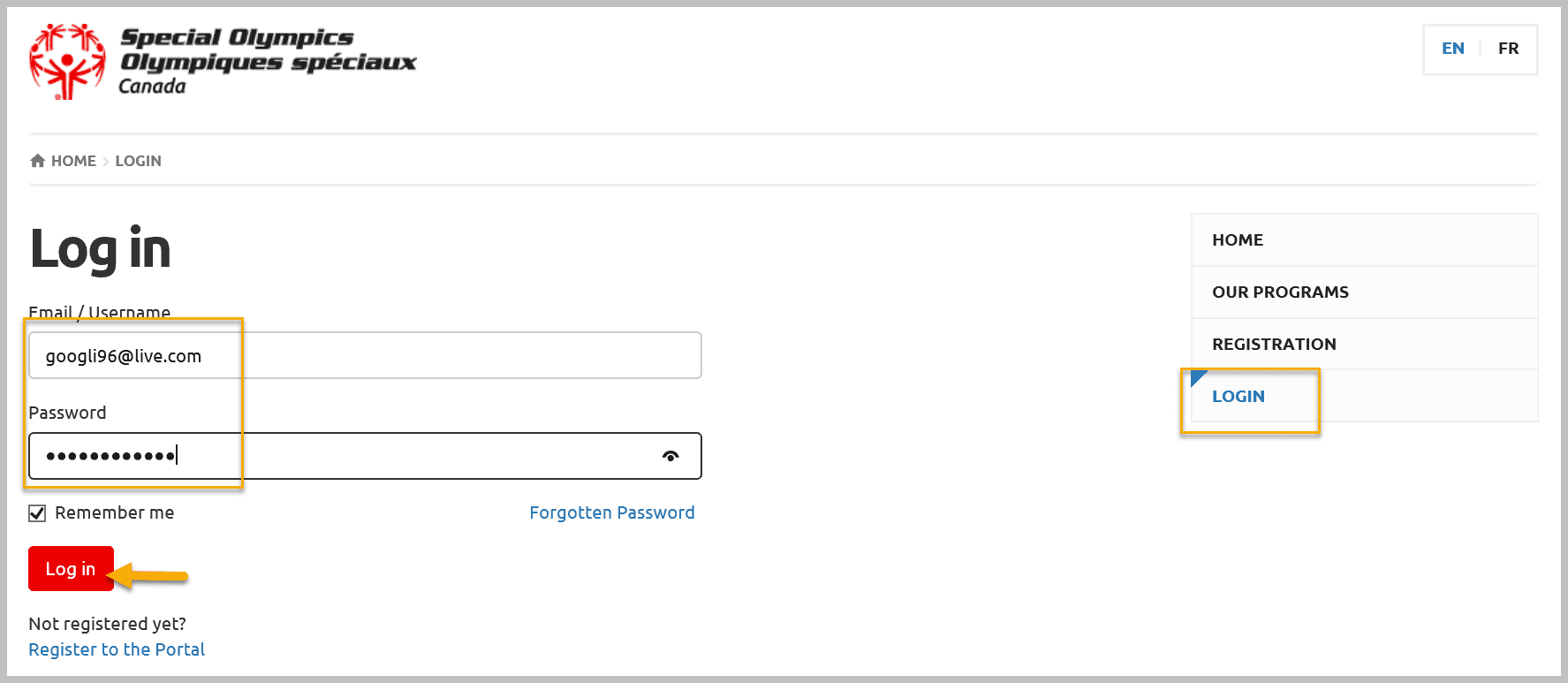 If you do not have Membership Portal Account as an registered Volunteer
Follow the instructions to create your portal Account:
Portal Account Creation Instruction
After login/account creation, new window will open which will be your Landing Page with list of buttons on the right (Blue menu). Default button will be My Roles
Note: You will see your Role in Volunteer Roles Window only if you have Active enrollment in any club. If all of your enrollments are Expired, Volunteer Role Window will be blank
Step 2 – Select your Role
After login, Select your Role by clicking on Continue in Volunteer Role Window to see more options (Pink menu). (Until you select a role, you will only see the "My" account links on the right which every account holder sees – Blue menu)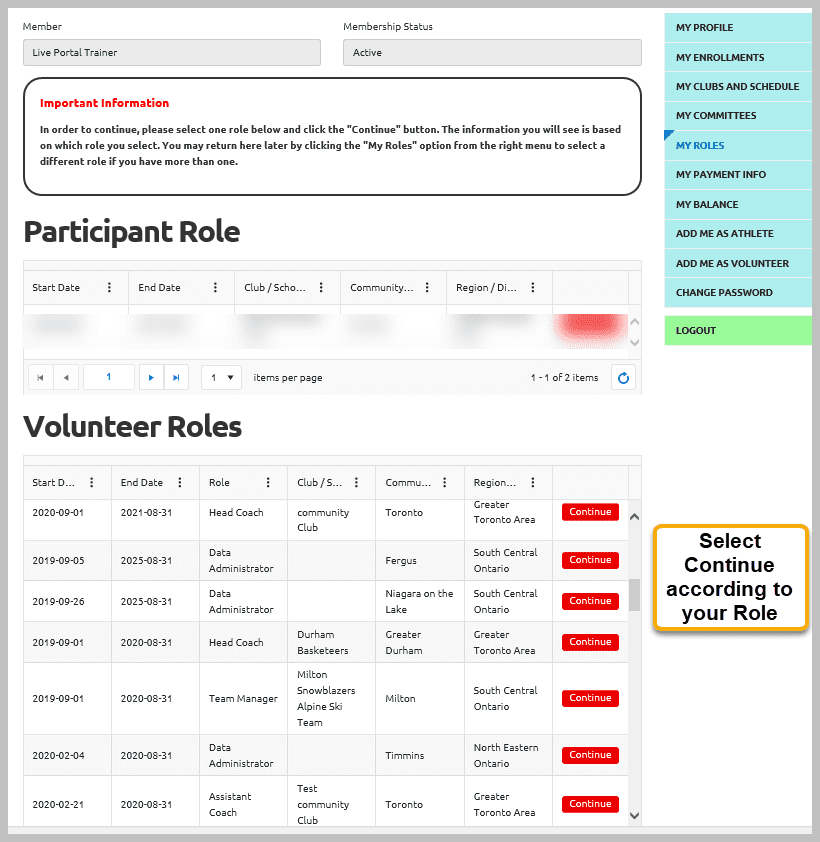 Instructions for

Blue Menu

Only
My Profile
From Landing Page, select My Profile button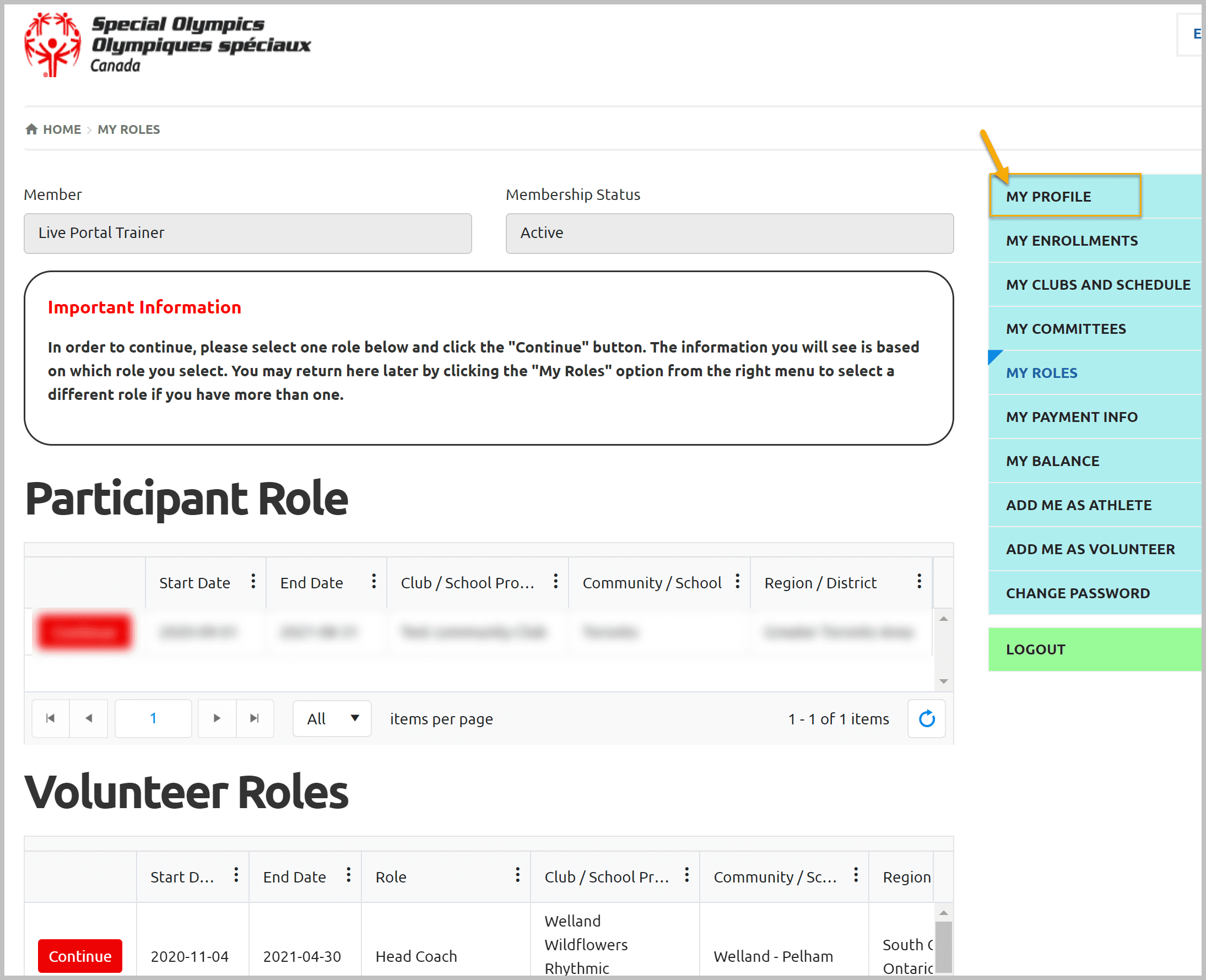 My Profile detail window, with multiple tabs across the top will pop up. Select the tab you wish to view/update your information on.
Profile
Profile is default tab. View/Update your information.
To Upload your Police Check, click Add in Criminal Record Check Information section. For full instructions, follow the link below:
After updating information click Submit button at the bottom of the window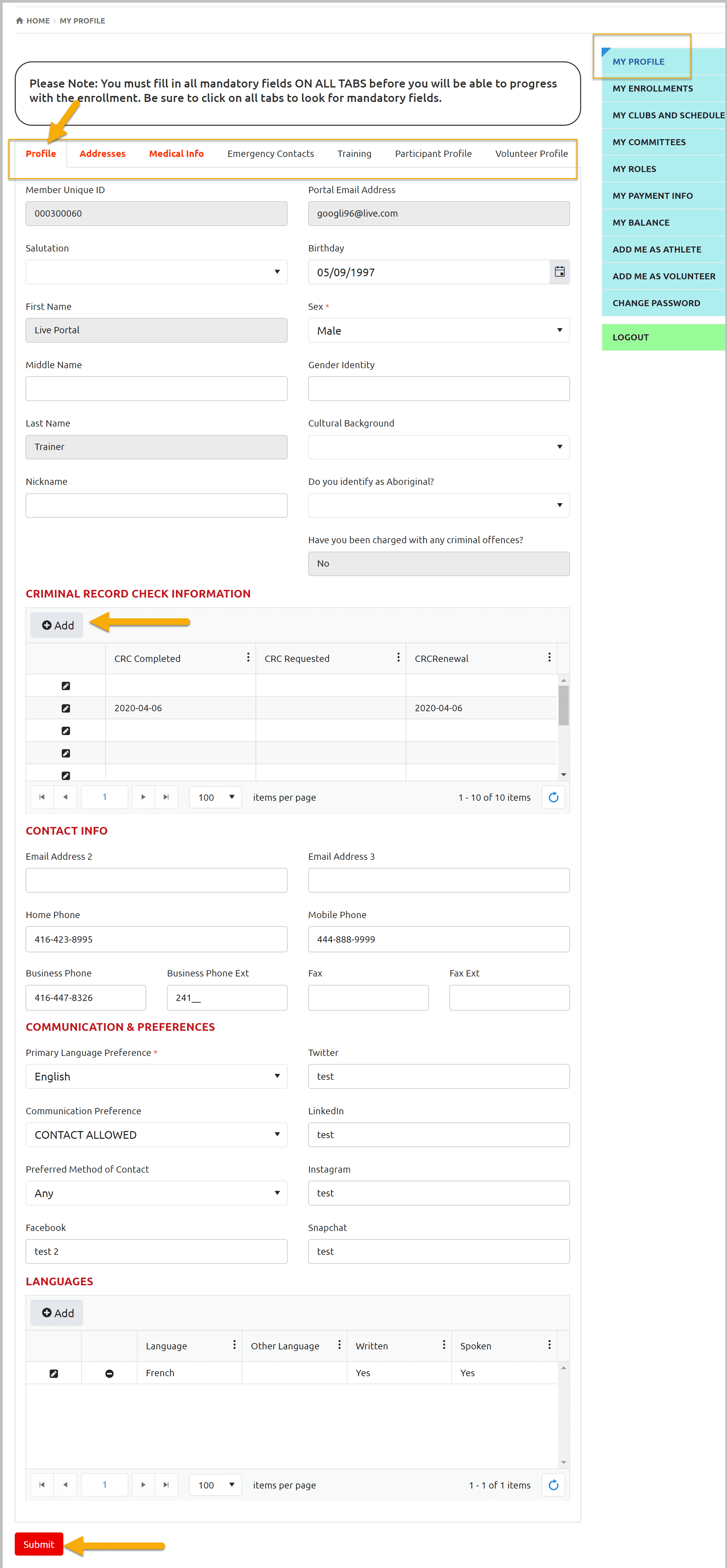 If you are only viewing the information and not changing it, you can move to another tab without clicking the Submit button
Addresses
In address tab, you can enter Primary & Secondary addresses. Review/update this info and then move to next tab.
Note: Primary Address is mandatory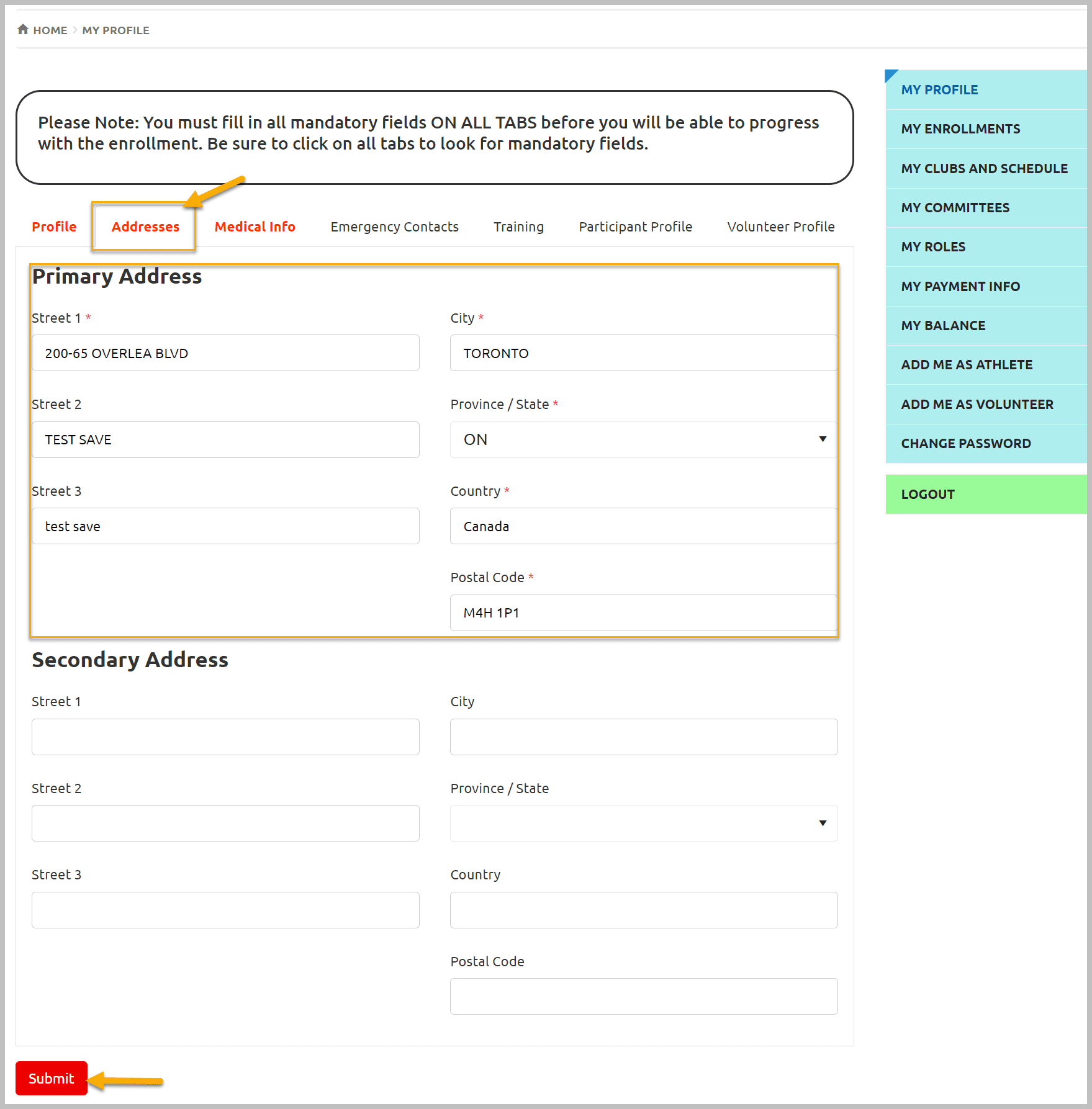 Don't forget to save by clicking Submit
Medical Info
Review / Update medical info. You can upload any medical form like medical history /medicine chart form by clicking on Add in Medical Forms section. To get full instructions follow the link: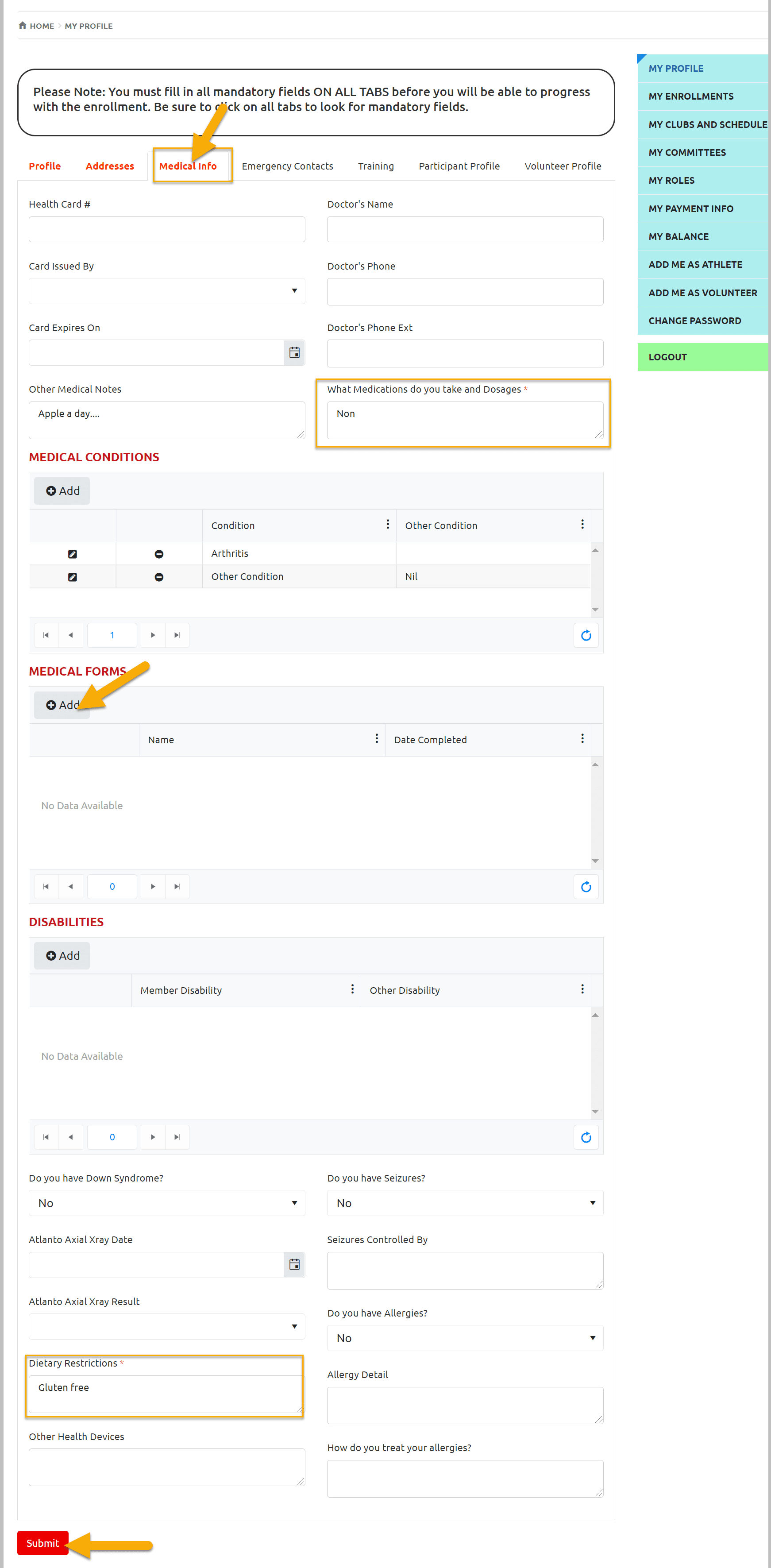 In Medical info, two fields are mandatory. ​
You will not be able to proceed further if they are blank.
Click Submit to Save updates
Emergency Contacts
Review / update your emergency contact info.
To review info for already registered contact, click on Edit button beside the name of Emergency Contact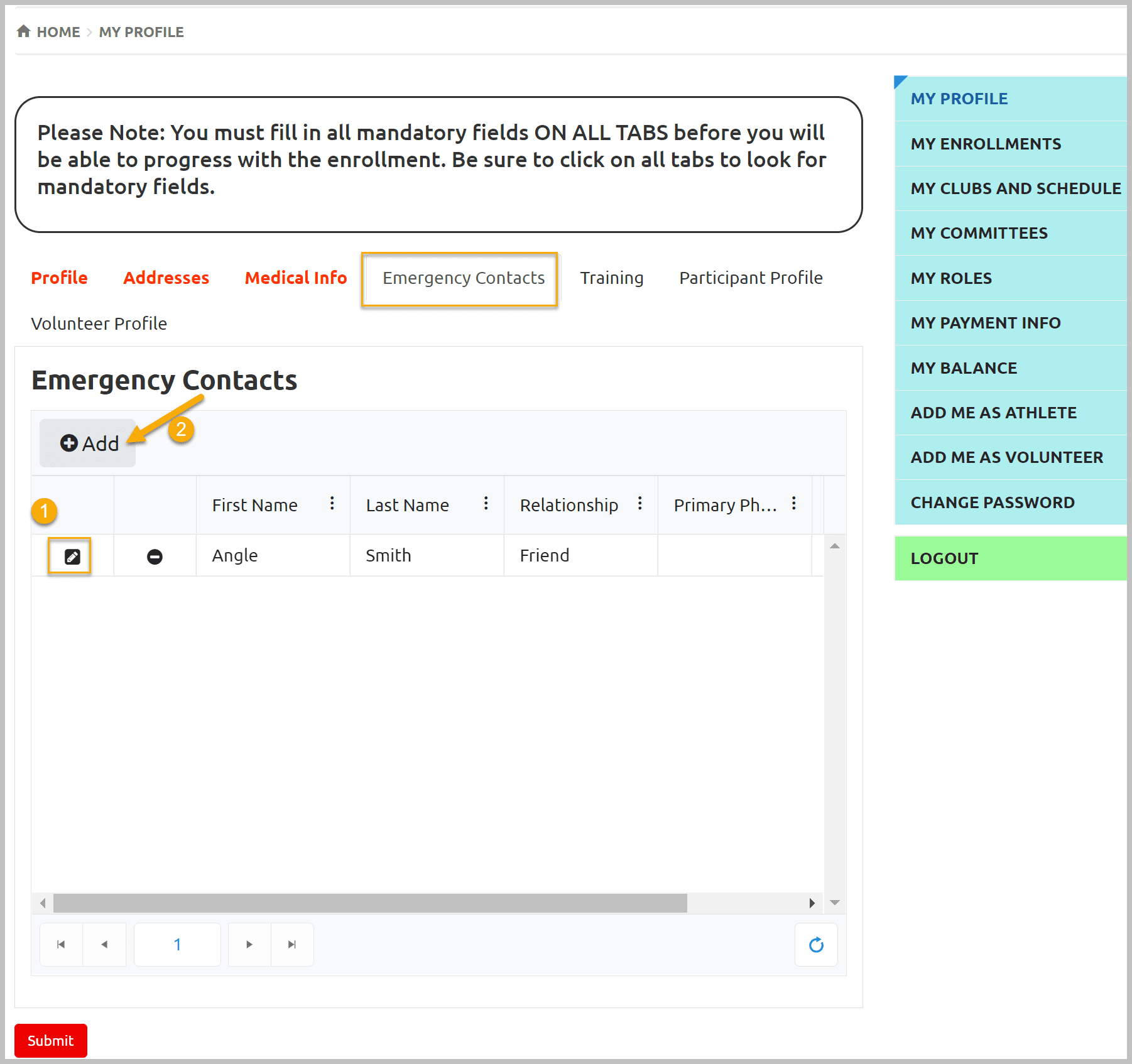 A window with full detail will pop up. After reviewing EC info, click X to exit this window. If you have edited any information click Submit to save the changes.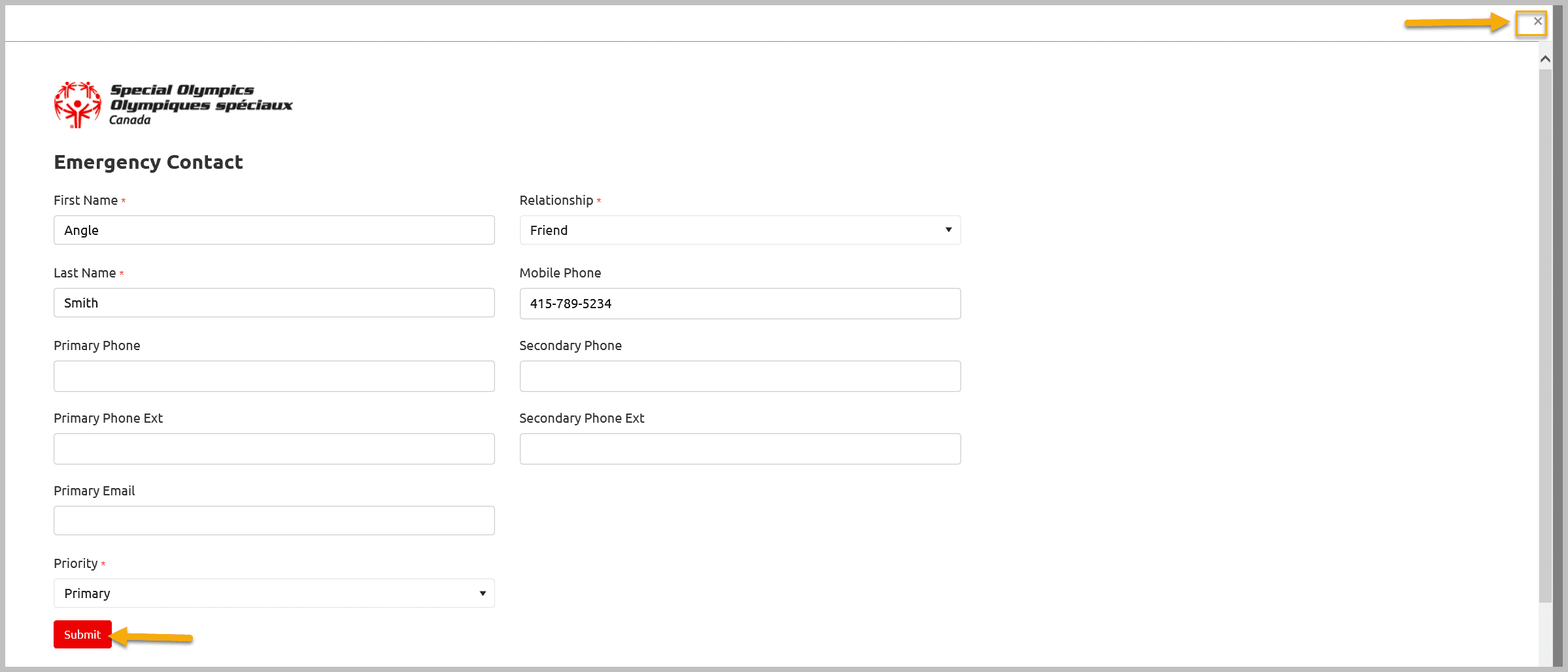 You can add new Emergency Contact by clicking on Add button provided in Emergency Contacts Window.
A new window will pop up. Fill out all Mandatory Fields and other appropriate information and Submit to save the the information. After review/update move to next tab Member Training 
Note: First & Last Name, Relationship and Priority fields are mandatory.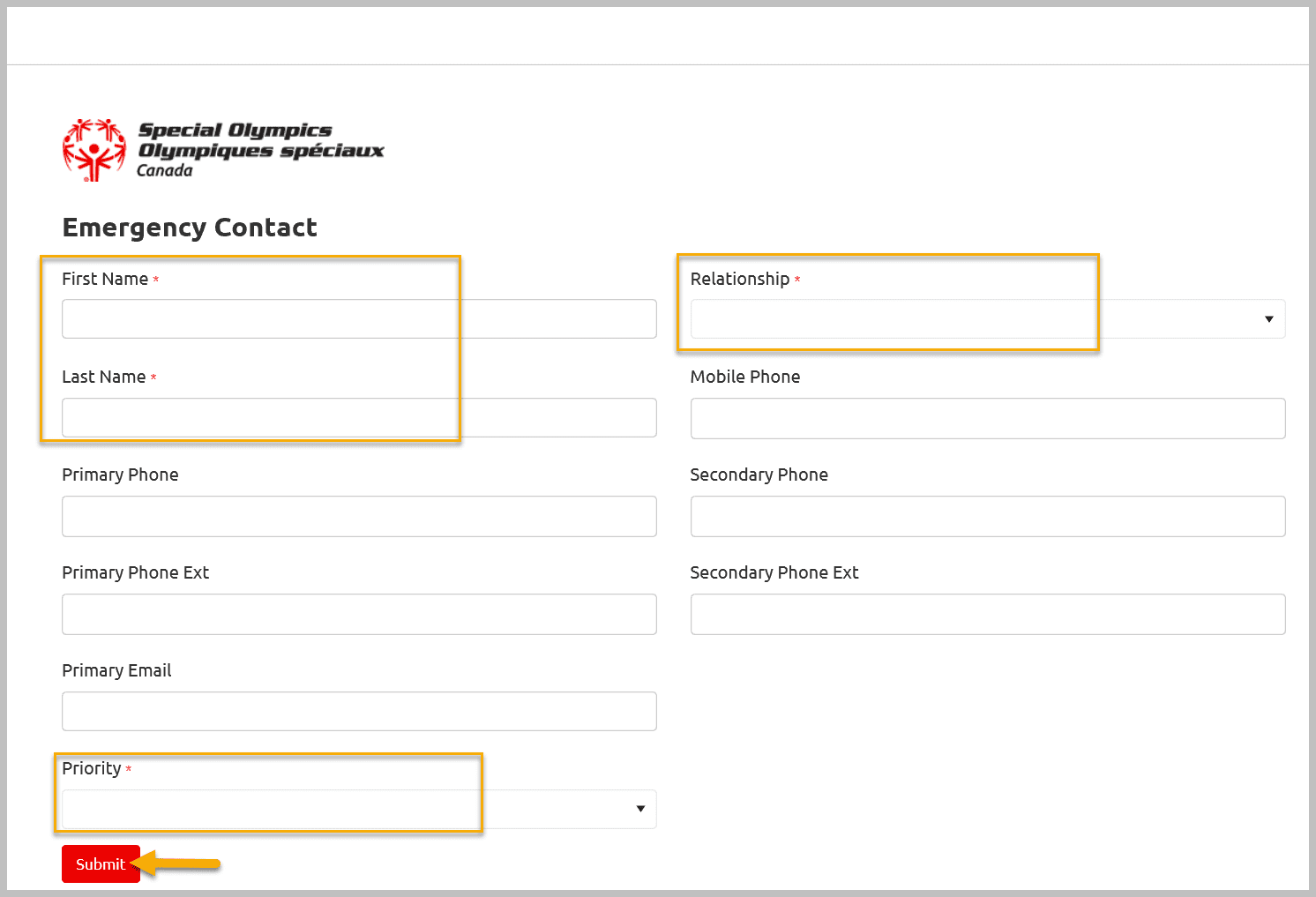 Training
View/update your training info if already entered.
To view detail of it click Edit button beside the Course name.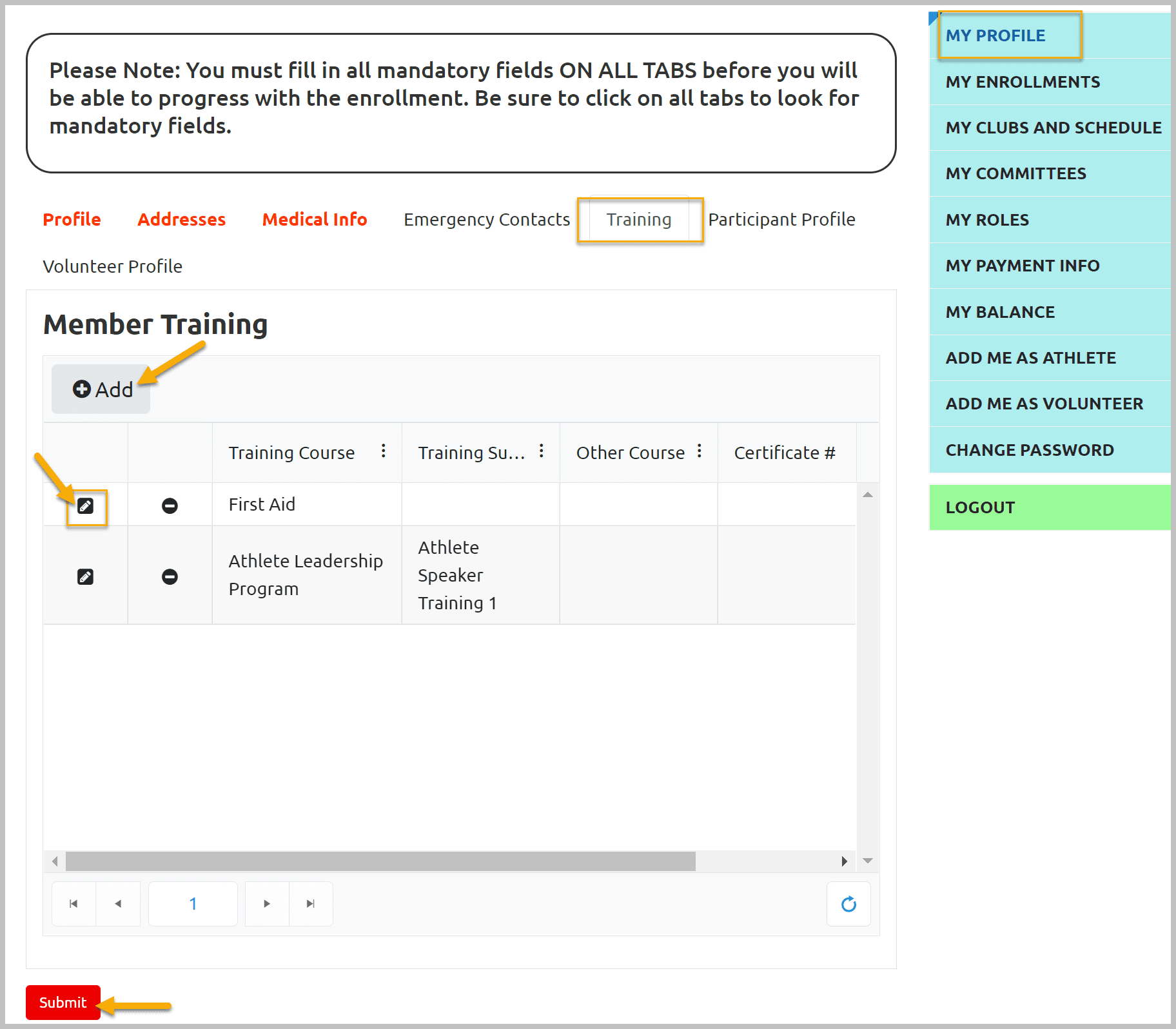 A window with detail information will pop up. After reviewing this info, click X to close this window.
If you have updated any information click on Submit to save the changes.

To add new Course information click on Add button provided in Member Training window.
Select Course from Training Course field, some courses have Sub Courses as well. Select Sub Course form Training Sub Course field if any.
Fill out other appropriate fields and Submit to save the information.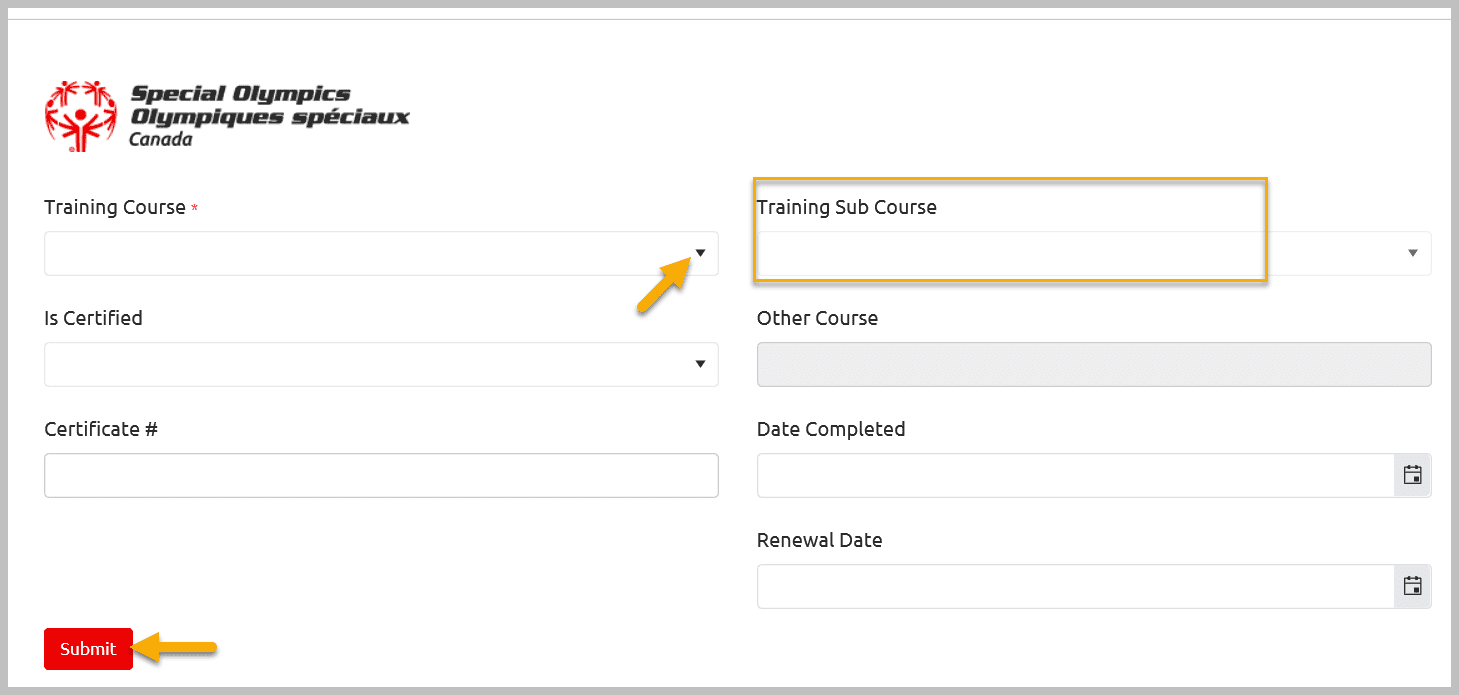 If you do not find the course name in the list, select Other Course from the list, Other Course Field will be enabled to enter course name.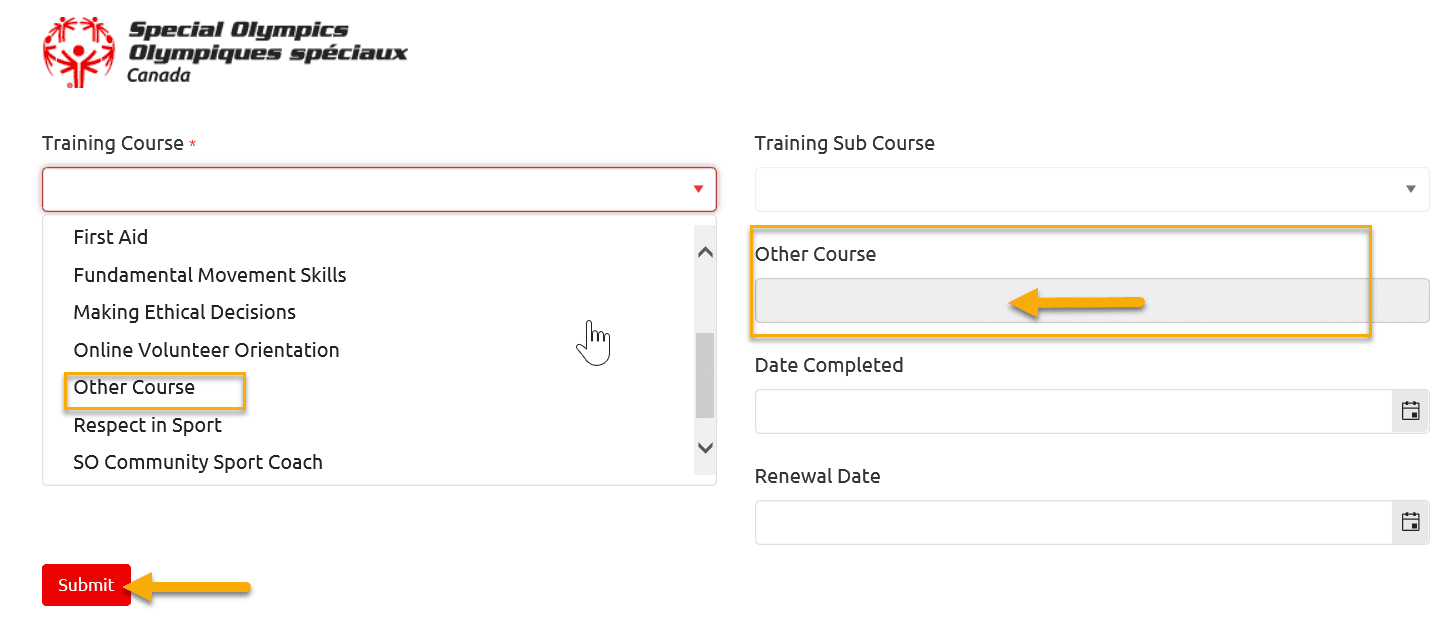 After entering appropriate information in other fields, click Submit to save the changes.
Volunteer Profile
In Volunteer Profile screen you will see: your name, status and the date you joined SOO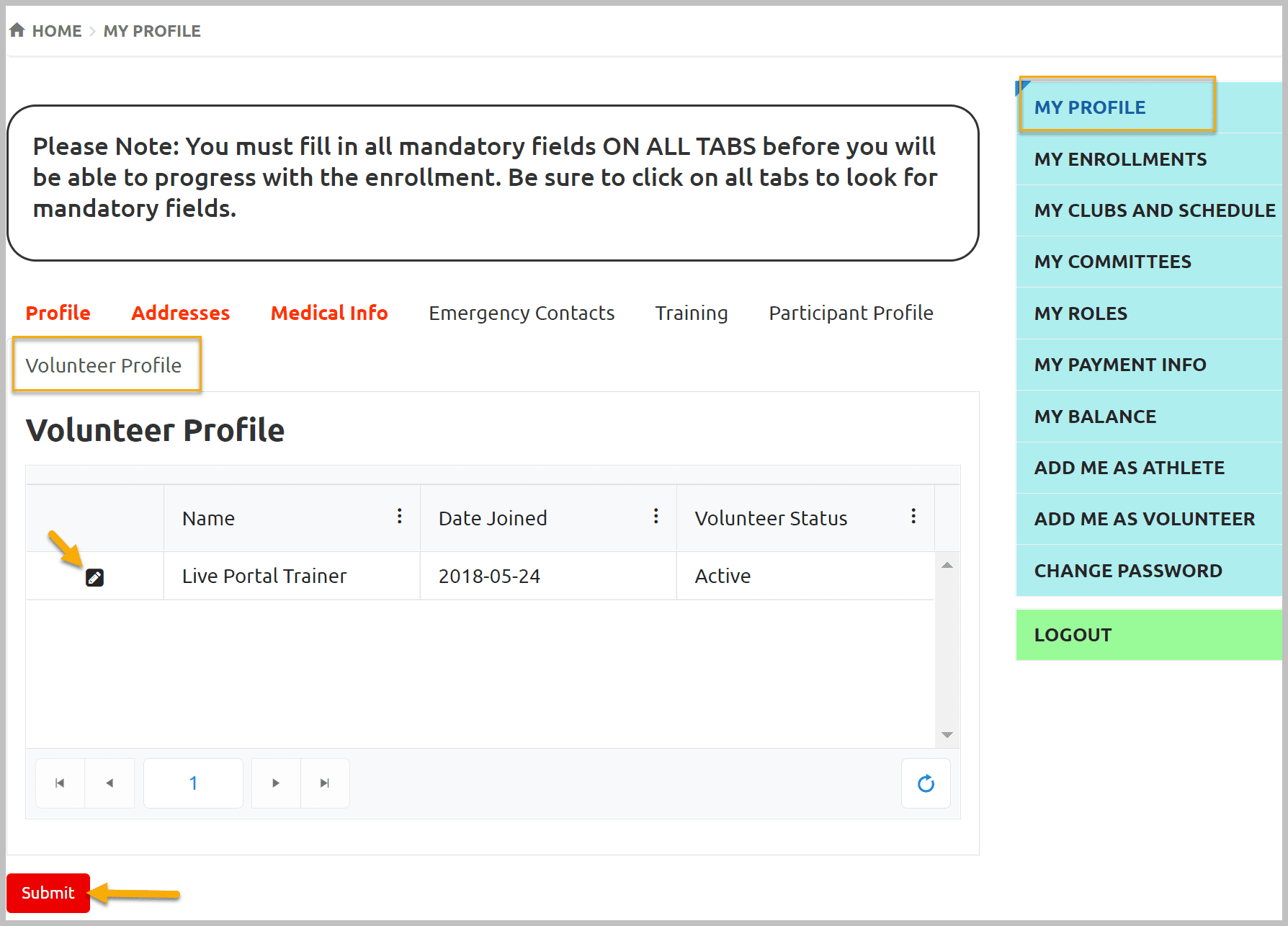 To view /update more information, click on the Edit button beside your name.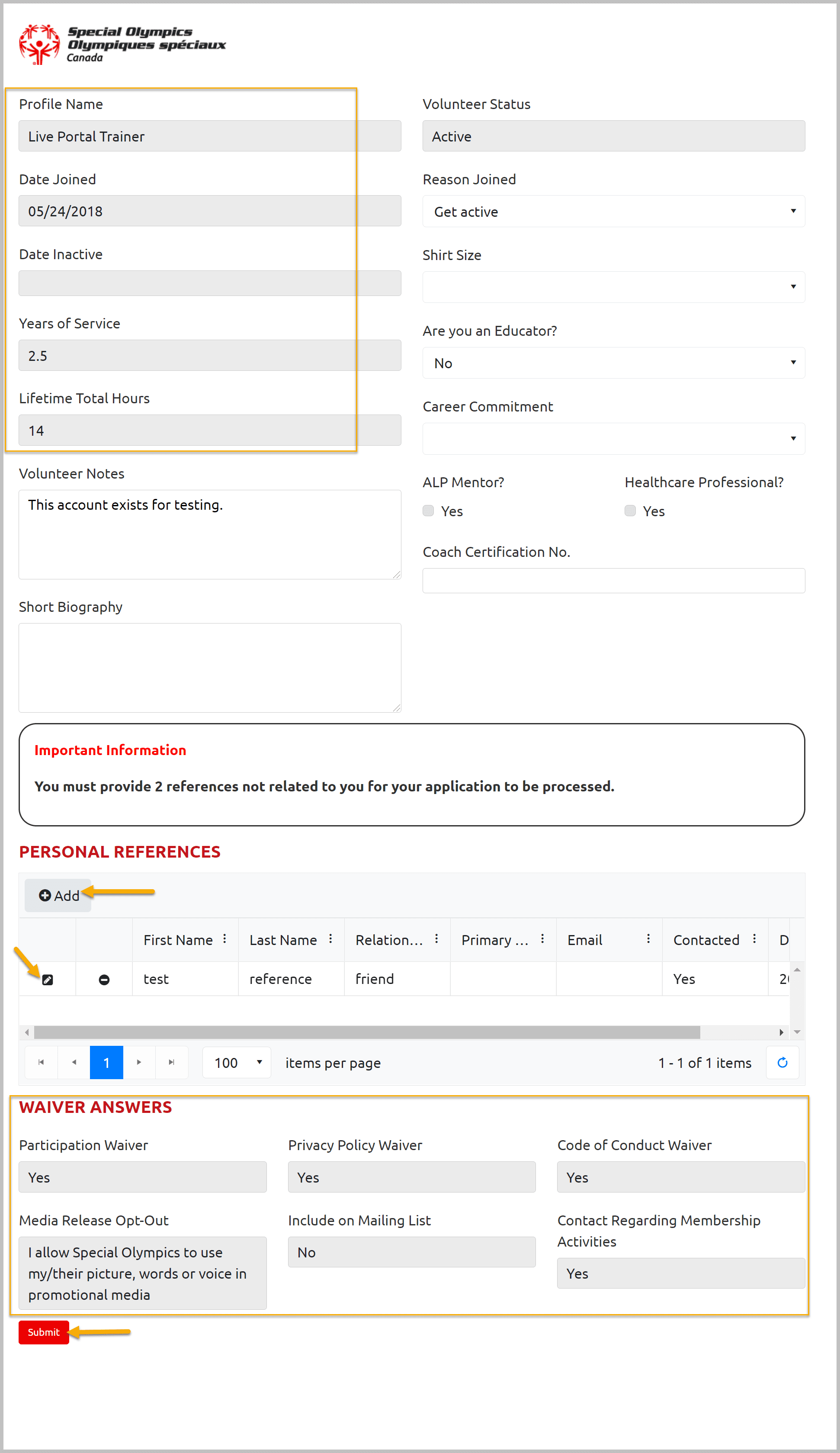 If you have provided only one Personal Reference information Click Add to provide second Person Reference.
In pop up window provide appropriate information including  Phone & Email Address and then Submit
Note: Do not fill in Contacted & Reference Contacted Date fields. These fields have to be filled in by your community after contacting your references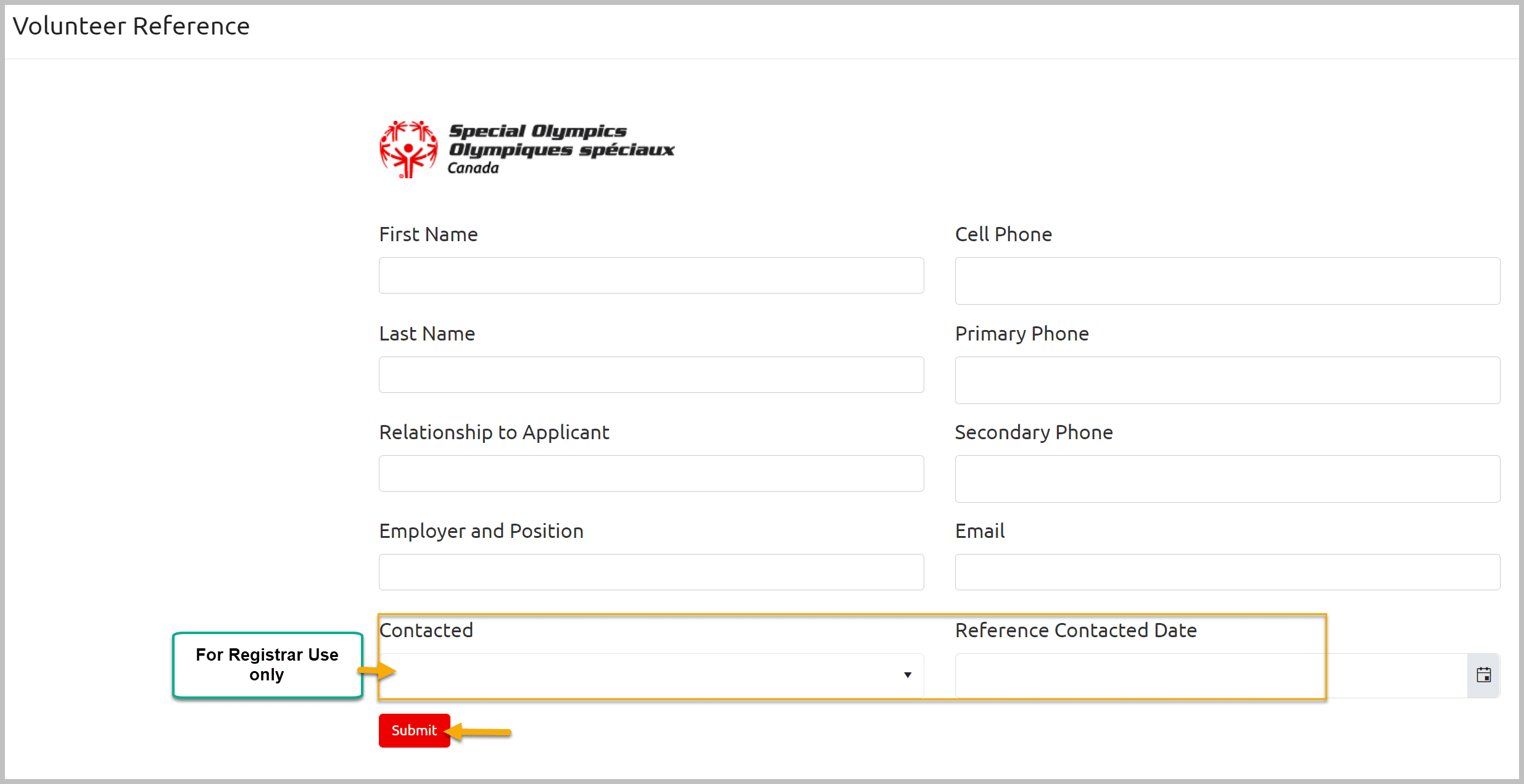 You can only update some fields, others are read only. Remember to click Submit after any changes that you have made. Click on Submit in the Volunteer main window to save all changes you have made to your profile. ​
Note: you can only review Waiver Answers from this window. You can update this information by selecting Add me as Volunteer tab from blue menu
My Enrollments
Select My Enrollments button from menu
In the My Enrollments window you can see your active and expired enrollments with all of the clubs you are or have been registered in. This window will provide you with the club name, your enrollment status and the session start & end dates.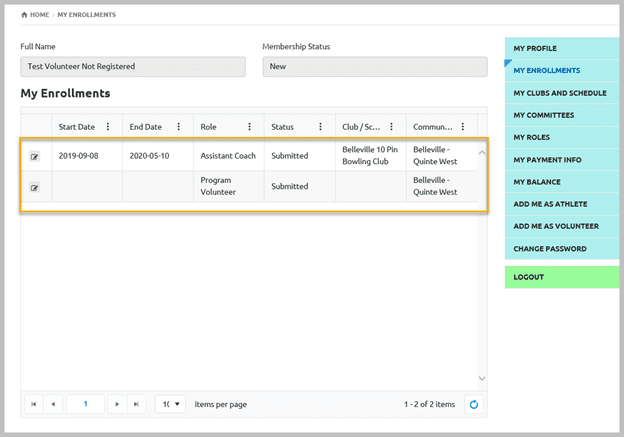 To view more details regarding an Enrollment, click on the Edit button for that item.
The Enrollment Detail window will provide you with information like: your enrollment status and session start and end dates.
Cancel Enrollment
If you want to quit a program, you can cancel your enrollment by selecting Cancel status from Change Status Field dropdown. Enter Notes if any to Enrollment Notes Field and Submit.
If you were just viewing your enrollment details you can close the window by clicking on the X located in the top right of the window.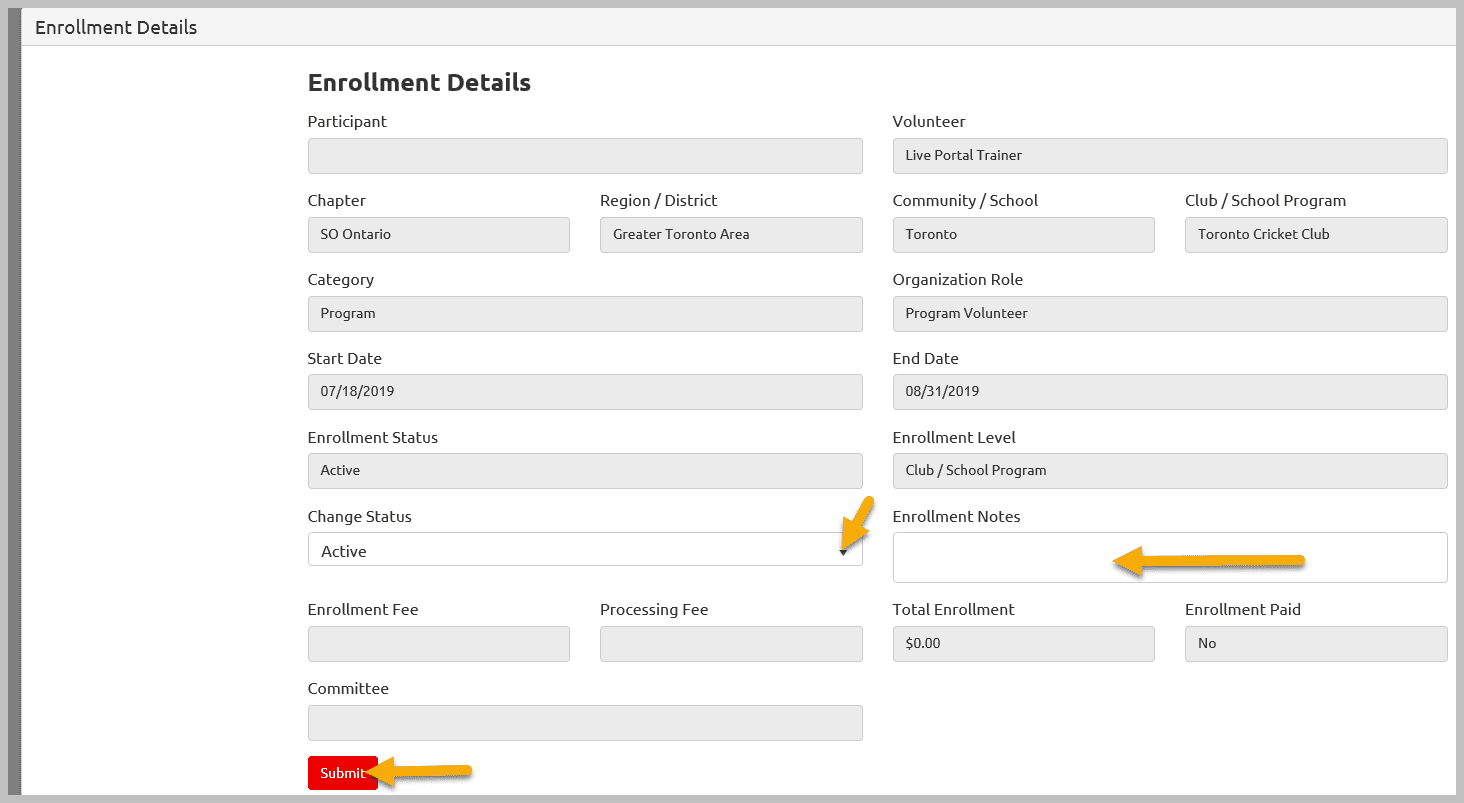 My Clubs And Schedules
To See the Clubs you're associated with and the published schedule for the sessions click on My Clubs And Schedules button. You can view facility name, day and time of the practice.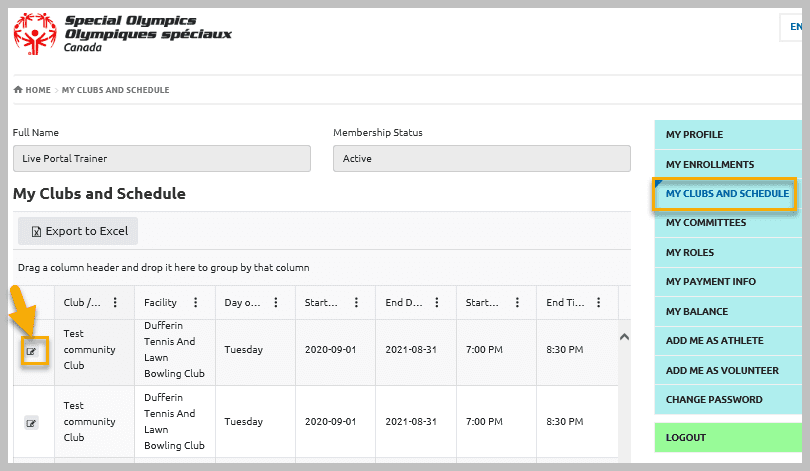 To view more info click on the Edit button to open detail window
The My Club Details window has two tabs , Club Details and Club Sessions.
Club Details tab will provide club name and address of the facility where club practice takes place.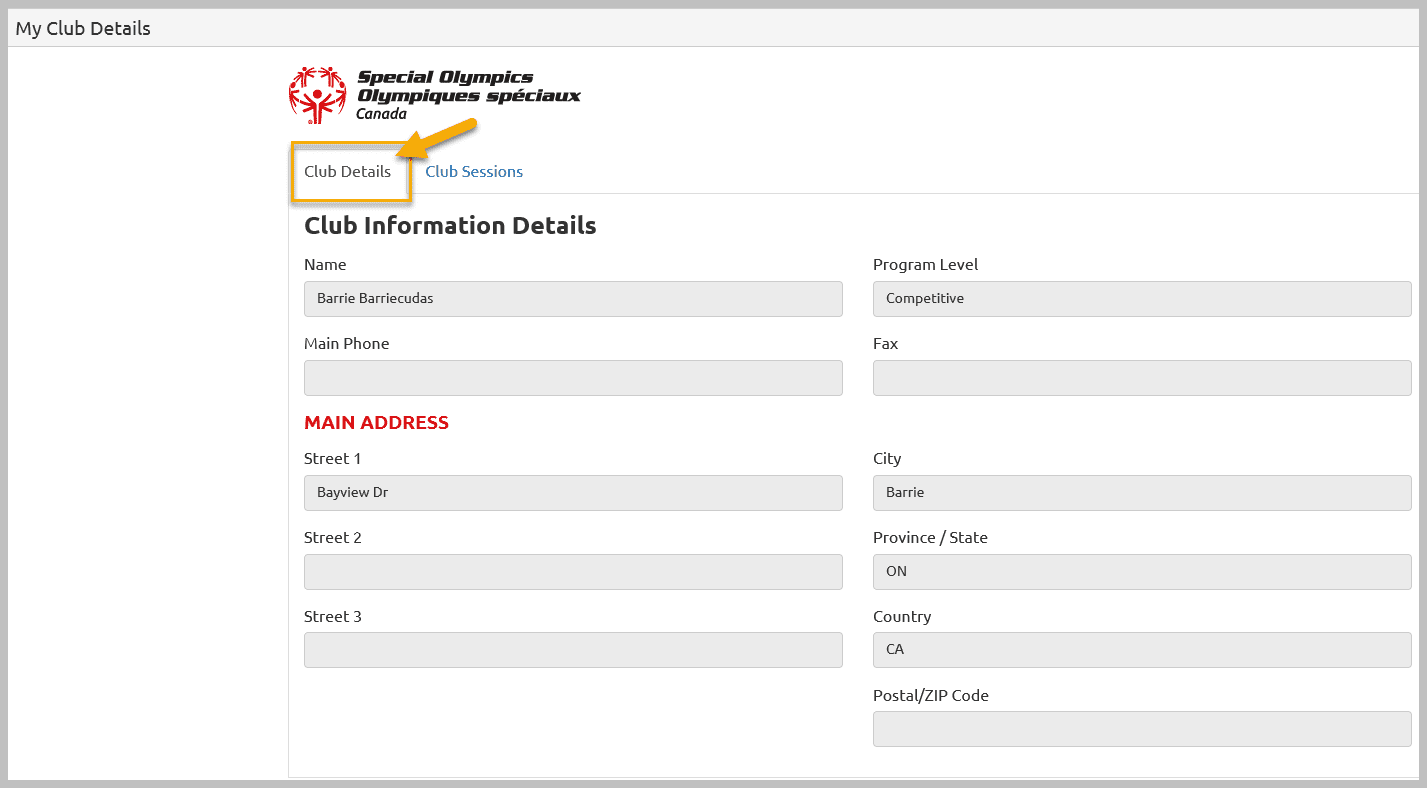 Club Sessions Tab will show you the session(s) for that club(s) that you are currently enrolled in.
To view the detail of the Session click on the Edit button beside the Program(Sport) name.

The Session Detail window will show you the session schedule (location, day and time) and has the ability to show information around the capacity of the program and program fees, these fields are updated and maintained by the community/program.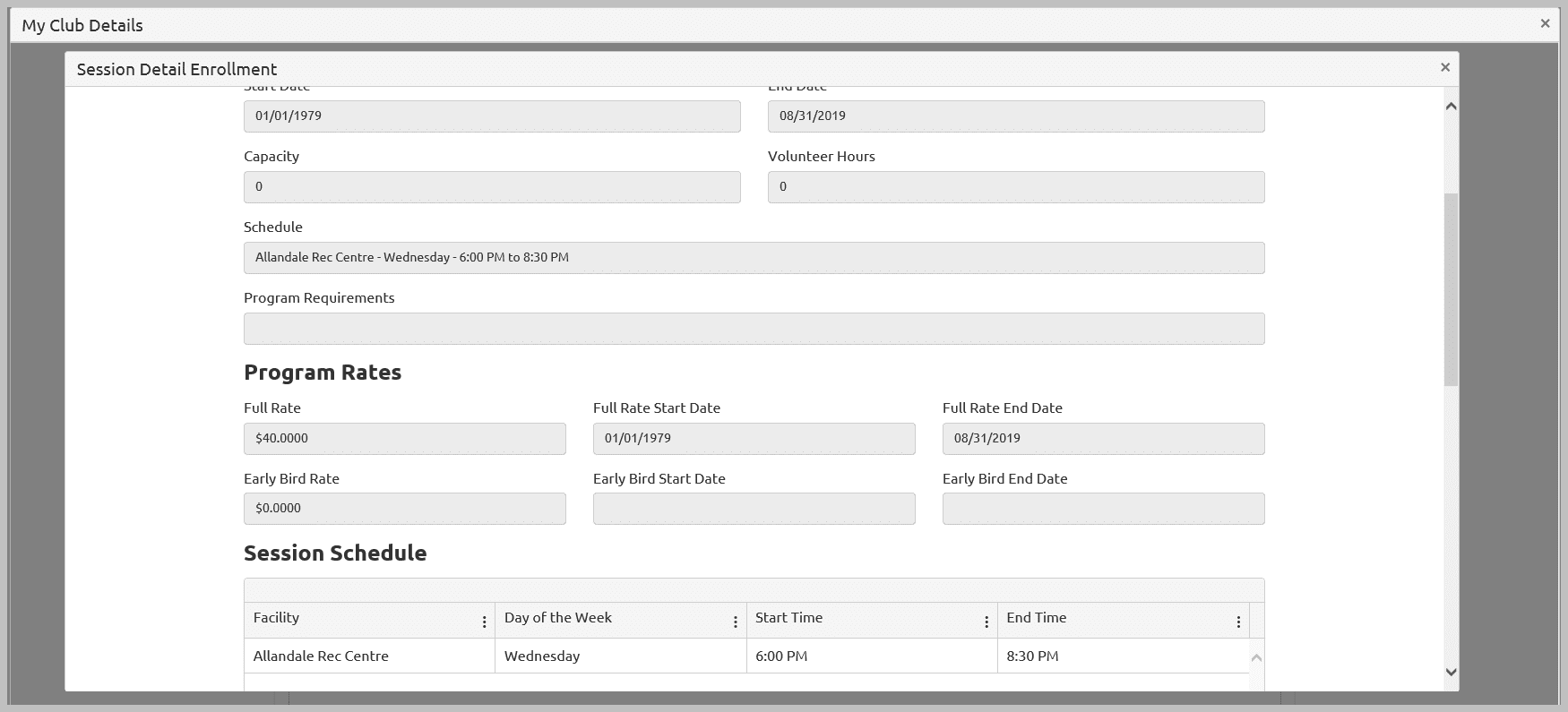 After viewing information close all windows by clicking on X at top right hand corner.
My Committees
From the Active Committee Participation screen you will see the Committees you are or have participated in as a member. It will contain the Committee name, your role on the committee and your start and end dates. The example screen is what you would see if you are a registered member on a committee.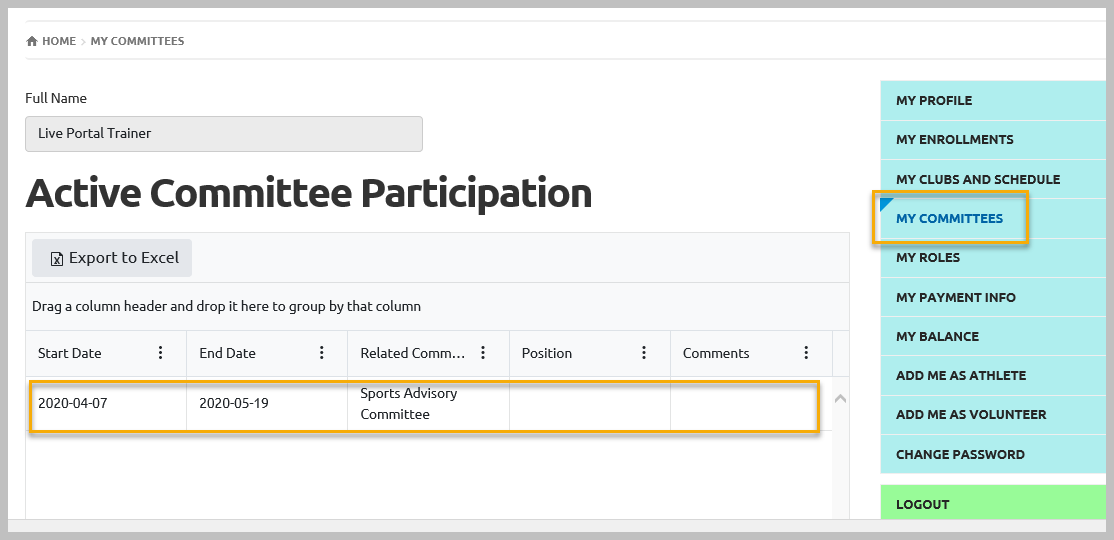 Add Me As Volunteer
Follow the instructions:
Volunteer Self Enrollment & Waivers update
Change Password
Select Change Password button from your landing page.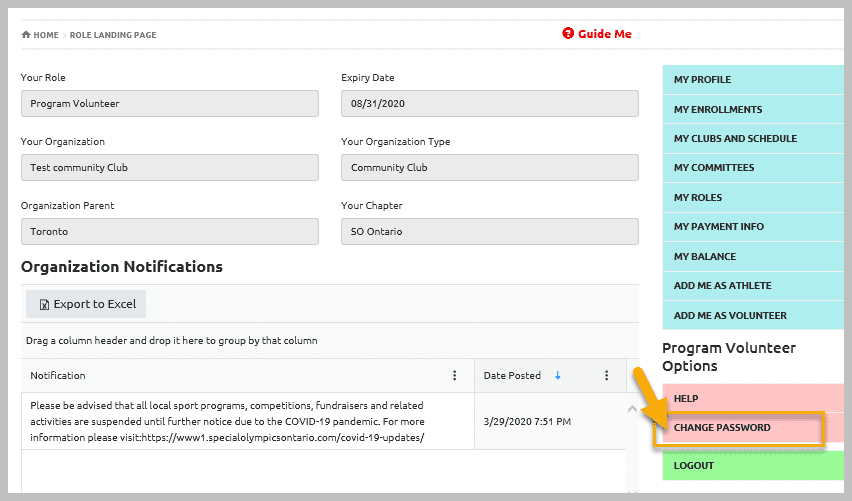 In Change Password window, enter your current password and New Password twice and Save.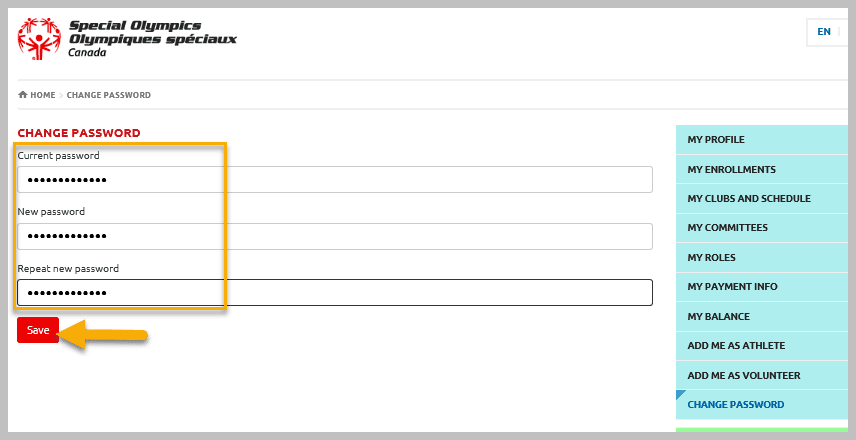 A confirmation screen will confirm that password has been changed successfully.
Note: System will not send you confirmation email.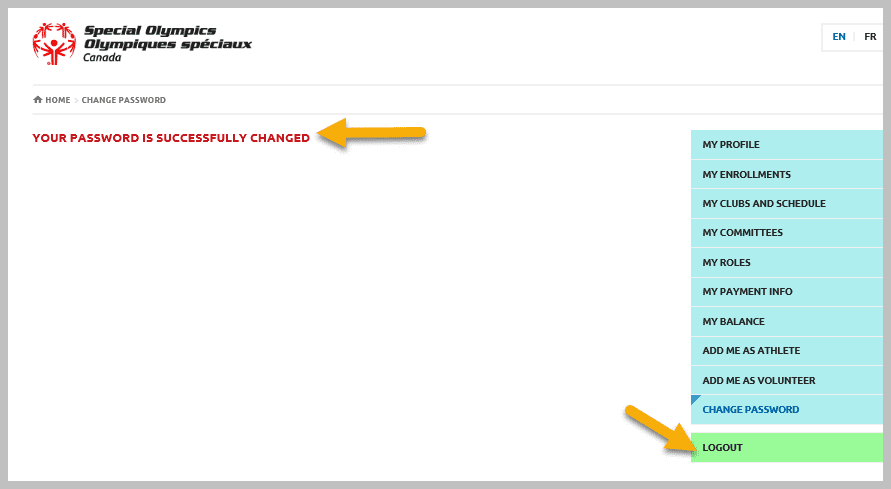 Logout
In order to login with your new password, you must logout from your account. Select Logout from confirmation screen that will lead you to the Home Screen with login option.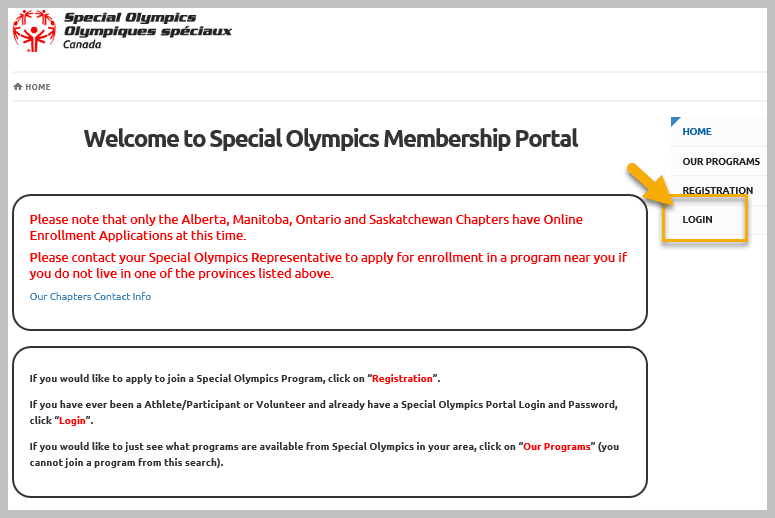 Select Login button from Home Screen. Enter your Portal Email and New Password and click Login.