Who will be able to create Attendance Sheet
Community Coordinators/Community Data Admins
Head Coach/Team Managers
Membership Portal Link
https://portal.specialolympics.ca
If you already have Portal Account, login from Home screen and select your role
Select Attendance on Pink menu
Click Add in Pending Attendance Records window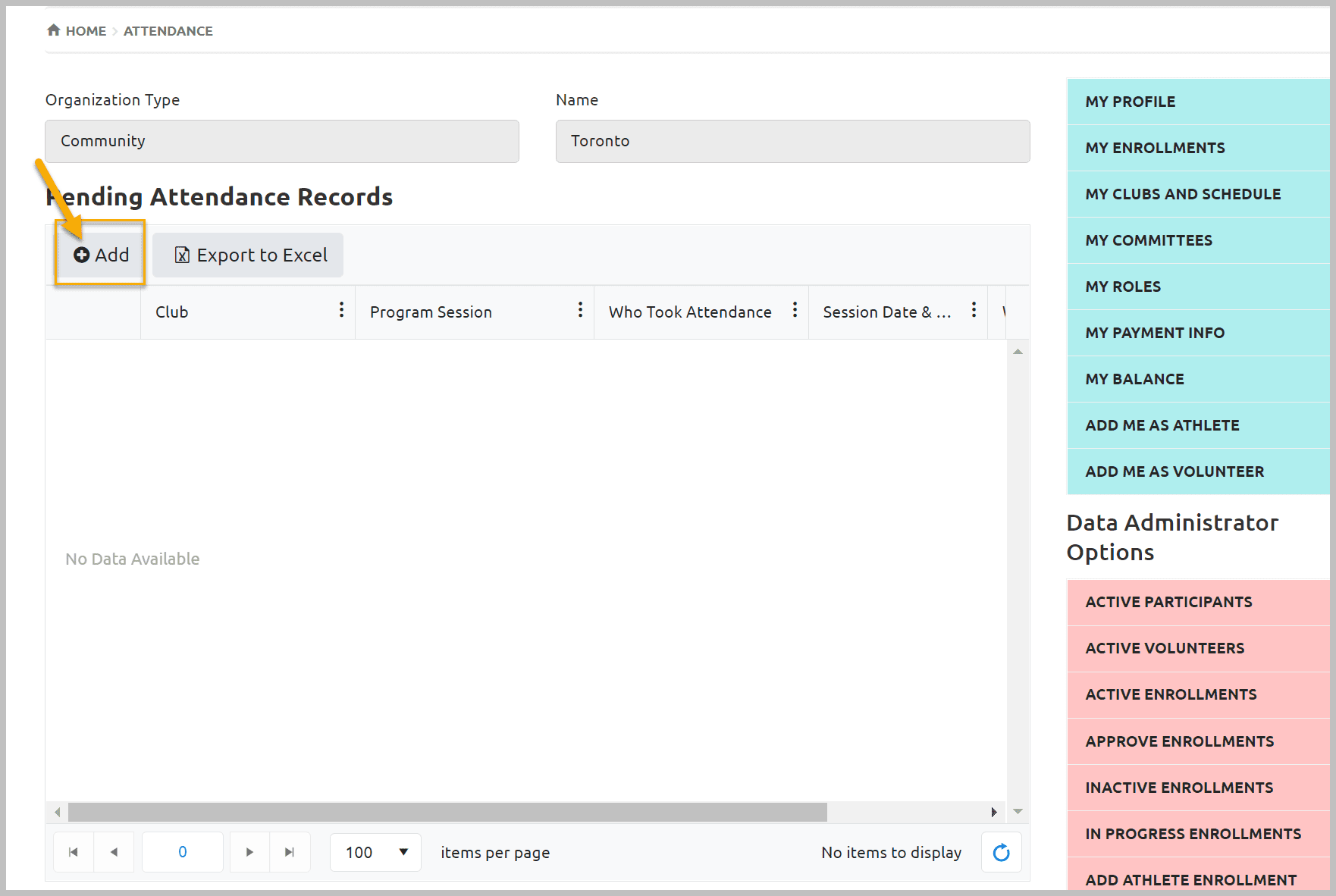 In the Attendance window
Select appropriate club from Club  field drop down list.
Select  session from Program Session field (must have Active Enrollments)
Enter the name of person who took attendance in Who Took Attendance field
Select date and time from Training Date & Time field – select date first then click on the clock to select the time to fix it in this field
Leave status In Progress, this will allow you to save and submit and continue later
Who Entered Information field will be auto populated with the name who is logged in to enter this information
Date Information Was Entered will also be auto populated with current date and time
Enter note in Notes field if any
Click Save to generate the list of club members
The list of registrants will be populated with Attended field values No
To add someone who is not registered but helped you in this training session like parents, support worker or guest spectator
Click on Add on Attendance Detail grid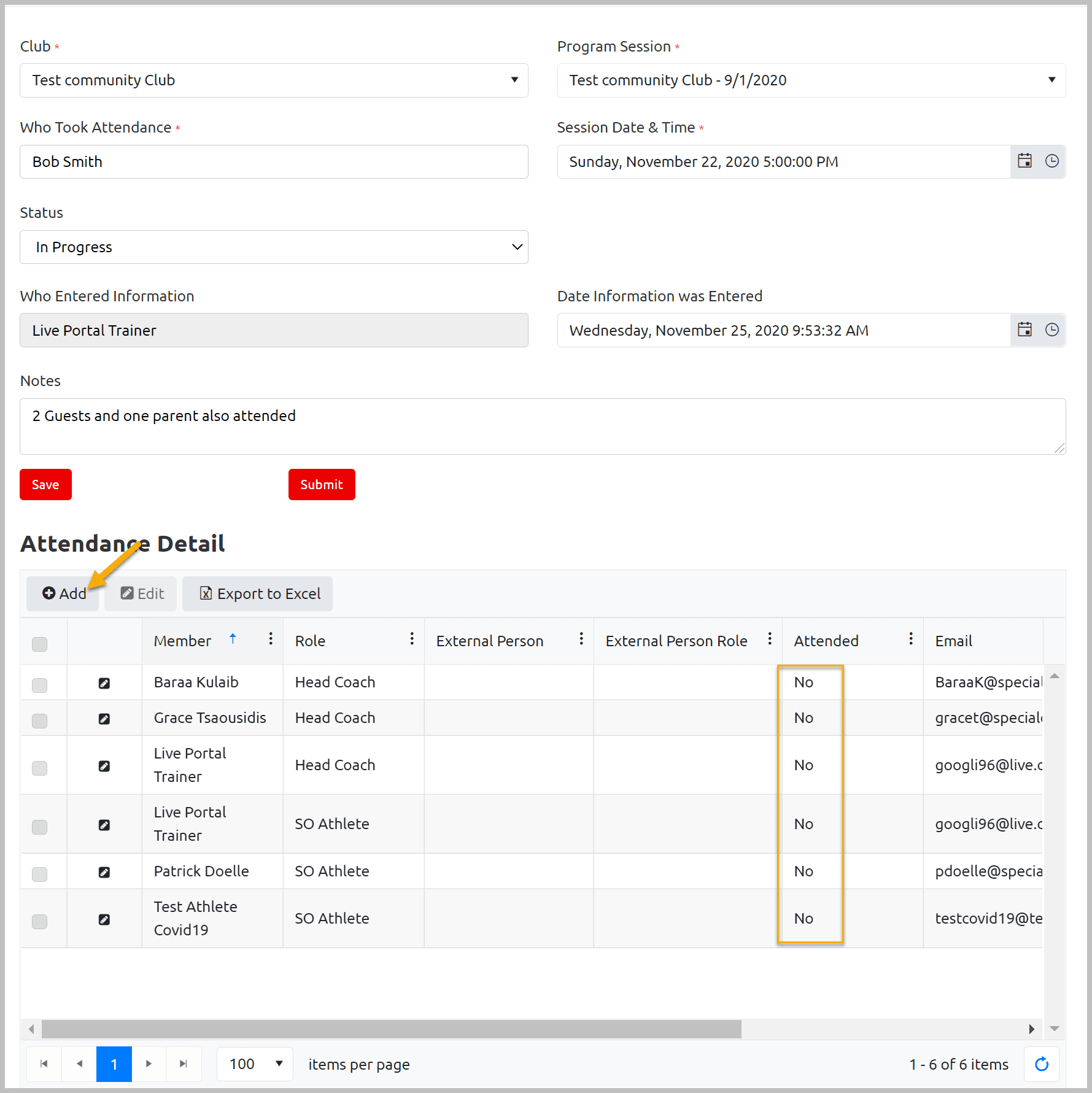 Enter person name in External Person field
Select appropriate role from External Person Role field
Enter email in Email field
and phone in Phone field
Leave Yes in Attended field
Add note in Notes field if any
Click Submit to save this record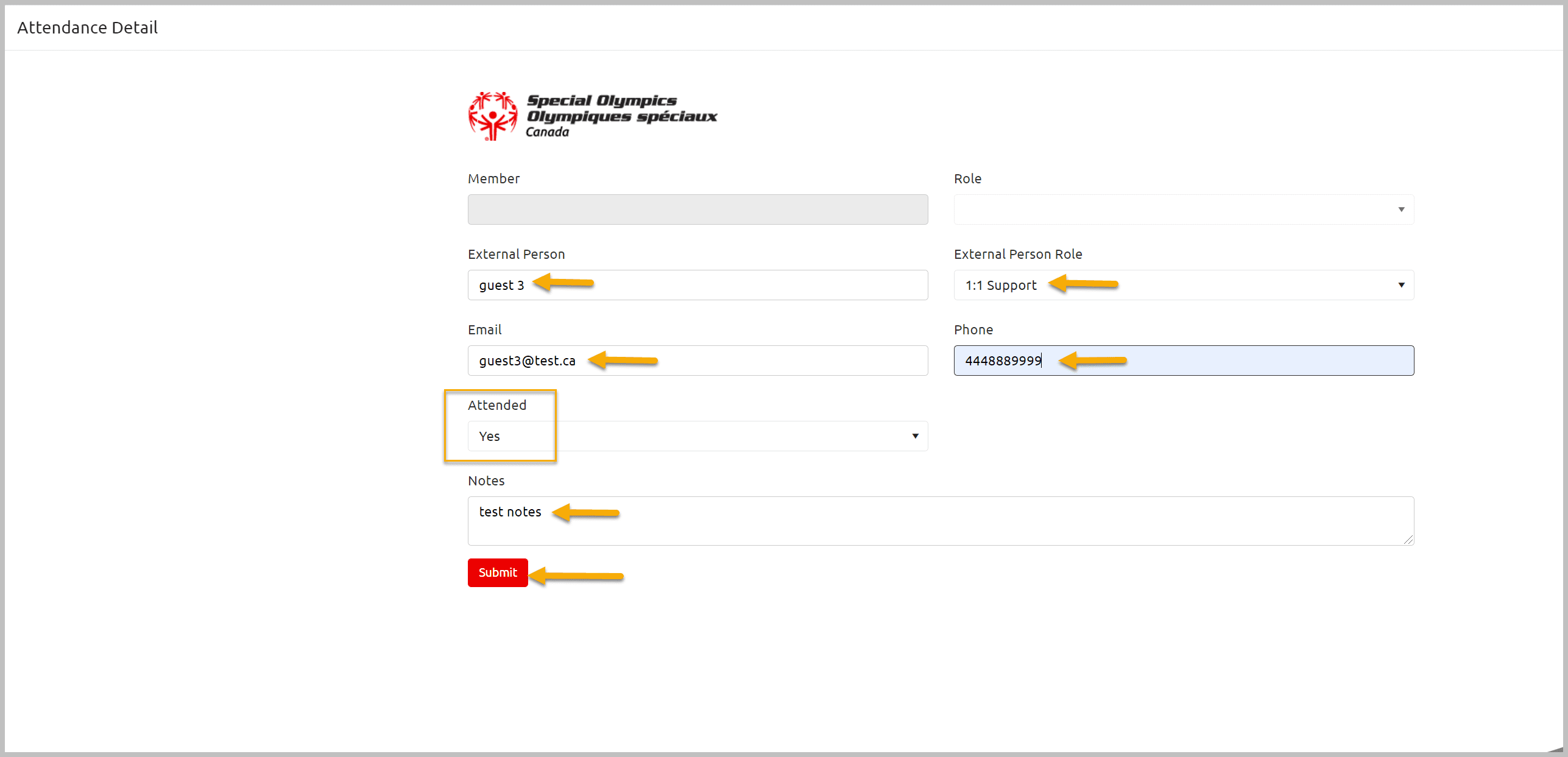 You will see this member in Enrollments detailed grid
How to Edit Attended field
This information can be updated Individually or in Bulk
To update individually select Box or click on Edit button beside the Name
To edit multiple records, check the ones  to be edited (who attended this training)
To edit all, check the box from the header to select all records
Click on the Edit button at the top of grid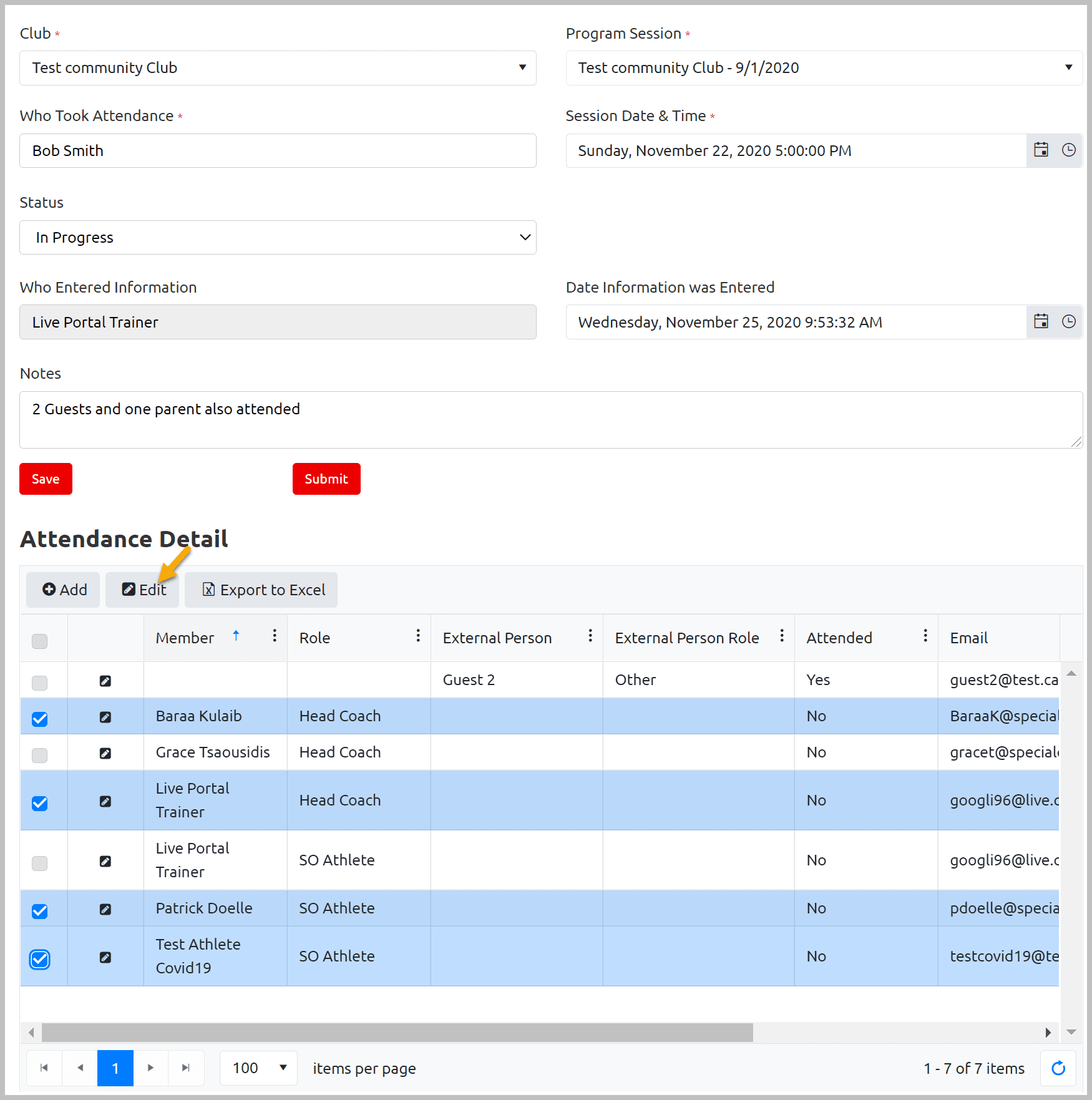 In all cases same window will open to update Attended information
Select Yes from this window
Add note if any (in bulk update same note will be added to all members)
Click Submit to save this information
If you have finished all updates for this training session, update status to Completed form Status field – once the status is completed, the record becomes Read-only, so no further changes can be made.
If it is not complete yet, then leave status In Progress
Click Save to save these updates and continue to work on it
Click Submit to save and close this window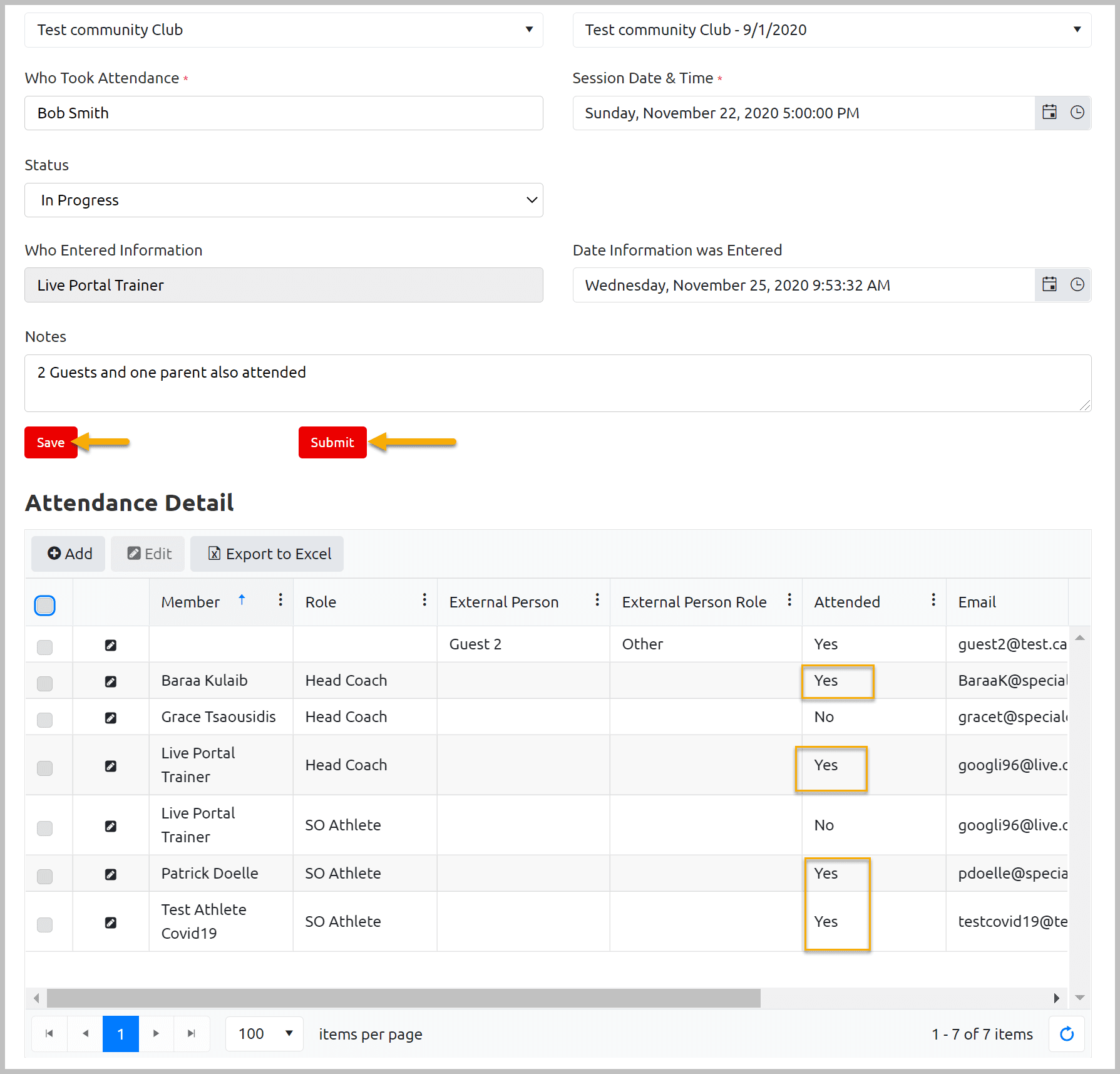 All In Progress attendance sheets will be in Pending Attendance Records window which can be updated anytime
All Completed attendance sheets will be in Complete Attendance Records window. These are read only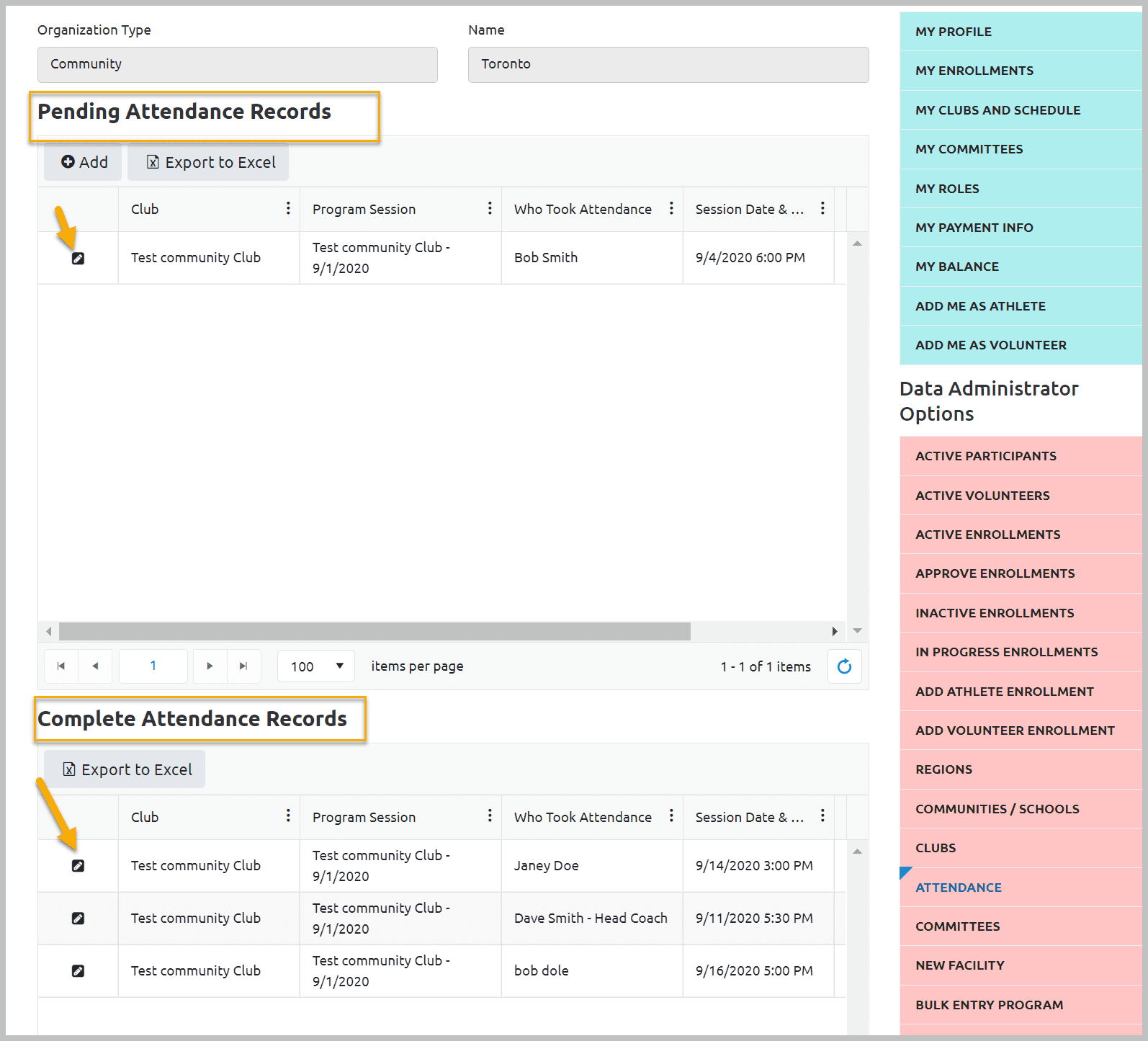 What if Attendance Sheet is not Correct or added a Test Attendance?
Attendance sheet with In Progress status can be made Invalid if it is not correct for any reason like all members of the club are not included or it was a test attendance
Select Invalid status from Status field
Click Submit to save & close the window
You will not be able to track it anymore