If you are new to Special Olympics and want to become a volunteer, Please apply here!
Copy and paste Membership Portal URL to browser and follow the instructions
https://portal.specialolympics.ca/
From Home Page, Select Registration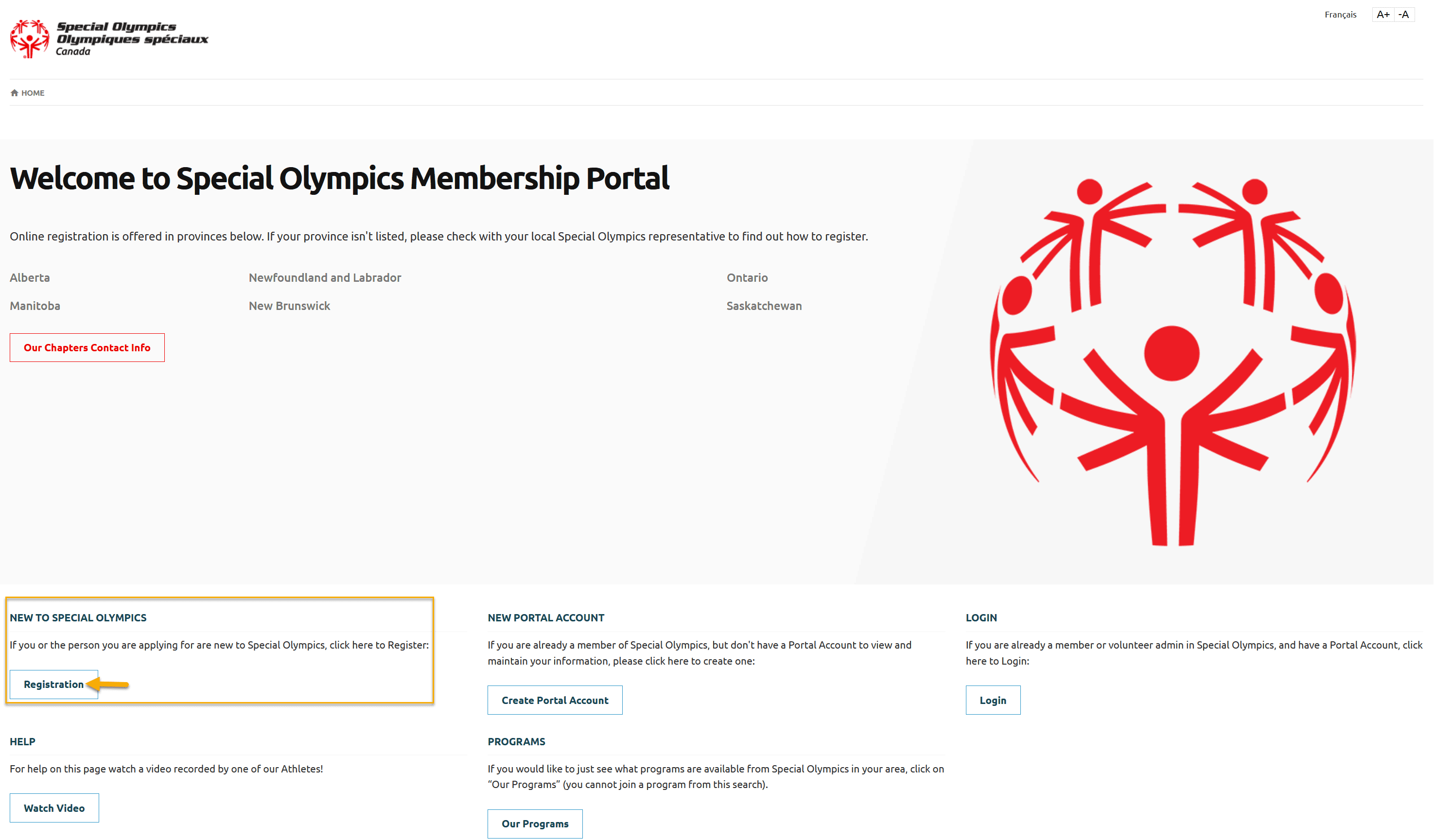 Read carefully the message provided in pop-up window which explains what information you need to have handy to fill out your application.
Click OK to close this pop up window.
Select For Myself from the screen
Select Volunteer/Coach from the screen Tell us Who you are..

Select SO Ontario from Your Chapter/Province/Territory field drop-down
Fill out Your Information in four fields, First Name (your legal first name), Last Name, Date of Birth and Email Address.
Click Next Step

System did not find you as a registered member and welcoming you to create your portal account as a new member.
Enter your Email address in Reenter Email field and password in Password & Repeat Password fields.
Note: Follow the Password Rules to enter password. Click on Eye icon to see your password. 
Click Create Portal Account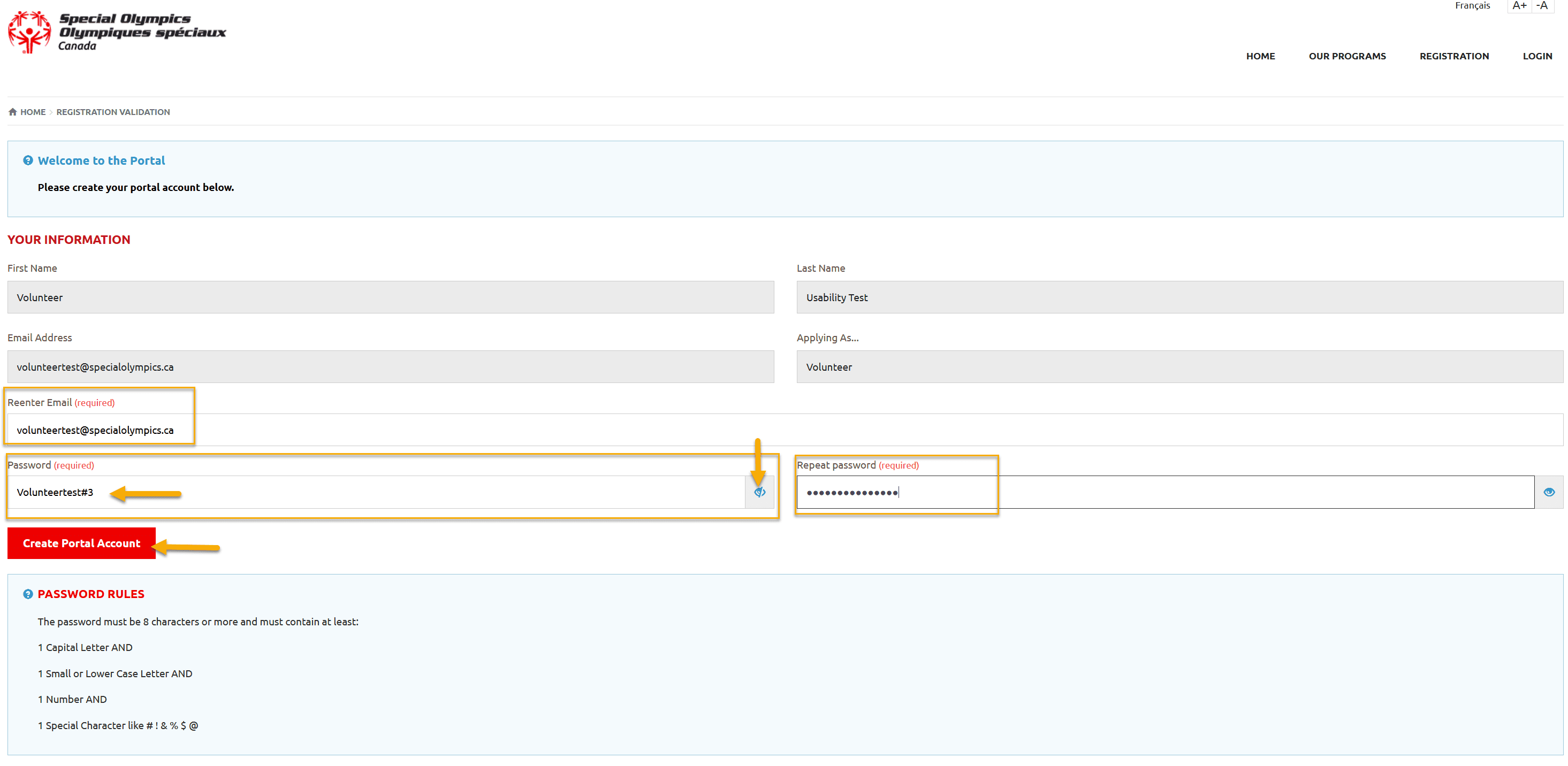 Now you have to complete all steps to submit your application
Step 1 – Volunteer Information
Volunteer field shows your name which means you have your portal account & profile
Select Yes/No from Do You have Guardianship over yourself? field.
Yes means you are 18 years old, having  guardianship over yourself so you will be able to fill out your Waivers online.
No means you have to print Waivers form from the screen, have them signed from your legal guardian and submit to your Head Coach.
After appropriate selection, click Next Step

Step 2 – Legal Waivers
Fill out Legal Waivers.
Participation Waivers, Privacy Policy Confirmation and Code of Conduct Confirmation must be Yes to proceed further on your application.
In Media Release and Communications – you have options to pick your own options
Click on Next Step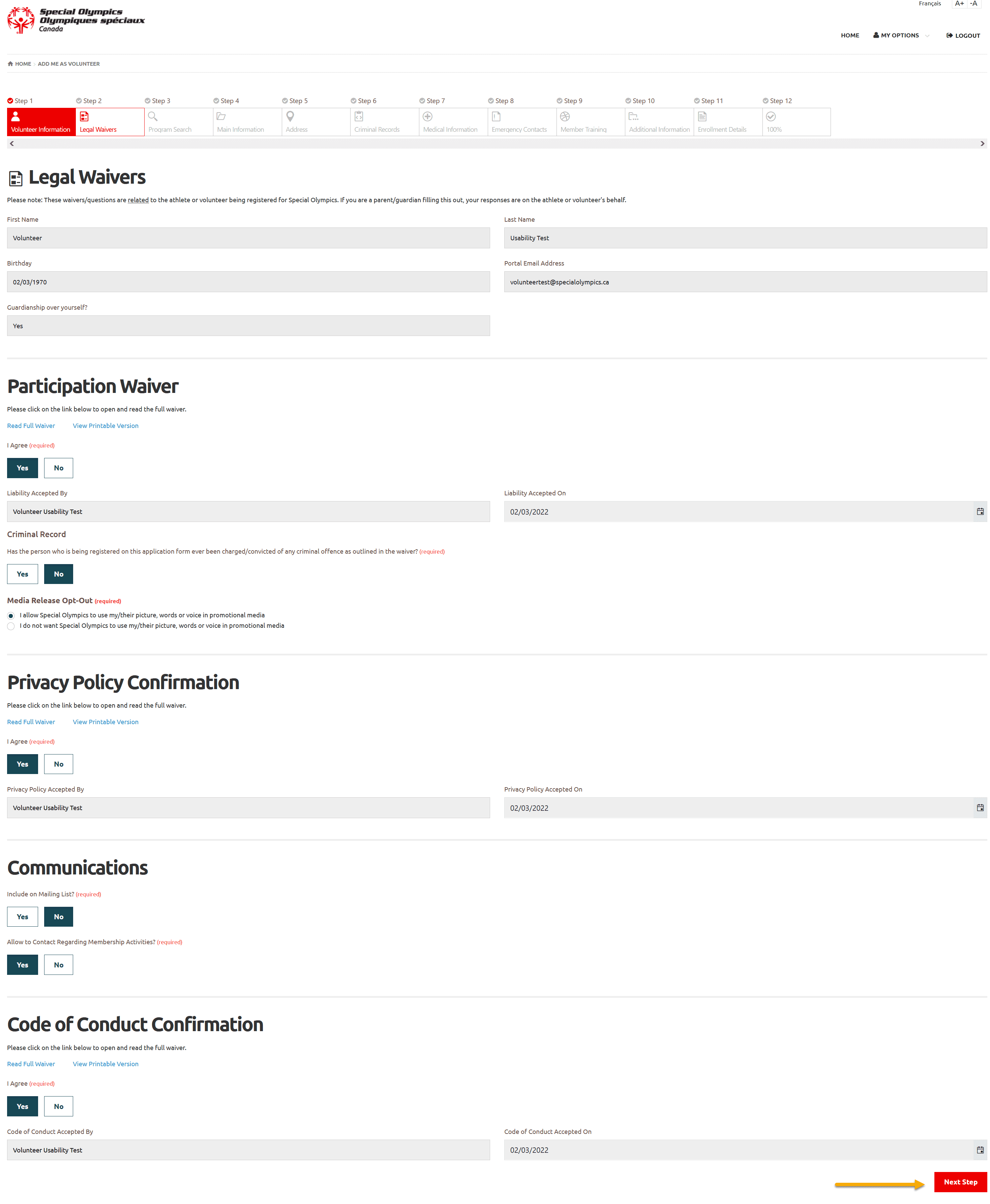 Step 3 – Program Search & Club Enrollment
In Program Search window, select Region and Community in which you want to find Sport clubs/Programs then click Search 
You will get list of programs which are currently running in this community
Note: You can select Sport to find clubs/Programs only for that particular sport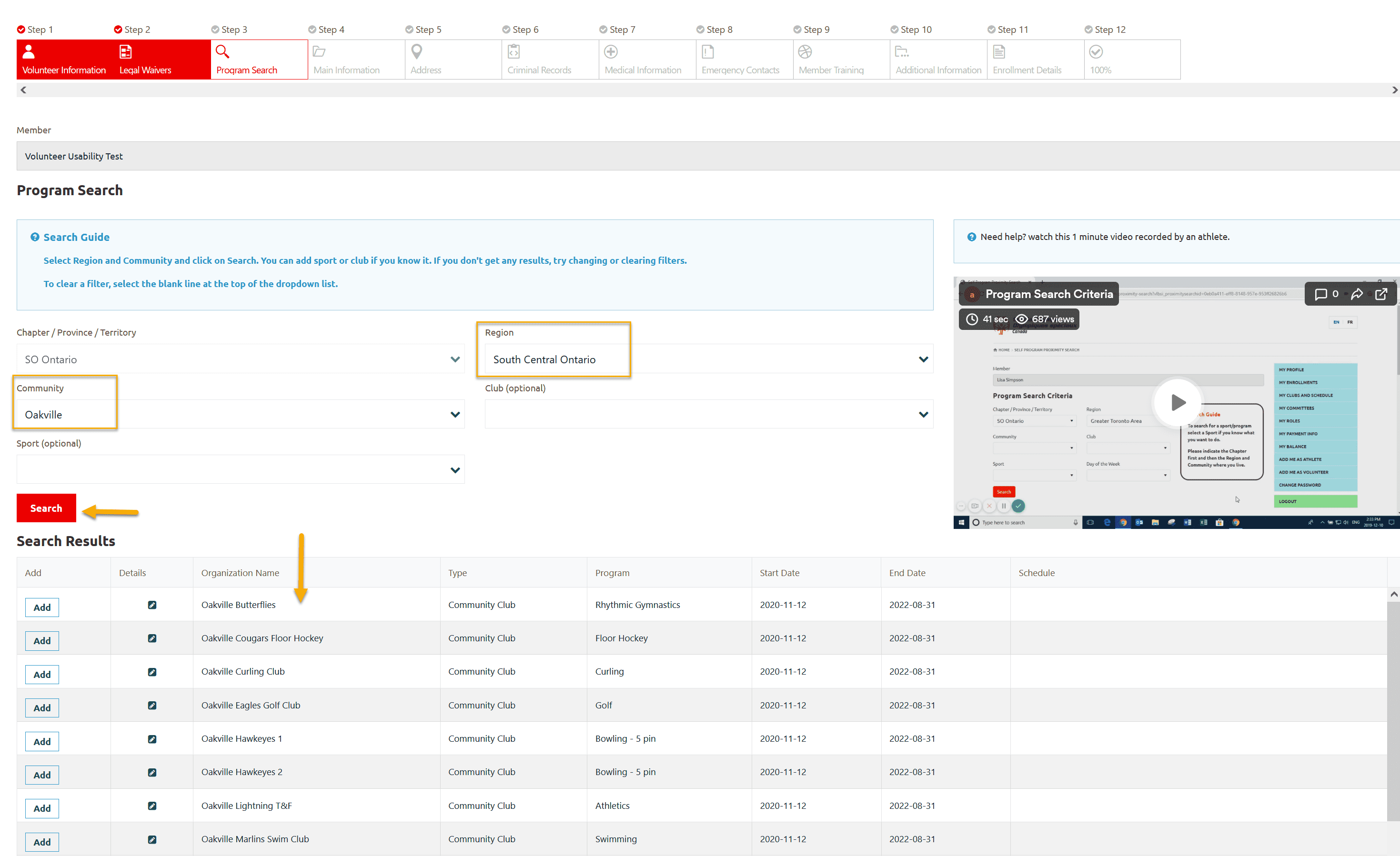 Click Add to the club you wish to enroll in Search Results window
Select appropriate role from Organizational Role field. If you do not find role you want to have as volunteer, add a note in note field.
Add not in Note field if any.
Click Apply to save and close this pop up window.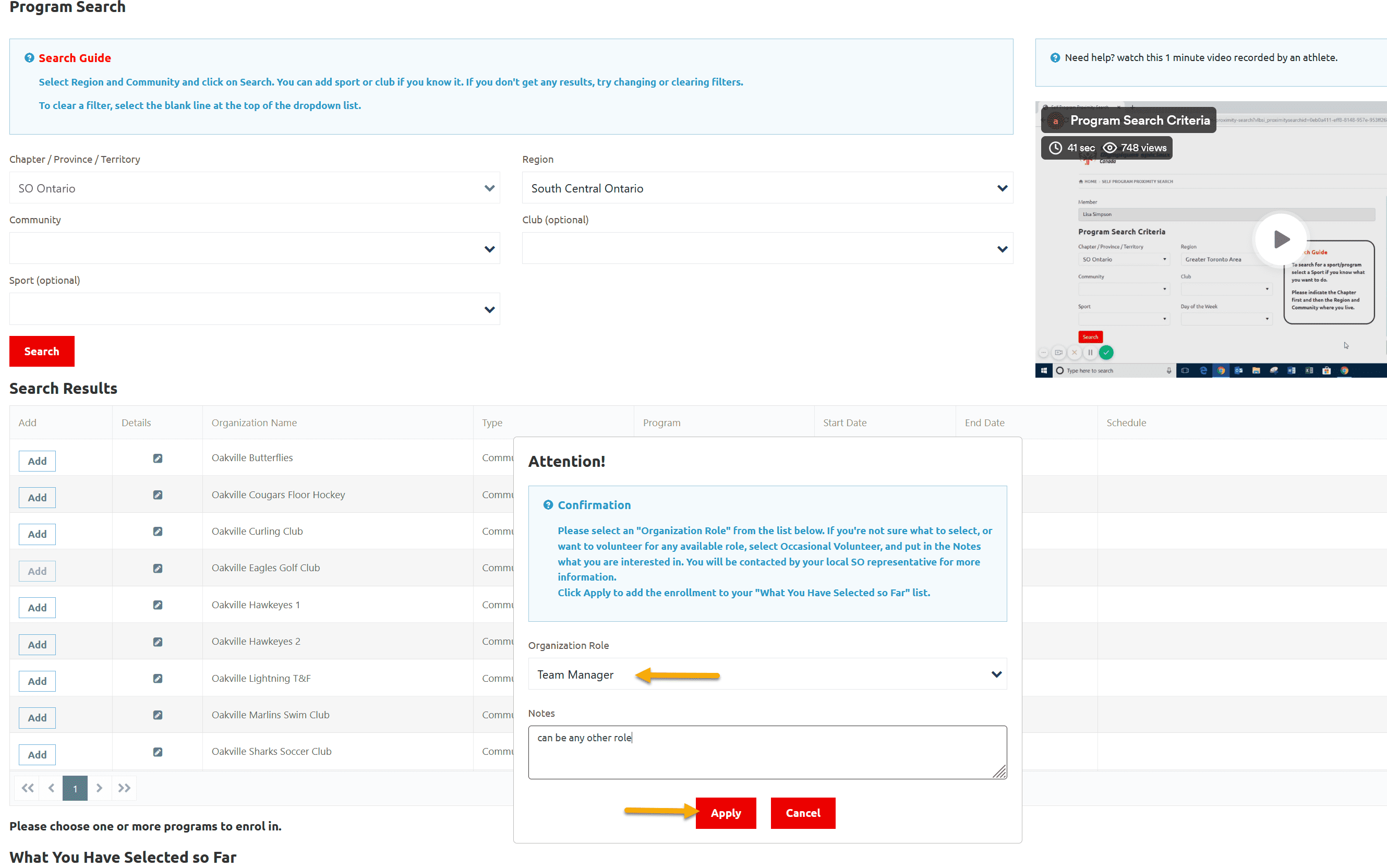 You can see your enrollment in What You Have Selected So Far window
To review enrollment detail, click on Edit button, a window will open with your enrollment details.
If you have selected this club by mistake and want to enroll in different club, click on Delete button to delete this enrollment. Follow the above mentioned step to enroll in club you wish for.
After reviewing your enrollment Click on Next Step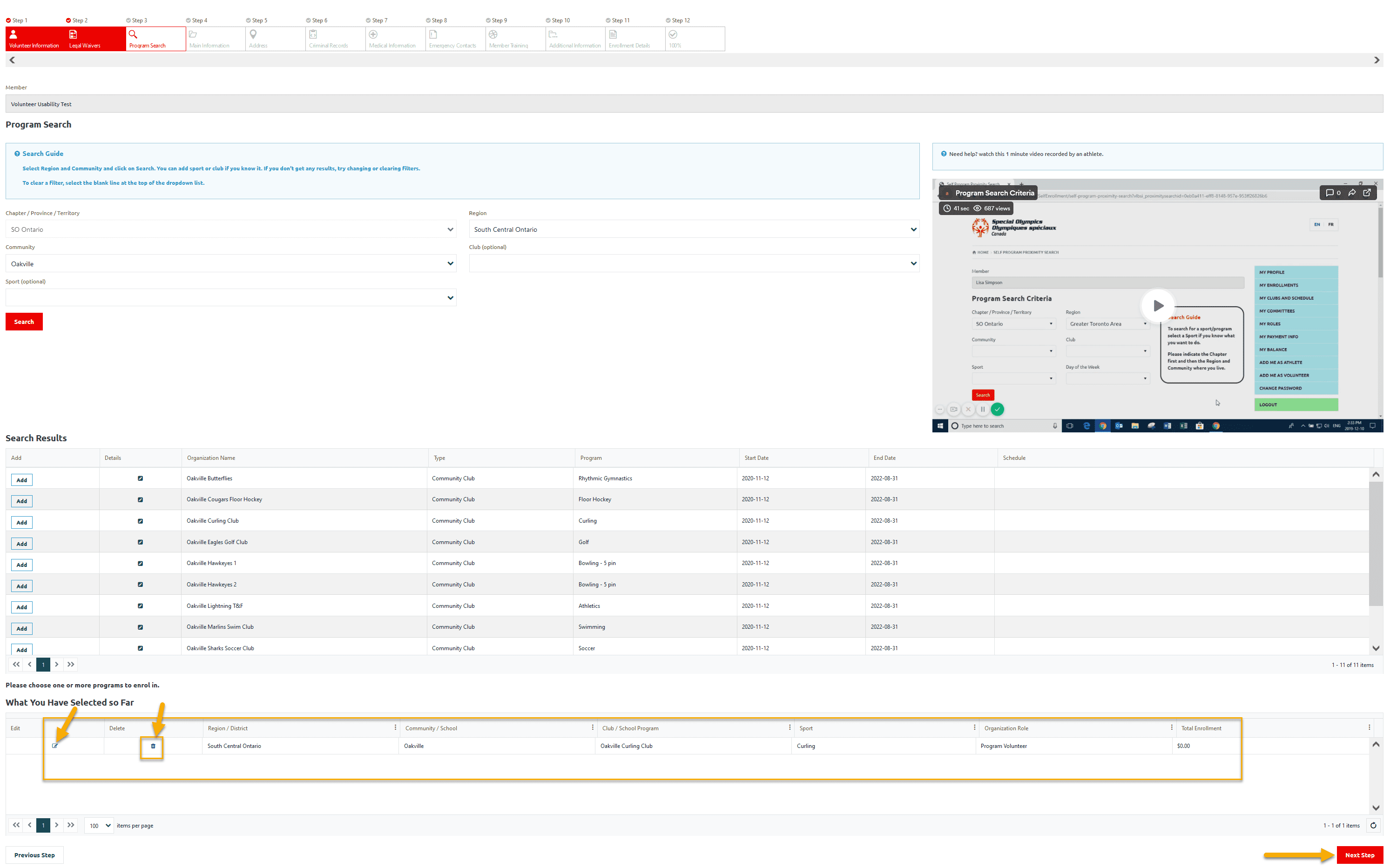 Step 4 – Main Information
Fill out appropriate info on this page including required fields
and click on Next Step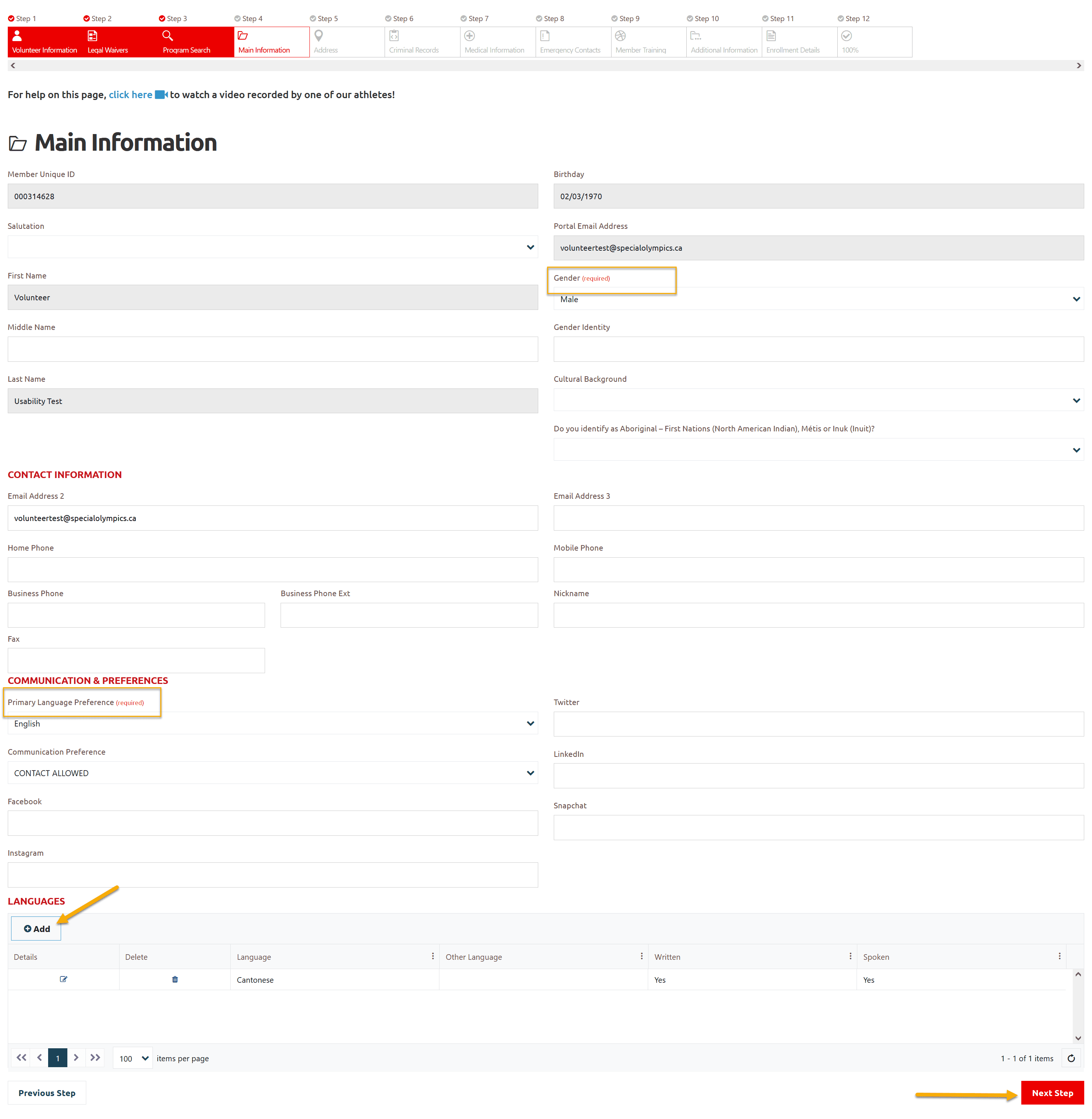 Step 5 – Address
Fill out Primary Address which is mandatory
Click on Next Step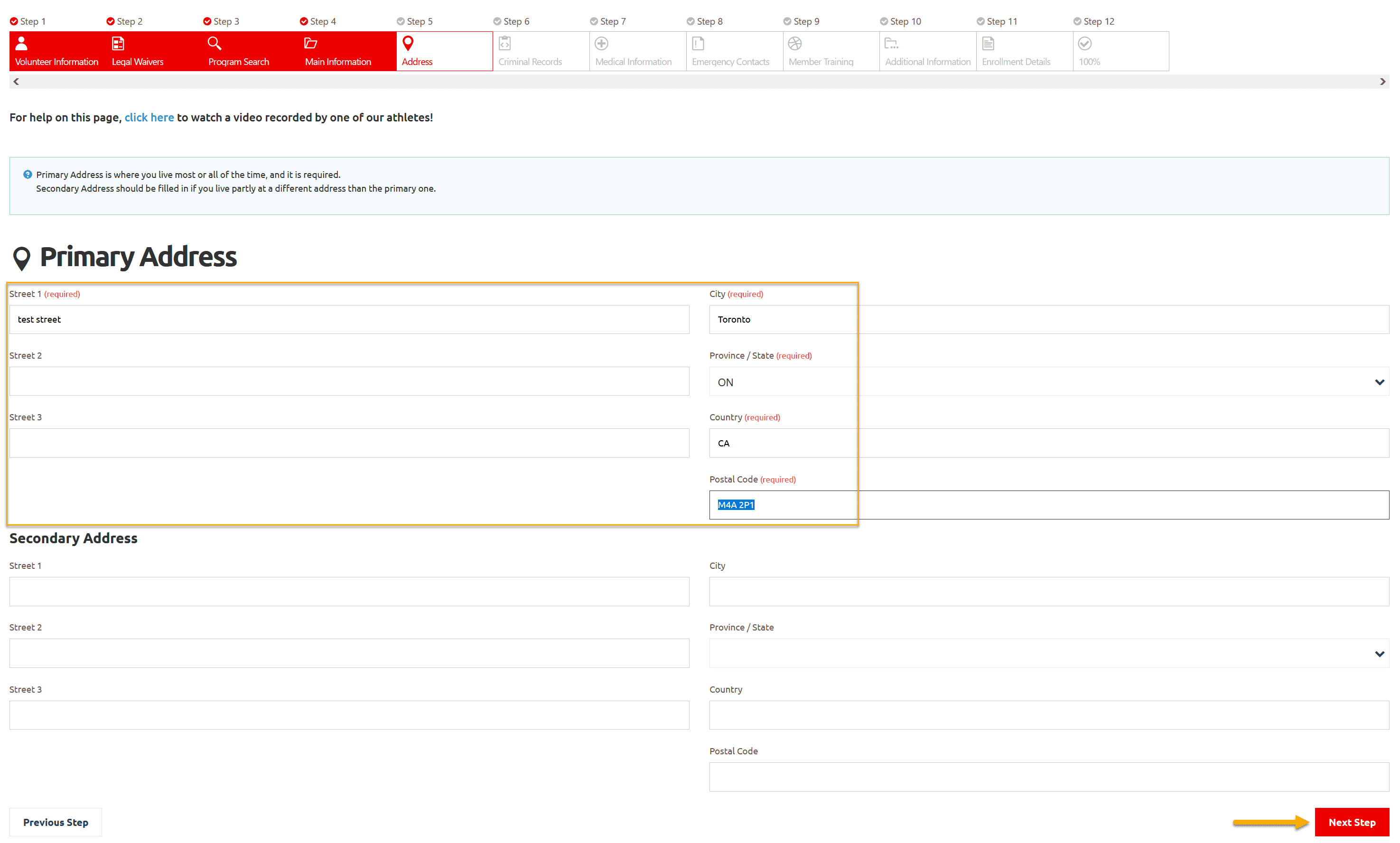 Step 6 – Criminal Record
In Criminal Record (CRC) Information window, Click +Add to upload copy of police check
If you have current complete police check (current means not older than a year, complete means Criminal +VSS) and have PDF copy.
You can upload E-police checks (some police services issue E-copy of police check result)
If you do not have Police Check at this moment, click on Next Step, it can be uploaded later anytime after submitting you application.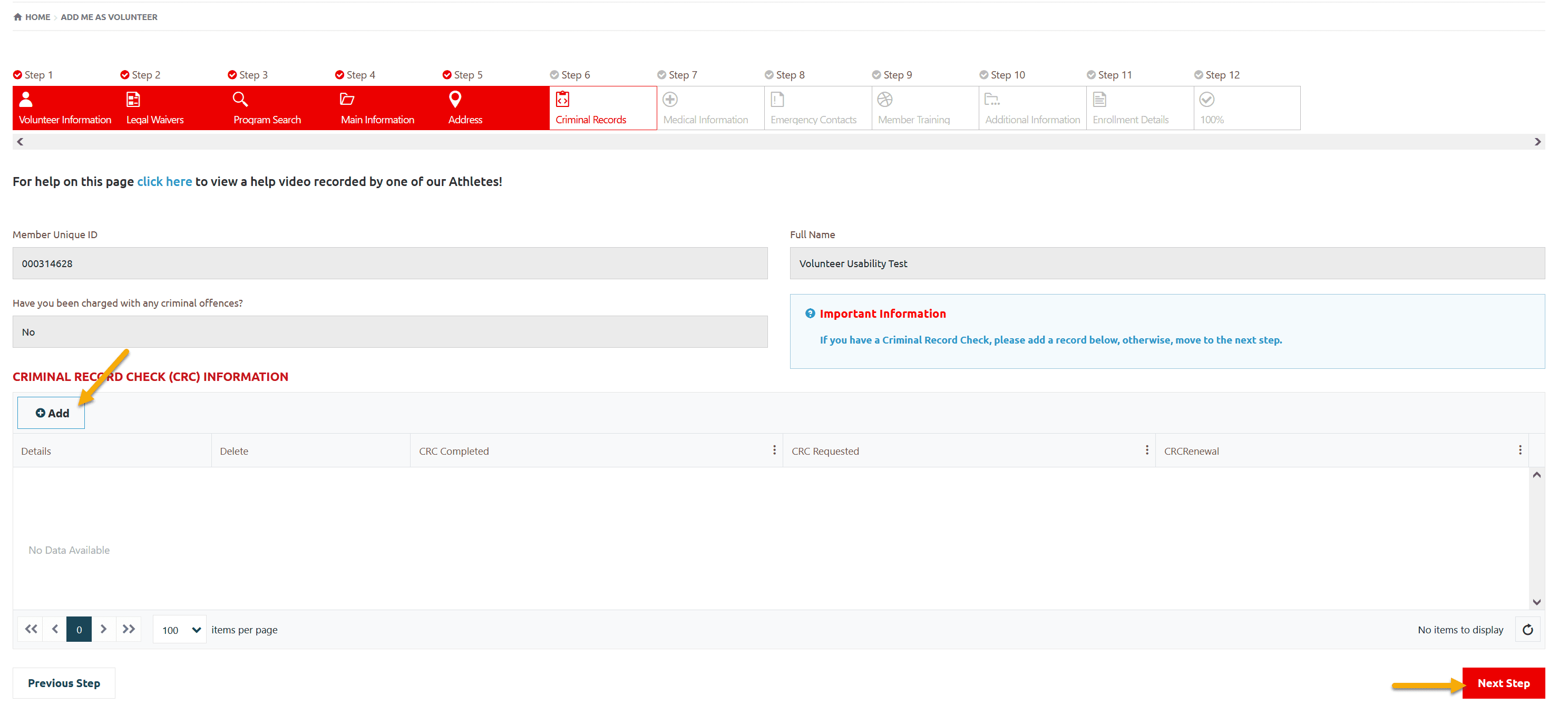 Step 7 – Medical Information
Fill out all required fields on this screen.
If your answer for any question will be Yes, more fields will appear to input details related to that question.
You can add your Medical Condition if any, by clicking on +Add, a new window will popup, select appropriate option and Submit to save it.
Then click on Next Step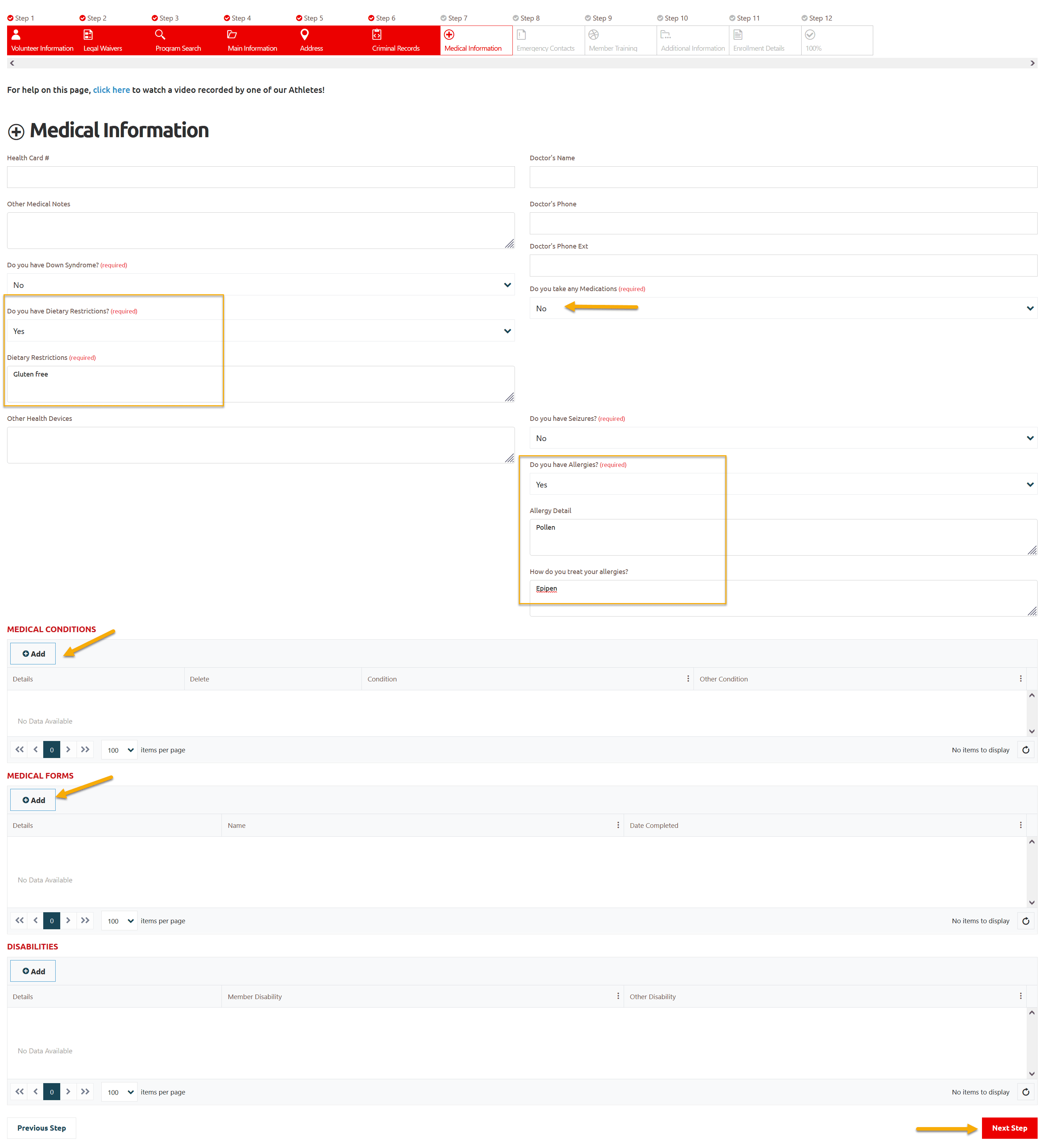 Step 8 – Emergency Contacts
You must have to provide at least one Emergency Contacts information.
Click +Add , a pop up window will open, add all appropriate information and Submit.
Click on Next Step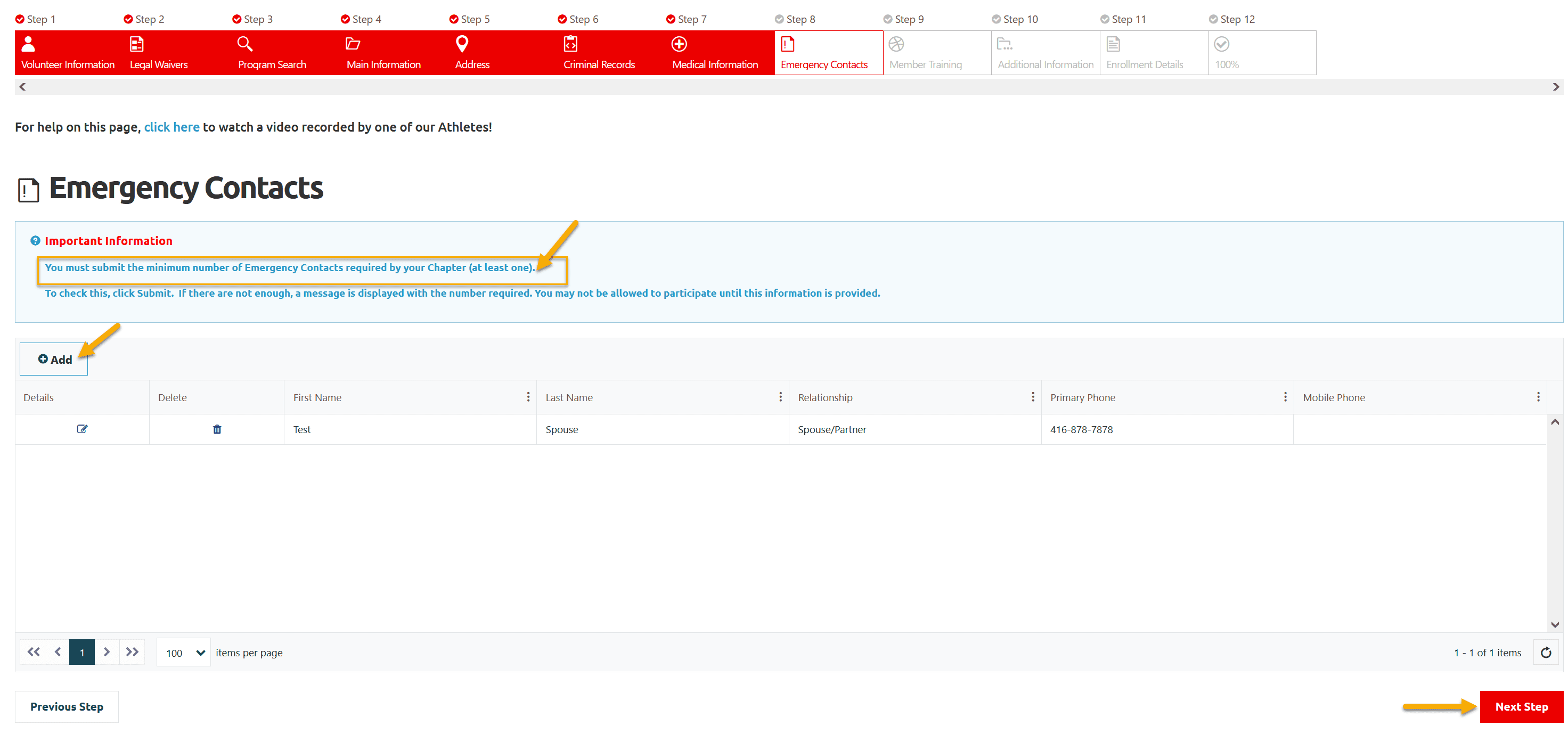 Step 9 – Member Training
Click +Add to add info of the courses you have taken from the list provided in the pop up window.
If course name is not in the list Select Other Course, Other Course field will be enabled to enter the Course Name. 
Add date completed & renewal date if any and Submit
Click Next Step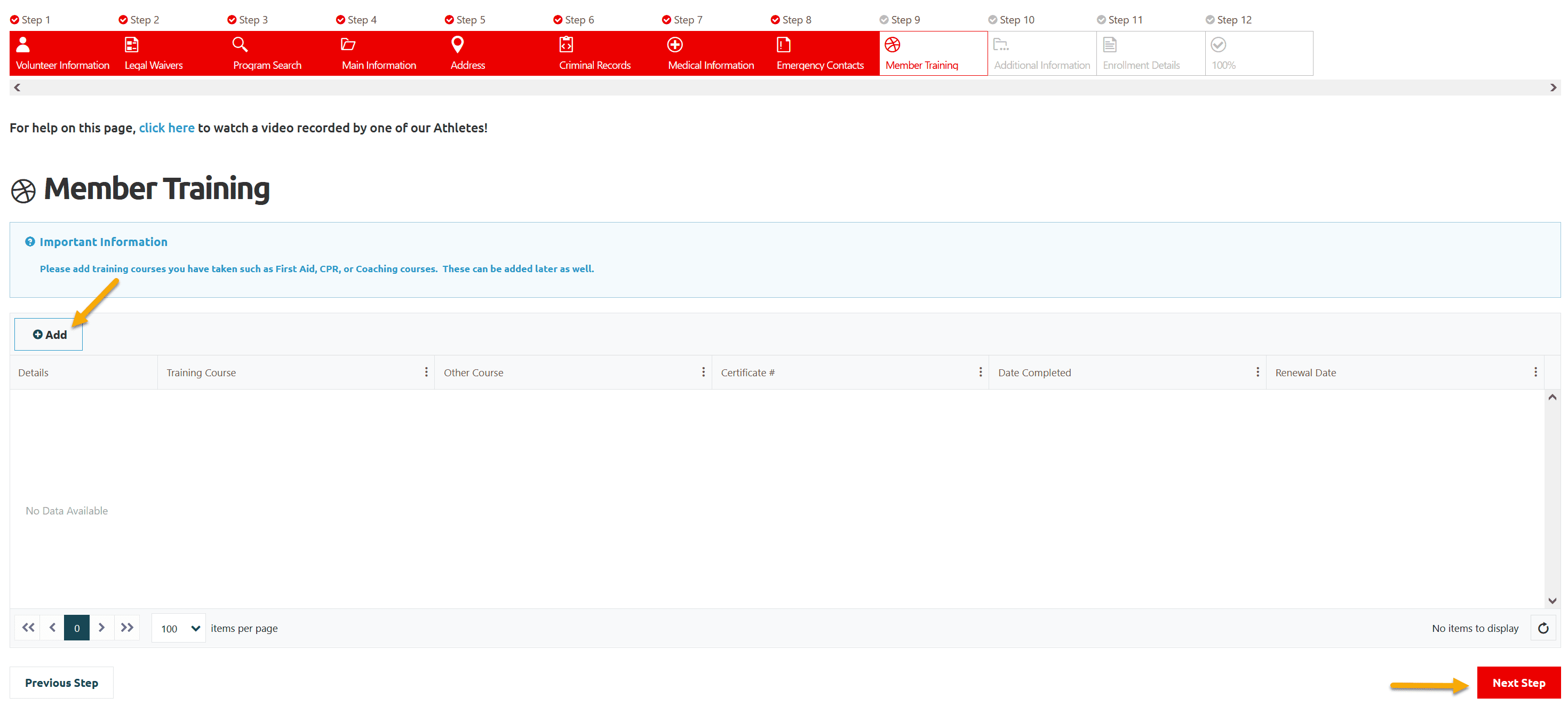 Step 10 – Volunteer Additional Information
Fill out appropriate fields in Profile Additional Information.
You MUST have to provide two non-related references information in Personal References section. Click Add to enter the information.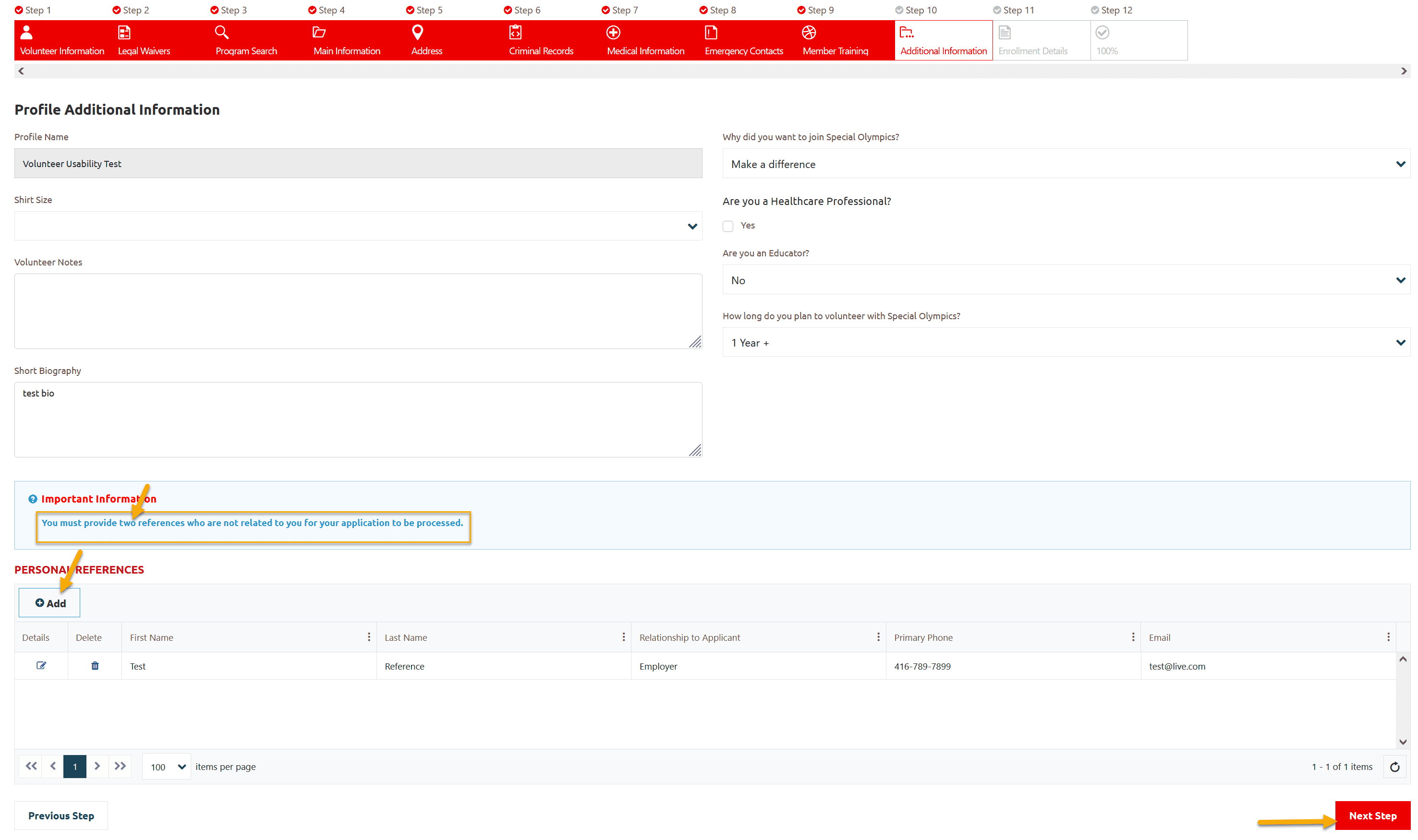 In My Volunteer Reference window, provide information in appropriate fields
Click Submit to save this info.
Click on Next Step

Step 11 – Enrollment Details
Click on Edit button to review details of your enrollment
If you want to change Organization Role, you can do it in this window. Submit to save
Then click on Next Step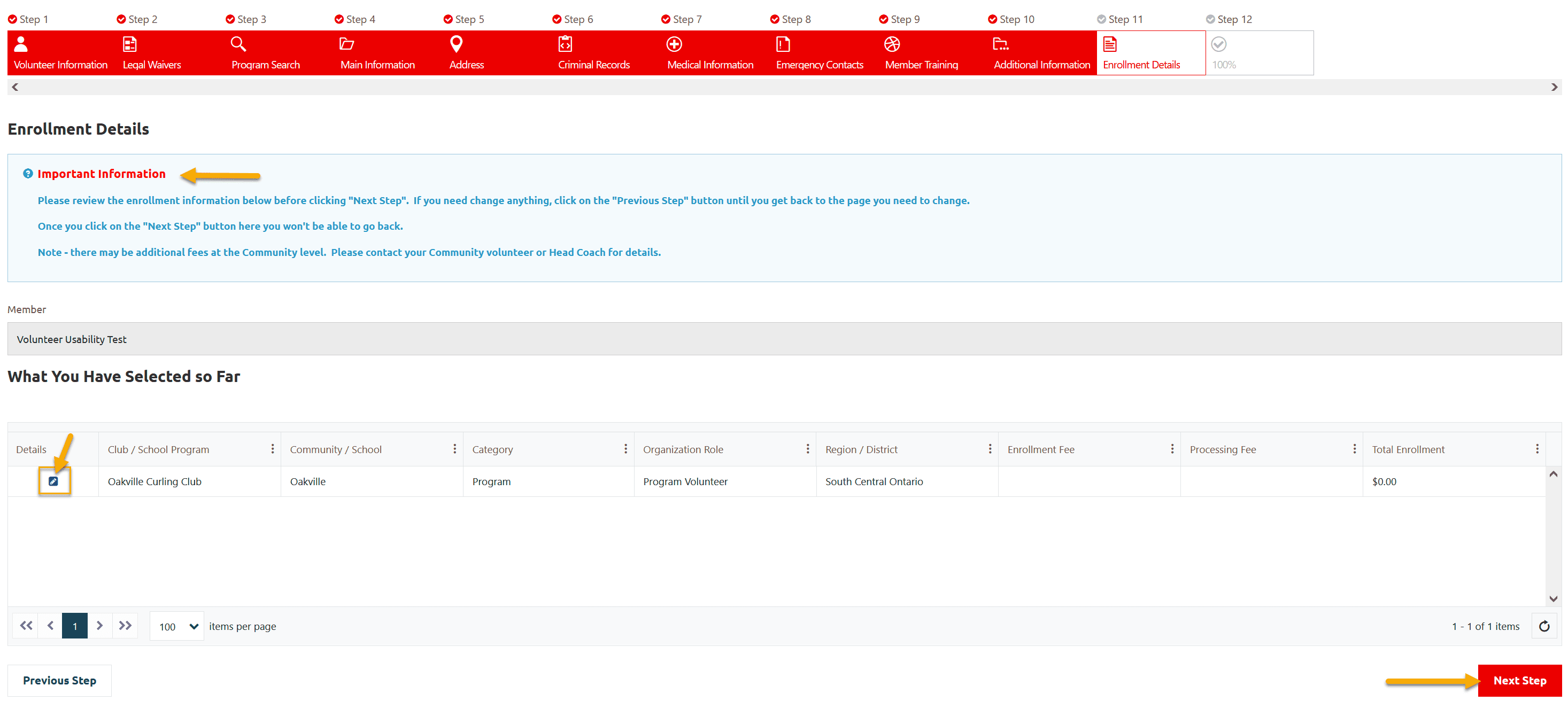 Step 12 – 100%
This window shows that your application has been submitted successfully.
System has sent you confirmation email.
Click on Go to My Enrollments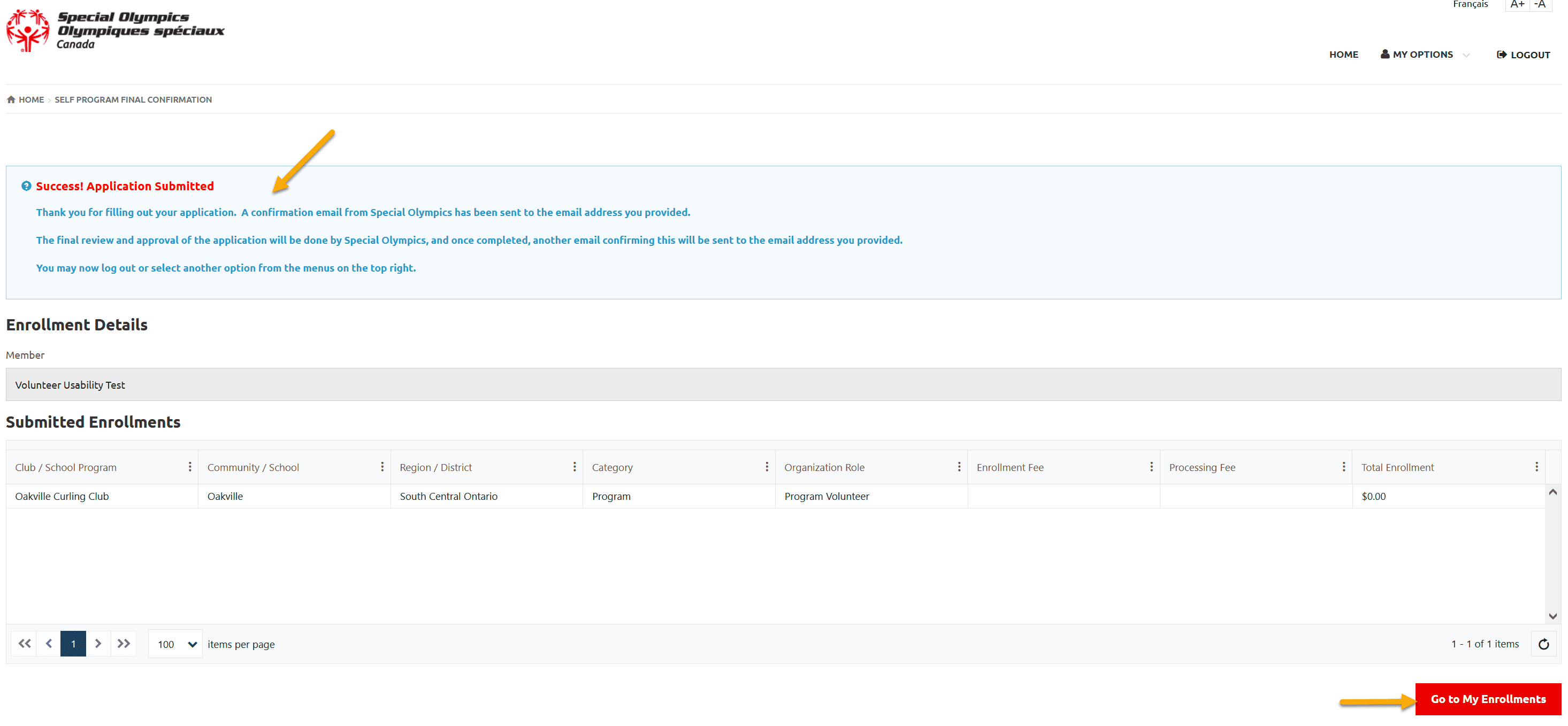 Step 12 – My Enrollments
This window shows your full name, Membership Status and your enrollment with Submitted Status.
Your Community/Club Admin will review your application, will contact you for further information. Your references will be contacted by community/club admin before you can start volunteering.
Now you can either Logout or click on My Options to update/review your application information