Select Approve Enrollments Tab
You will see two windows to approve enrollments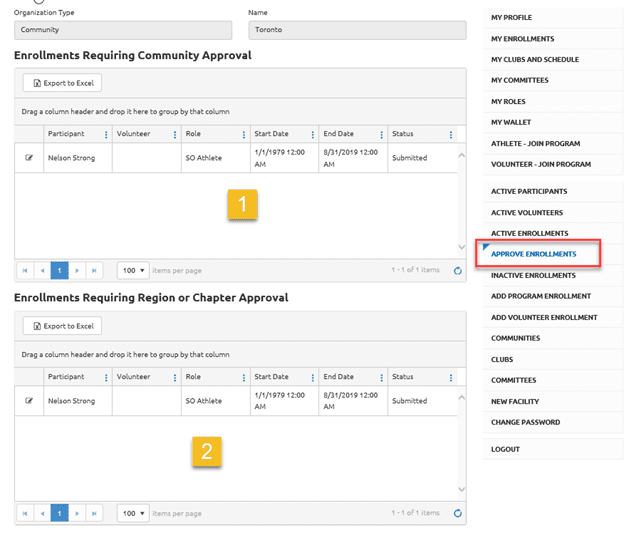 Enrollment Requiring Community Approval
This top window will provide you list of enrollments of already registered athletes/volunteers who are enrolling in other programs of your community or you have enrolled them in other programs. You have to and will be able to approve by changing their status from Submitted to Approved. All approved enrollments will be activated by System and you don't need to send email to head office.
Note: Status update Tool runs daily at Midnight, so after approving enrollments, you have to wait till next morning to see these members in Membership Reports.
Status change detail:
Athlete/Participant from Submitted to Approved (if you will select In Progress status, enrollment will never be activated)
Volunteer form Submitted to Approved (no new police check is required) for volunteers who are active or were inactive for less than a year.
Change the status form Submitted to Pending Document for volunteers whose status was Expired for a year or over and advise them to get new one and send to SOO office.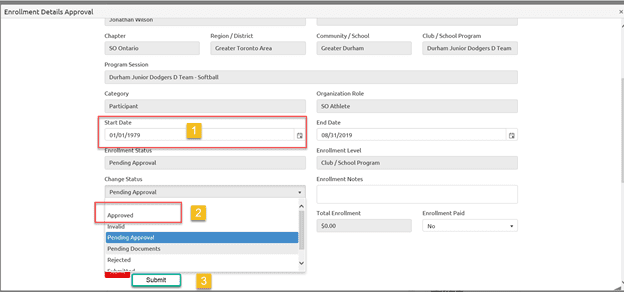 2. Enrollments Requiring Region or Chapter Approval
This window will show the list of New registration who used Portal registration forms to submit their forms. These enrollments has to be approved by DBA in SOO office, then these will show up in community approval window.