By: Jason Scorcia
Chapter 4
If you are just getting caught up on my story now, I should share that while I loved being a kid and going to high school, these past twenty years have been the real highlight of my journey as a superhero. That means this chapter you are about to read is really kind of like the "Highlight Reel" of my life! This is the time in my life where I really started to work towards my goal of becoming a Special Olympics Superhero: Spreading the Message of Sports, Hope, and Having Fun to Everyone. I couldn't have done any of this without Special Olympics!
Over the years, altogether I have won a total of 52 Medals as a Special Olympics Athlete! These medals represent all my hard work and training in a variety of sports, including swimming and soccer, bocce ball and bowling, as well as golf. I am proud of the medals I have won and of my family, especially my younger brother Adam, who have each supported me along the way. They have helped me to succeed, as has the Special Olympics organization. For all of that I am really grateful.
More important than medals however, is what I have learned along the way about helping others, and how proud I am to live, work, and play in a community that supports one another the way my friends at Special Olympics, and my friends from Bolton, Ontario all do. It's one of the reasons I wrote my first book, Jason's Quest, that has since become a colouring book for athletes and kids of all ages to enjoy, and which is an integral part of all my fundraising efforts. If you'd like to take a sneak peak at my colouring book now, click here.
If you've been reading these little vignettes about me from the beginning, way back in week one, you might be wondering about being a superhero and the flying part? Do superheroes really fly like in the movies? You bet they do – just maybe not the way you expect them to! Remember the story I shared back in Chapter Two about seeing all those planes in the sky when I was a little kid at school? Little did I know then how often I would be given the chance to fly to different places all over the world representing or supporting Special Olympics athletes. Of course by flying, I mean I was in an airplane!
I love to fly actually, and it has been a privilege to be able to go to Halifax for the Canadian Games, where I played golf, and to Dubai, which is in the United Arab Emirates (find that on a map!) to participate in bowling. I've even gone to LA, the land of movie stars and Hollywood, to watch and support our Canadian Athletes in the World Games.
Locally, I have been all over Ontario including Guelph, where I participated in the Provincial Games as a bowler and in Aurora, playing soccer as part of another Provincial Games. Whether I win a medal or not, I always have fun, meet new people and love being an AMBASSADOR for Special Olympics sports.
As you can tell from reading this little "book of memories," sports have been a very important part of my life, practically from birth! That's why it has been so important to me to help spread the message of sports, hope, and fun for everyone. I regard it as my "mission" as a superhero to share my story of Olympic success to inspire other Special Olympic athletes – especially little folks who are just starting to learn about sports, sharing, playing together, and having fun. It's also why I started Jason's Quest, to raise important funds to allow future Special Olympics athletes access to programs so they can grow and develop their own unique talents. I raise money through sales of my colouring book, by hosting fundraising dinners/galas, Facebook auctions and more. You can read more about my fundraising efforts here. In my "spare" time, I love to help other people like the Caledon OPP and their Toys for Tots program every December. If it's about helping people, I want to be involved!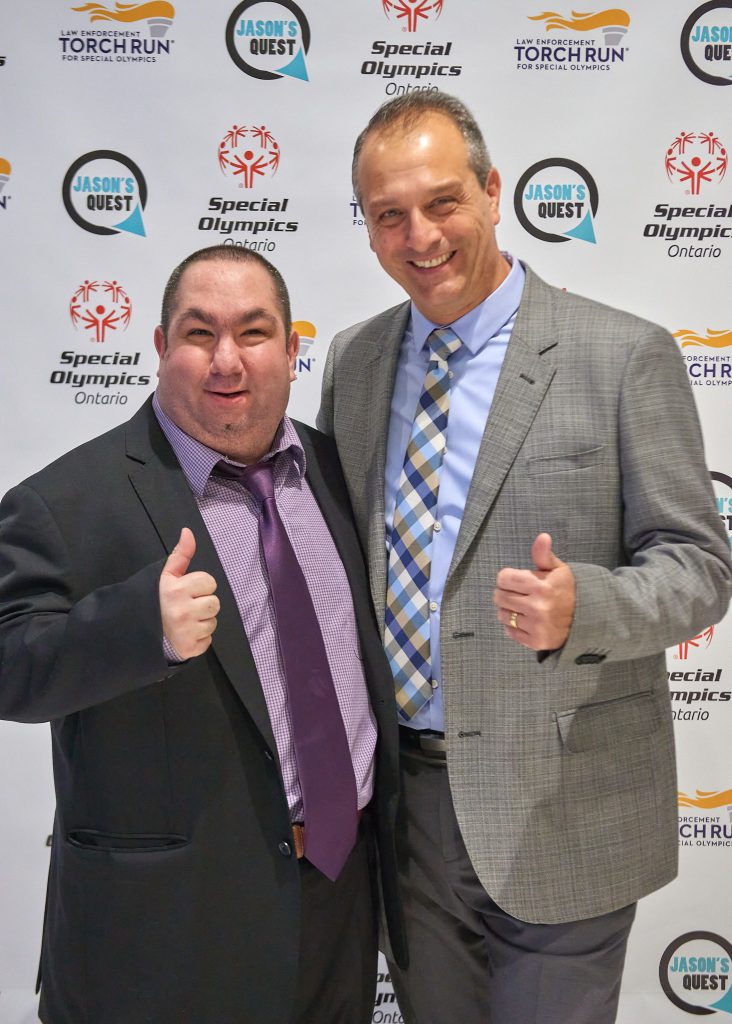 Speaking of the holiday season, Jason's Quest would be an amazing gift for your little special athlete and getting involved with Special Olympics, would be a great new year resolution as an act of goodwill toward the Special Olympics community. Jason's Superhero Quest is a proud supporter of the mission of Special Olympics Ontario and all special athletes, which is: to enrich the lives of Ontarians with an intellectual disability through sport. Together we believe in empowerment, excellence, respect, diversity, and inclusion, and if you would like to be a part of Jason's Quest, a Superhero's Mission of Sports, Hope, and Having Fun, we hope you'll consider a contribution to Special Olympics/Jason's Quest as part of your holiday gift giving. To donate and support Jason's Quest and Special Olympics Ontario, please click here.
Respectfully
And with thanks for reading!
Jason, "J.J. Scorch" Scorcia