The Canada Summer Games took place in Niagara, Ontario from August 6th – 21st. 11 Special Olympics athletes from Ontario competed at the games. Taylor Bennett, Shannon Swinson, Blair Bastien, Owen Konkle, Matthew Heldsinger, and Hudson Booth were on the Athletics Ontario team and competed in the 100m and 200m running events. Katie Xu, Emily Skulj, Rose Hewitt, Gael Shindano, Austin Daleman competed from Swim Ontario in several events including 50m and 100m in Freestyle, Backstroke, and Breaststroke.
All of the Special Olympics athletes are coming home proud of their achievements, some achieving personal bests, some earning medals, but all of them coming home with many fond memories and new friends from across the nation! Upon reflection, many of the athletes said that they were excited and happy to have made the Ontario Team for the Canada Games, but what was even more meaningful to them was the people they met and the unique experiences they had at the games.
Congratulations to all of the athletes and coaches who participated in the games!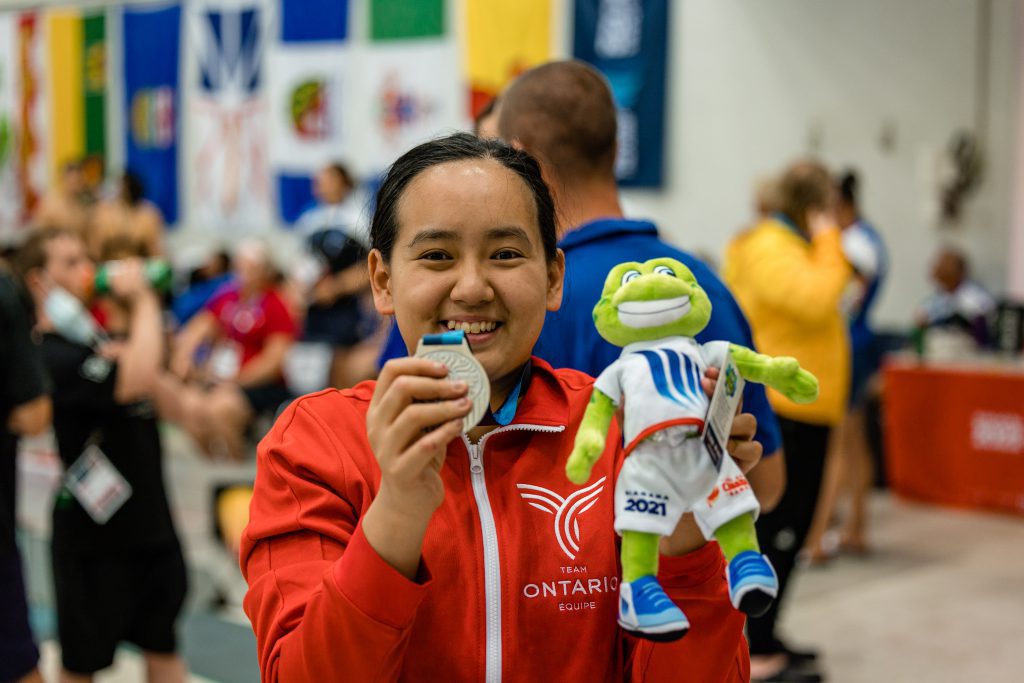 Athletics Results:
100m Special Olympics Female (Tuesday 16, Friday 19)
 5th – Taylor Bennett 
 6th – Shannon Swinson 
 9th – Blair Bastien 
100m Special Olympics Male (Tuesday 16, Friday 19)
6th – Matthew Heldsinger
10th Hudson Booth
200m Special Olympics Female (Wednesday 17, Saturday 20)
6th – Shannon Swinson
7th – Taylor Bennett
200m Special Olympics Male (Wednesday 17, Saturday 20)
4th – Owen Konkle
6th – Matthew Heldsinger
9th Hudson Booth
Swimming Results:
50m Freestyle Special Olympics Female (Thursday 11)
5th – Katie Xu
7th – Emily Skulj
15th – Rose Hewitt
50m Freestyle Special Olympics Male (Thursday 11)
6th – Gael Shindano
8th – Austin Daleman
100m Freestyle Special Olympics Female (Monday 8)
SILVER – Katie Xu
10th – Emily Skulj
100m Freestyle Special Olympics Male (Monday 8)
6th – Gael Shindano
8th Austin Daleman
50m Backstroke Special Olympics Female (Wednesday 10)
BRONZE – Katie Xu
6th – Rose Hewitt
14th – Emily Skulj
50m Backstroke Special Olympics Male (Wednesday 10)
100m Backstroke Special Olympics Female (Tuesday 9)
BRONZE – Katie Xu
6th – Rose Hewitt
14th – Emily Skulj
100m Backstroke Special Olympics Male (Tuesday 9)
50m Breaststroke Special Olympics Female (Monday 8)
GOLD – Katie Xu
7th – Rose Hewitt
50m Breaststroke Special Olympics Male (Monday 8)
8th – Gael Shindano 
12th – Austin Daleman