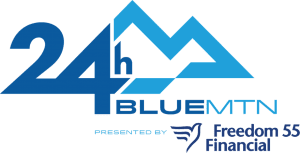 TORONTO, ON – Special Olympics Ontario is proud to announce the inaugural 24h BLUE MTN fundraiser, presented by Freedom 55 Financial, February 24-25, 2018 at Blue Mountain resort in Collingwood.
The event features 24-hours of relay skiing in support of Special Olympics and the Collingwood General & Marine Hospital Foundation.
"We're so thrilled to be part of this first-time event for Blue Mountain", said Abbie MacMillan, Vice-President Freedom 55 Financial. "We believe in supporting the communities where we live and work, and partnering with 24h BlueMtn will help us contribute to two worthy organizations."
Hosted at Ontario's premier ski resort, 24h BLUE MTN promises to be an unforgettable event, starting at 12 noon on Saturday, Feb. 24th, as teams of six to 12 skiers and snowboarders challenge each other over the 24 hours of the event.
"Special Olympics Ontario is very excited to be a beneficiary of this inaugural and exciting event at Blue Mountain," said Glenn MacDonell, President & CEO of Special Olympics Ontario. "The resort has been a longtime supporter of our cause, providing excellent facilities for our programs and athletes for many years. The Town of Collingwood is a proud and generous supporter of the Special Olympics movement. We are looking forward to the 24h BLUE MTN event in 2018."
Companies and individuals are invited to register as a team or solo, to ski and begin fundraising for this exciting event. Alternatively, supporters can make a donation at 24hBlueMtn.ca.
Jory Pritchard-Kerr, Executive Director Collingwood General and Marine Hospital Foundation, says, "As the closest acute care centre to the local ski hills, the Collingwood G&M Hospital (CGMH) is the first point of referral for all injured and ill patients in South Georgian Bay. Philanthropic support of the CGMH Foundation and partnerships like 24H Blue Mountain help to ensure superior healthcare to all patients in our community".
Date: February 24-25, 2018
Location: Blue Mountain, Collingwood
Time: 12:00 PM – 12:00 PM (24 hours)
For more information, to register or donate visit 24hBlueMtn.ca