Whether it's gracefully gliding across the ice as a figure skater, pursuing leadership opportunities in her community or making a splash on the big screens as an actress, Special Olympics Ontario (SOO) athlete Julia Romualdi has her sights set for success. Like many high achievers, the fulfillment of her goals does not materialize without a sometimes-hectic schedule and competing deadlines; both of which are overcome by the Timmins native's tenacity and work ethic.
With 20+ years under her belt as a figure skater and Special Olympics athlete, Julia Romualdi has had the opportunity to participate in various notable athletic events over the years. Some of these career highlights include capturing a silver medal win at the 2015 Canada Winter Games and performing alongside some of the nation's most decorated figure skaters, including Tessa Virtue and Scott Moir, during their farewell 2019 Rock the Rink Tour. Despite Julia's impressive list of accomplishments thus far, she notes the camaraderie and friendships made as one of many life-changing aspects of being a Special Olympics athlete.
However, Julia's involvement within the Special Olympics community does not stop upon leaving the rink. In addition to her current position as a representative for the National Advocacy Group for the Canadian Down Syndrome Society, Julia is also a committee member with SOO's Athlete Leadership Program (ALPs). In this role, Julia has been able to speak at a variety of provincial and national committees as both an advocate and leader within her cherished athletic community.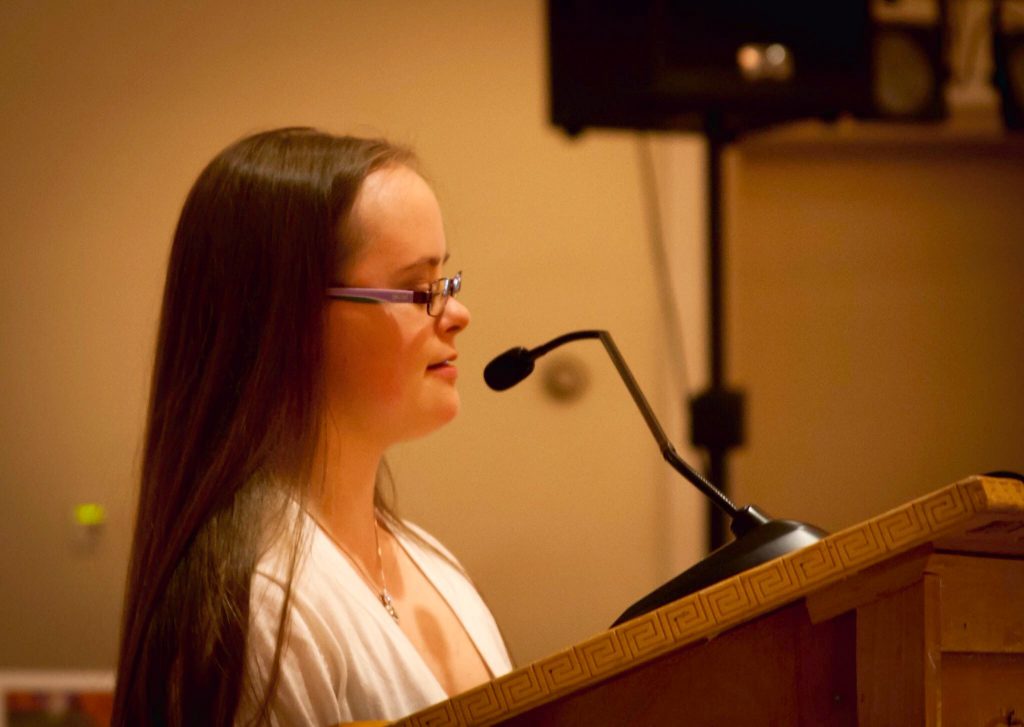 The SOO team had the chance to chat with Julia about her leadership journey thus far and what's next on the horizon for this driven young woman:
Q: What qualities do you think make a great leader?
A: First and foremost, I think a great leader needs to be passionate about their cause while also having a strong desire to help others. A strong leader also needs to have good communication skills and have the confidence to speak up on behalf of themselves and others. Effective leaders also need to have a clear purpose that can serve to guide and motivate their team members. Lastly, I think a good leader is patient, flexible, organized and encourages others to make good decisions to support the team.
Q: In what ways does a positive team leader benefit a group dynamic?
A: A positive team leader benefits a group dynamic by drawing on the strengths of each individual group member. They can encourage members to share their ideas while listening to others' opinions. When you have a strong group leader, others will want to work with them – I found this quote sums it up well, "Teamwork makes the dream work"
Q: What is your favourite part about being a committee member with ALPs?
A: My favourite part about being an ALPs committee member is that I get to use my voice to advocate for others who are differently-abled. I like hearing about what other athlete leaders are doing in their communities and have also loved all the new experiences and opportunities I have had since being on the committee.
Q: What is the most memorable experience you've had since becoming an ALPs representative?
A: My most memorable experience as an ALPs representative was when I was a guest speaker at a Family HealthForum in Prince Edward Island in 2019. My presentation was about my healthy lifestyle and the various ways to develop independence and basic skills as athletes. The forum also just happened to occur during a hurricane and it was even more memorable because of it!
Q: How have you remained connected with your Special Olympics athletic community during COVID-19 restrictions?
A: Thankfully, I have been able to stay connected with my current Special Olympics peers and have also met others across Canada by connecting via Zoom, FaceTime and Messenger. Similarly, as a Health Messenger with Special Olympics International, I narrated a Zoom tutorial to help other athletes learn how to stay in touch with their peers during this time.
With regards to my personal activities, every day since the pandemic, I have completed the Healthy Athletes at Home Programs and had so much fun during the SOO hangouts, dance parties, games and trivia nights! I also joined cooking classes, art lessons and daily physical wellness challenges and even participated in mental wellness activities. I also started a local athlete leadership Facebook group to keep the Timmins members connected and informed about SOO information, current initiatives and programming.
Q: What leadership skills have you developed since becoming a representative with the National Advocacy Group for the Canadian Down Syndrome Society?
A: Some leadership skills that I have been able to develop since being on the Canadian Down Syndrome Society advocacy group (and the Voices Around the Table for Advocacy committee), include building the confidence to speak up and tell my story and share advice with those who may need it. These opportunities have allowed me to improve my comfortability with public speaking by making presentations with my team – allowing me to realize that others truly want to hear our message(s). As advocates, we are creating positive change for younger people born with Down Syndrome by guiding others' actions and ideas in a unified way.
I also discovered that as a representative, we were providing parents with a sense of hope for their children's future. We have successfully demonstrated that the dreams they have for their children can be achieved overtime with the right guidance and supports in place. As a group, we can turn our ideas into action and help make a difference in the lives of many by sharing the importance of seeing our ability first.
Q: How do you remain a local leader in your Timmins community?
A: I want people to know that individuals with intellectual disabilities can be valuable members of any given community. In addition to my role(s) as a committee member, I have also been working at Walmart for five years as a customer service representative and I also volunteer in my local sports community. Some specific programs I enjoy participating in as a volunteer coach include the Special Olympics Fundamentals Program, where I teach young athletes basic sports skills. I have also volunteered with the CanSkate program at my local skating club for over five years. In this position, I am able to remain an active member of my skating community while also teaching others the fundamentals of the sport.
Outside of figure skating, I have also completed a variety of local radio, television and newspaper interviews. A specific example was a CBC documentary titled, You Can't Ask That – Down Syndrome episode, where I answered questions about Down Syndrome and highlighted the various abilities of people with this intellectual disability. Some other notable milestones within my leadership journey include public speaking initiatives at political and academic events, including an occasion where I addressed a group of University of Toronto medical and dental students about best practices when working with people with various intellectual disabilities.
More recently, I presented at a local high school to share my positive experiences as a Special Olympics athlete in the hopes of encouraging others to take part in our programming. Due to the amazing experiences I have had over the years as a Special Olympic athlete, I am constantly looking for opportunities to stay involved in local fundraising activities to support my fellow SOO peers. I have volunteered with the Law Enforcement Torch Run and have also organized other Special Olympics Timmins leaders to become involved in the Tim Horton's Day of Inclusion fundraiser, Staples-Share a Dream campaign and Bell Let's Talk Day. It is through these initiatives that I am able to support my Special Olympics friends in their leadership journeys in order to help pave the way for future generations of younger, aspiring athletes.
Q: What's next on the horizon? Do you have any specific goals that you'd like to achieve?
A: As a leader, I will continue to advocate for people who are differently-abled on as many platforms as I can. I will continue to welcome any and all opportunities to discuss Special Olympics, inclusive practices and ways to improve the lives of SOO athletes across the country. I am very excited to start my involvement with Special Olympics North America to participate in co-leadership discussions and presentations about inclusion and diversity moving forward. I will continue to be on the SOO Leadership Council and work with other athletes to establish a local Leadership Input Council. Recently, I was asked to be a part of HILL DAY discussions and speak with a Canadian government representative to highlight the importance of Special Olympics and the need to continue governmental support and funding.
Lastly, I want to help get our athletes back to our sports programming and activities once it is safe to do so. As an athlete leader, I will do my part to help recruit volunteers in 2022 to join our Special Olympics movement. Similarly, as a newly appointed Special Olympics Ontario Board member, I look forward to in-person meetings and am honoured and am very eager to contribute as an athlete representative. As a Special Olympics athlete, we take pride in who we are as a tight-knit community – both our sports and athletic programming helps to shape our lives and allows us to grow as people and athletes and for that, we are so very grateful!
In spite of her busy schedule, juggling both her athletic commitments and blossoming acting career, Julia never ceases to relish in the pure joy she feels upon stepping foot on the ice. For Julia, it's a time to reconnect with her passion of figure skating and compete in a sport she loves as she glides across the ice to represent her Special Olympics community.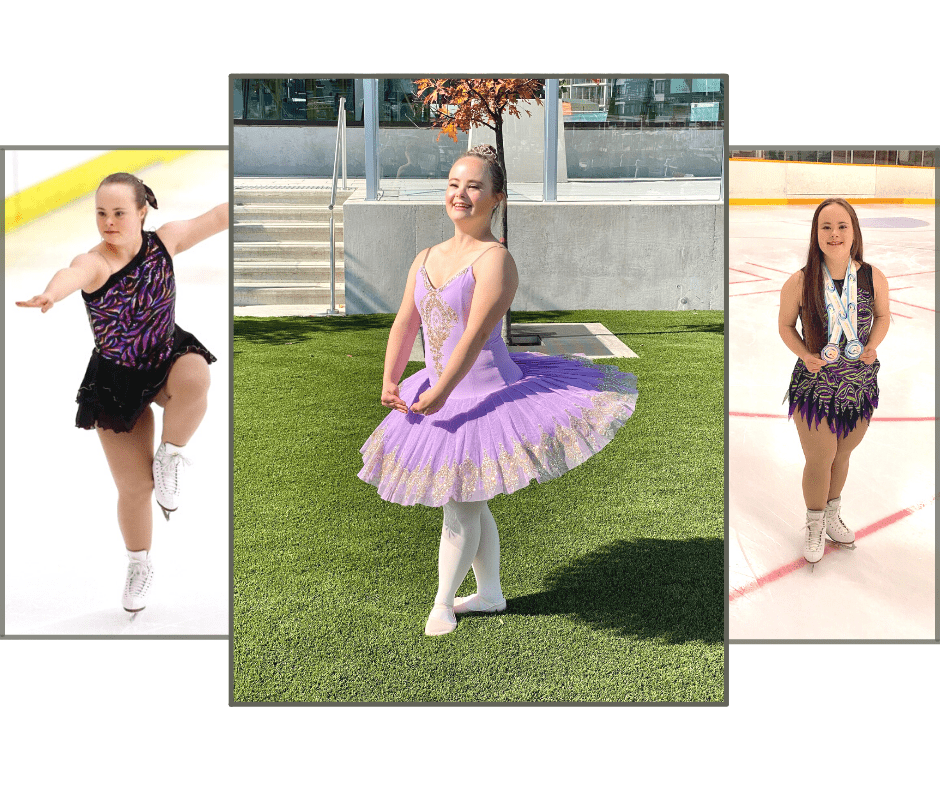 Congratulations Julia on behalf of the Special Olympics Ontario team on your successes thus far – we can't wait to see where your journey, both on and off the ice, will take you next!