Friday, April 7th is World Health Day! World Health Day was created by the World Health Organization (WHO) as an effort to bring attention to a specific health topic each year. This year's theme is #HealthForAll , celebrating WHO's 75th anniversary. At Special Olympics Ontario, we are working to promote Intellectual Disability inclusive health through education, prevention, and healthcare training. To honour World Health Day, we would like to tell you more about our Partners in Health that are working with us to provide quality, tailored care to Special Olympics Ontario athletes.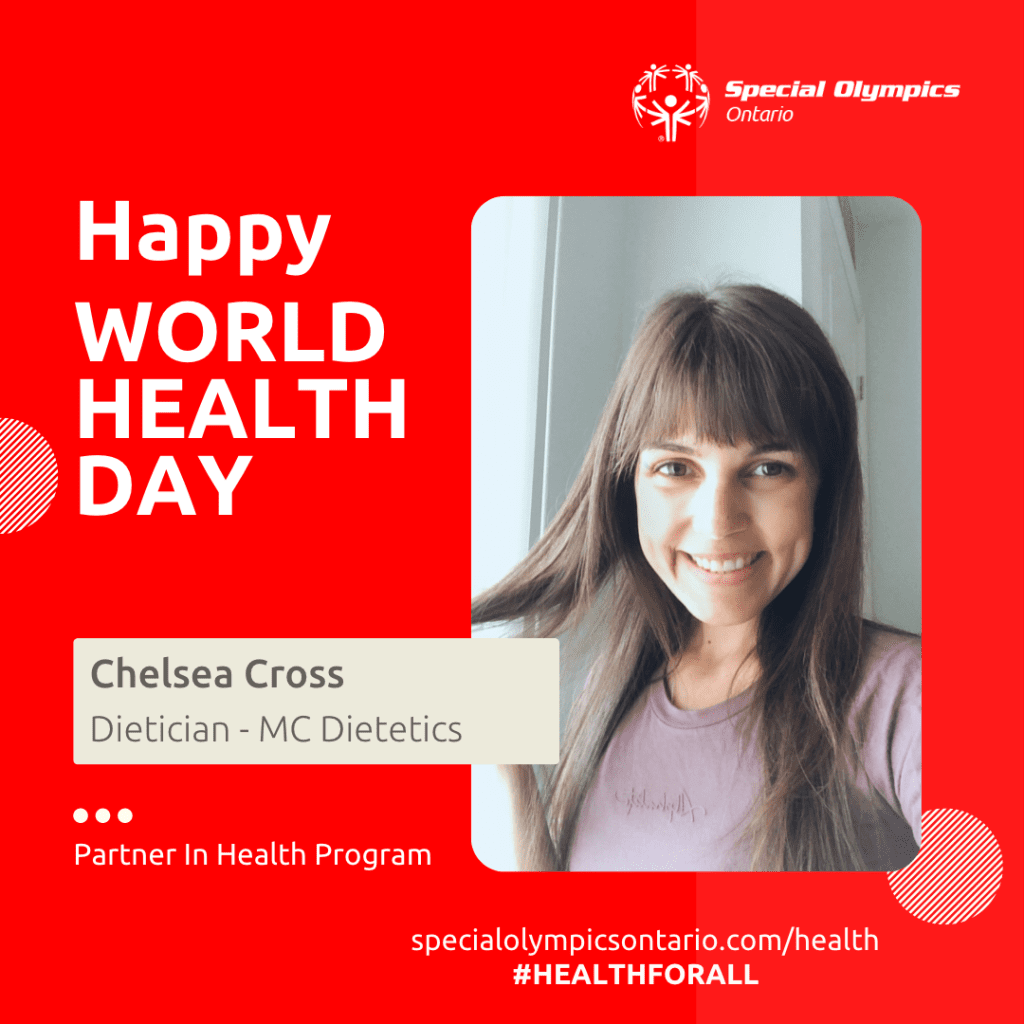 Chelsea Cross – Dietician – MC Dietetics 
Chelsea Cross is a Dietician working with MC Dietetics.  MC Dietetics offers nutritional counseling and help with other lifestyle-based things related to overall well-being (sleep, exercise, pre and post exercise fueling, routine formation, am and pm routines to help with sleep and wakefulness).
Chelsea is passionate about providing care to people with ID because the Partner in Health training taught her that individuals with disabilities of all kinds tend to have a much harder time being seen, being heard and getting the health and education they desire. Chelsea doesn't want anyone to feel they cannot access help and education for bettering their health, their performance, and their overall being.  
Chelsea wants all athletes to know that her nickname is "mighty mouse" as she is a very small person but in a strong body. Chelsea loves training and the gym is her second home, so she can relate to athlete's love for sports and desire to fuel right for their athletic goals. Chelsea's favourite thing about being a registered dietician is that she gets to help people understand and feel confident about food. She notes that food and nutrition are one of the best forms of self-respect you can do and makes all the difference for performance, mental health and overall longevity.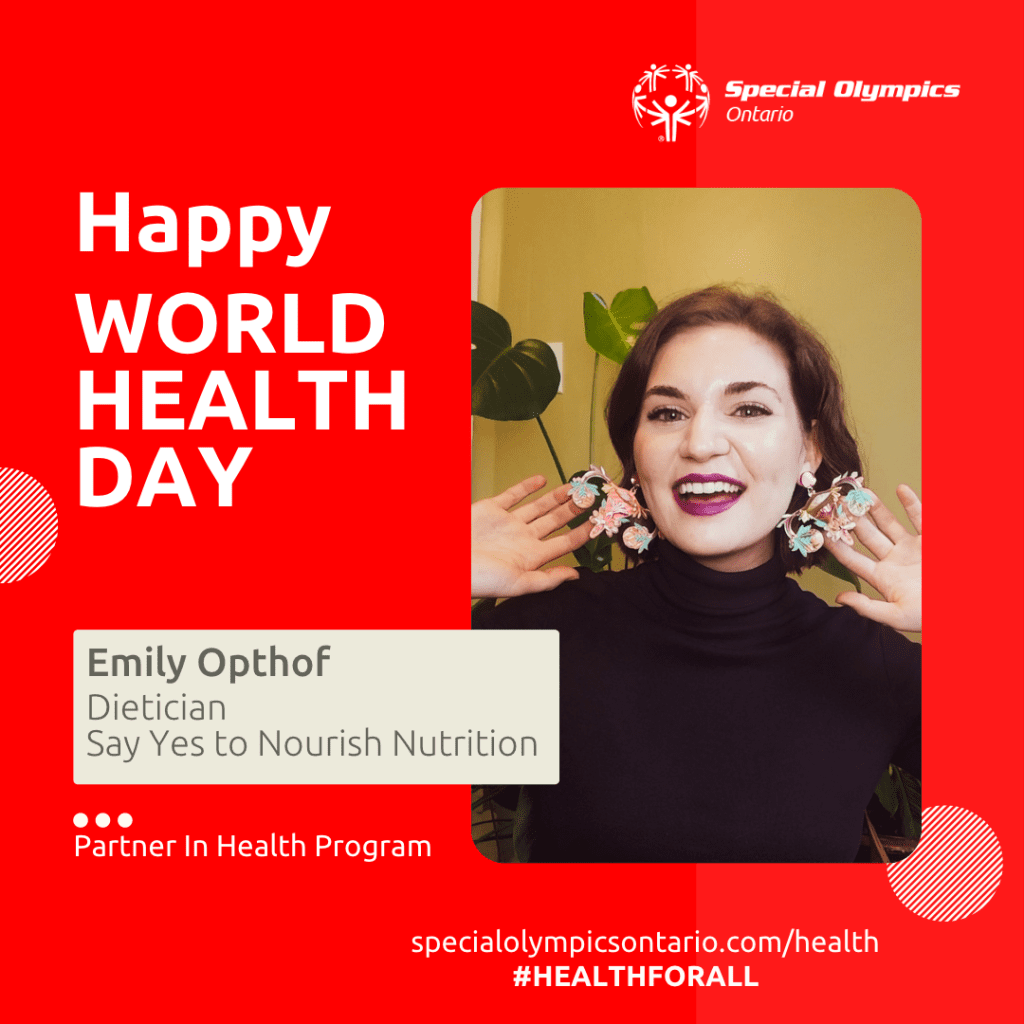 Emily Opthof  – Dietician – Say Yes to Nourish Nutrition 
Emily offers non-diet and weight-inclusive nutrition care. She helps her clients focus on improving their health without focusing on weight or food restriction. Her work is focused on reproductive health (PCOS, endometriosis, painful periods, missed or skipped periods in athletes), sports nutrition and eating disorder care. She does not provide weight loss advice. Emily is located in Strathroy, Ontario but offers virtual care across all of Ontario!
Emily is committed to providing care to people with ID because she believes in making nutrition information more accessible and more inclusive to all people – because people are diverse and so are their needs! Emily wants all athletes to know that she is also an athlete! She has been a competitive figure skater for the past 20 years, and she doesn't plan on stopping any time soon. Her recent achievement was a new season best score at Adult Provincial Figure Skating Championships 2023. Finally, her favourite thing about being a dietitian is hearing about the positive food relationships that her clients build, and how much stronger they feel in their athletic performance.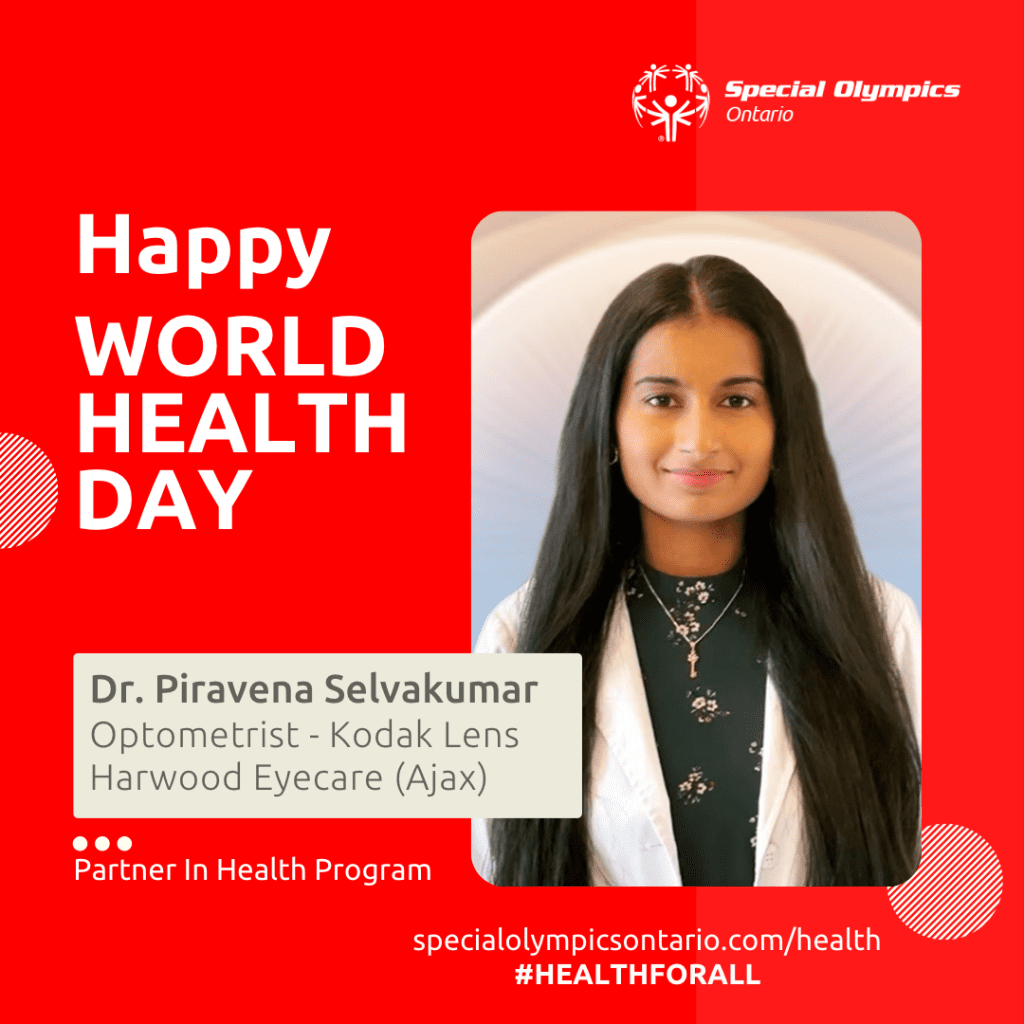 Dr. Piravena Selvakumar – Optometrist – Kodak Lens Harwood Eyecare (Ajax) 
Dr. Piravena Selvakumar is an optometrist who offers eye exams and prescription glasses in Ajax, Ontario. She is committed to providing care to persons with intellectual disability because although persons with intellectual disability are at increased risk for visual and ocular health problems, they are often overlooked and encounter difficulty accessing quality health services. Dr. Selvakumar wants to help reduce these health disparities by providing quality eyecare to people with intellectual disability and helping them to achieve their optimal visual and ocular health.  She wants all athletes to know that she's dedicated to delivering you the highest quality of eyecare to help you succeed in your competitions. Your visual and ocular health needs are Dr. Selvakumar's top priority.  
One of her favourite parts about being an optometrist is being able to enhance the quality of people's lives by improving their eye health and vision. She enjoys helping her patients fulfill their visual needs and loves educating them about their visual and ocular health.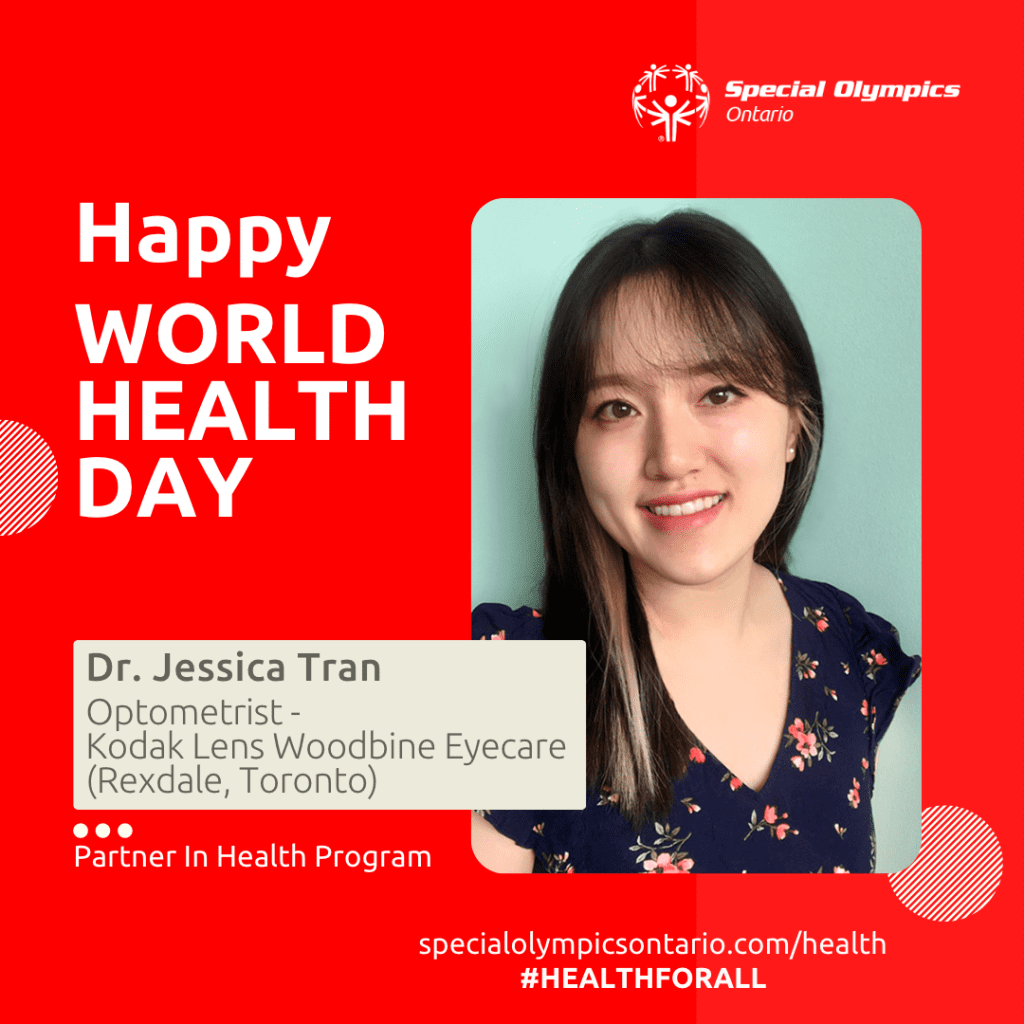 Dr. Jessica Tran – Optometrist – Kodak Lens Woodbine Eyecare (Rexdale, Toronto) 
Dr. Jessica Tran is an optometrist who offers eye exams and prescription glasses in Rexdale, Toronto, Ontario. Dr. Tran is committed to providing care for people with intellectual disabilities because she wants to do her part in helping marginalized communities and believes that everyone has the right to see. Dr. Jessica wants all athletes to know that she has lived in 6 different cities, but Toronto is home – She has never been anywhere else that she loves as much as Toronto. She enjoys the interactions that she has with my patients every day, especially seeing their eyes light up when they're able to see clearly again. It is a very fulfilling experience!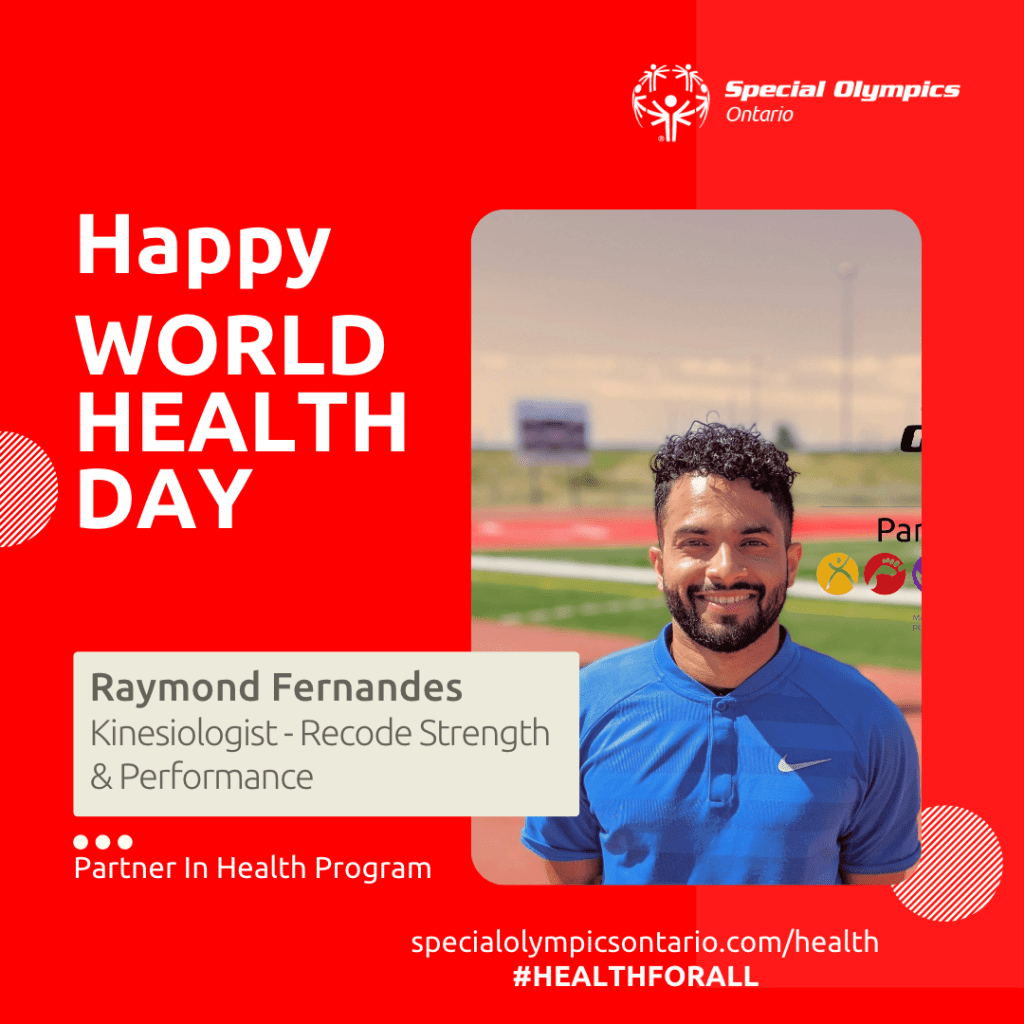 Raymond Fernandes – Kinesiologist – Recode Strength & Performance 
Raymond's mobile Physical Therapy practice offers Physiotherapy, Kinesiology, and Personal Training services. Raymond services the Peel and Halton region by conducting at-home visits or location meetup. He is committed to providing care to people with intellectual disabilities because his goal is to create an inclusive environment in sports by working towards enhancing the physical, social, and emotional wellbeing of all athletes. Raymond wants athletes to know that he's fun and engaging to work with. Raymond's favourite thing about being a registered kinesiologist is teaching athletes to explore new movement patterns to become the best version of themselves!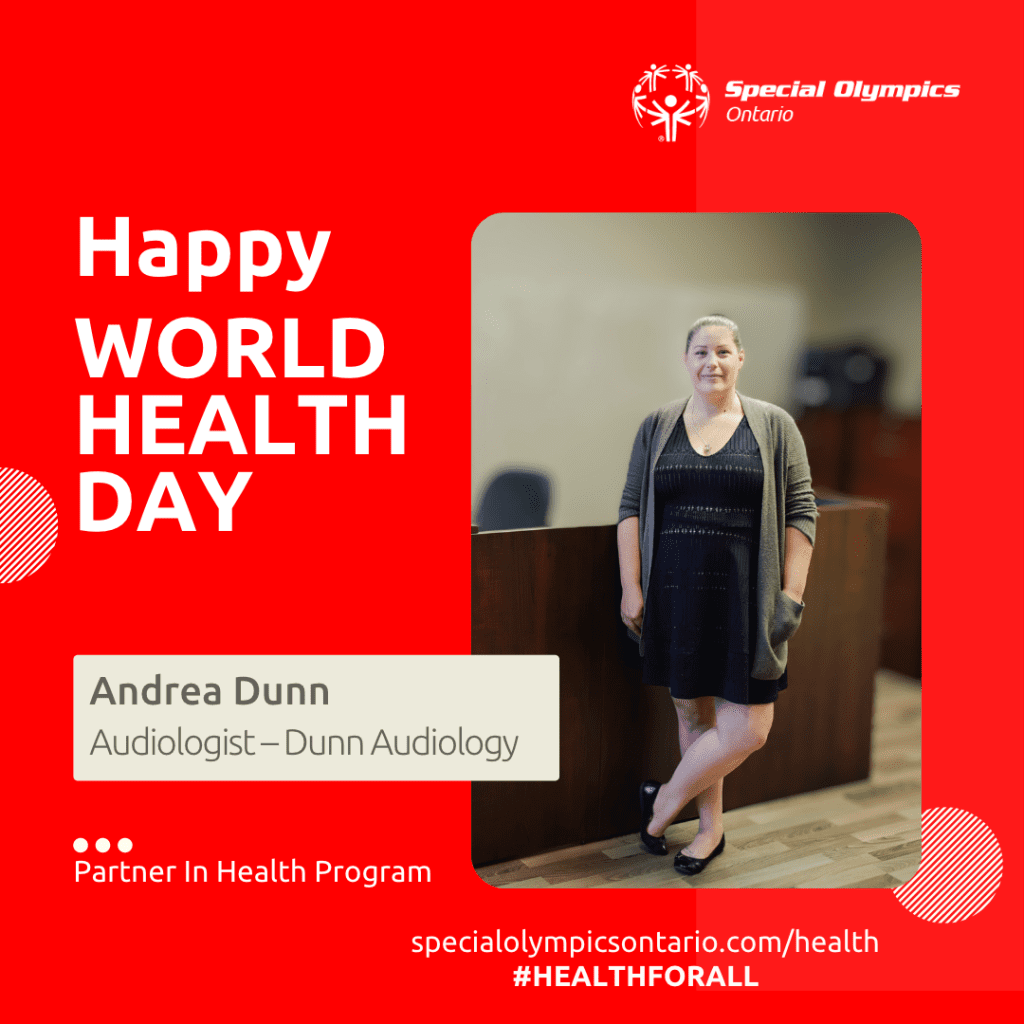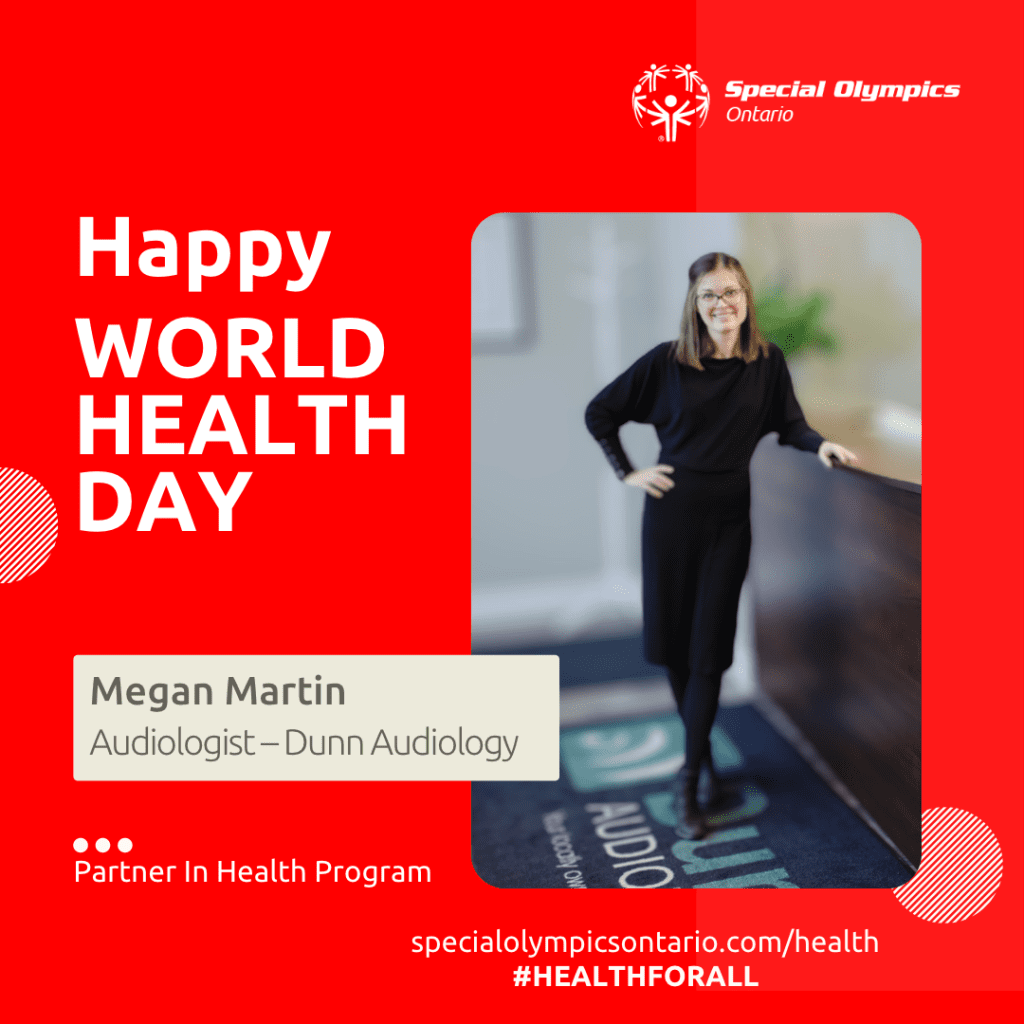 Andrea Dunn & Megan Martin  – Audiologist – Dunn Audiology 
Andrea and Megan offer hearing tests, hearing aids, hearing aid repairs/cleanings, ear wax removal, custom hearing protection, and custom swim plugs. They are are located in London, Ontario (1140 Southdale Road West, Unit 3, London, Ontario, N6P0E1). Andrea and Megan are committed to providing accessible hearing care to those with intellectual disability. Andrea and Megan believe that audiology is a very important part of a healthy lifestyle, and an improved quality of life. They want to support those with intellectual disability and make sure everyone feels comfortable when they are at their clinic. They will always listen to your concerns and answer any questions you may have.  
They want all athletes to know that they love sports too! Everyone at their clinic is involved in a variety of sports such as soccer, running, golf, skiing, skating, swimming, and horseback riding. They love meeting new patients. Every person is unique, and they want to help every patient who comes into their clinic! 
Health is an integral part of being the best athlete you can be, both on and off the playing field. Special Olympics Ontario provides different programs to promote healthy, active living to Special Olympics athletes and students across Ontario. Our programs help to attract new athletes to the movement and enhance their ability to train and compete, which in turn, empowers them to invest in their overall health and well-being. Learn more about our programs at https://www1.specialolympicsontario.com/health/