2022-2023 Annual Impact Report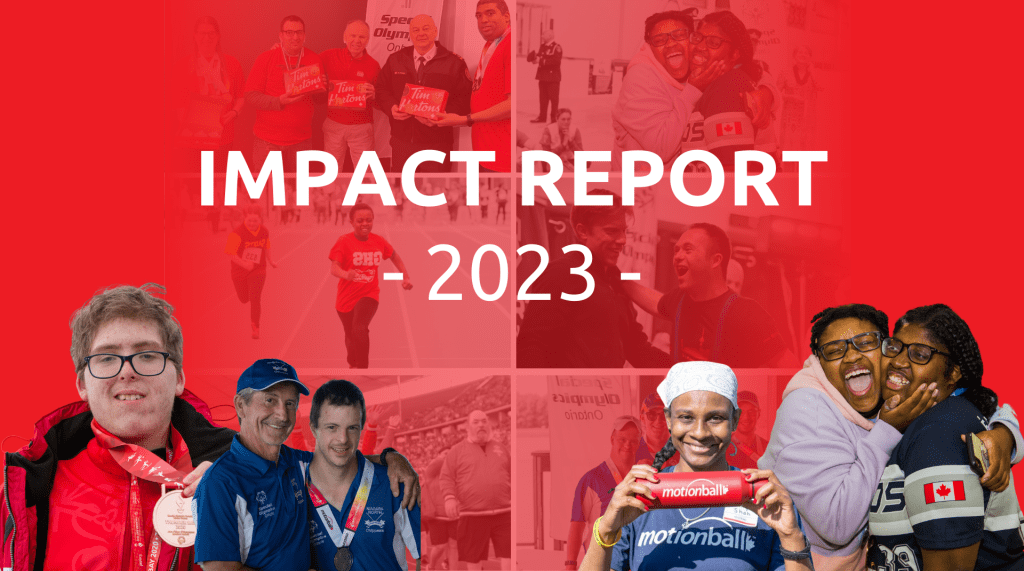 We are delighted to present the 2023 Impact Report by Special Olympics Ontario, encapsulating the remarkable journey of the past year.
This online flipbook is a comprehensive window into the transformative impact our organization has had on athletes, volunteers, coaches, and partners. Filled with inspiring stories and concrete achievements, it reflects the collective dedication to inclusion, acceptance, and the pursuit of excellence.
Through this interactive report, we invite you to witness the positive change we've made possible in the lives of those with intellectual disabilities.
Join us in celebrating the power of sport, community, and the promise of a brighter future.
To view this year's impact report, go to soontar.io/impact-report
2023 Provincial Sport Awards
We are thrilled to honour the 2023 Provincial Sport Award winners, a remarkable group of individuals and teams who embody the spirit of true champions. From Athlete of the Year to the President's Award, these dedicated athletes, coaches, volunteers, and educators have shown exceptional dedication and sportsmanship. Each award category highlights the unwavering commitment to inclusion, excellence, and community impact that defines Special Olympics Ontario. Their stories inspire us, and their achievements represent the very best of our Special Olympics community.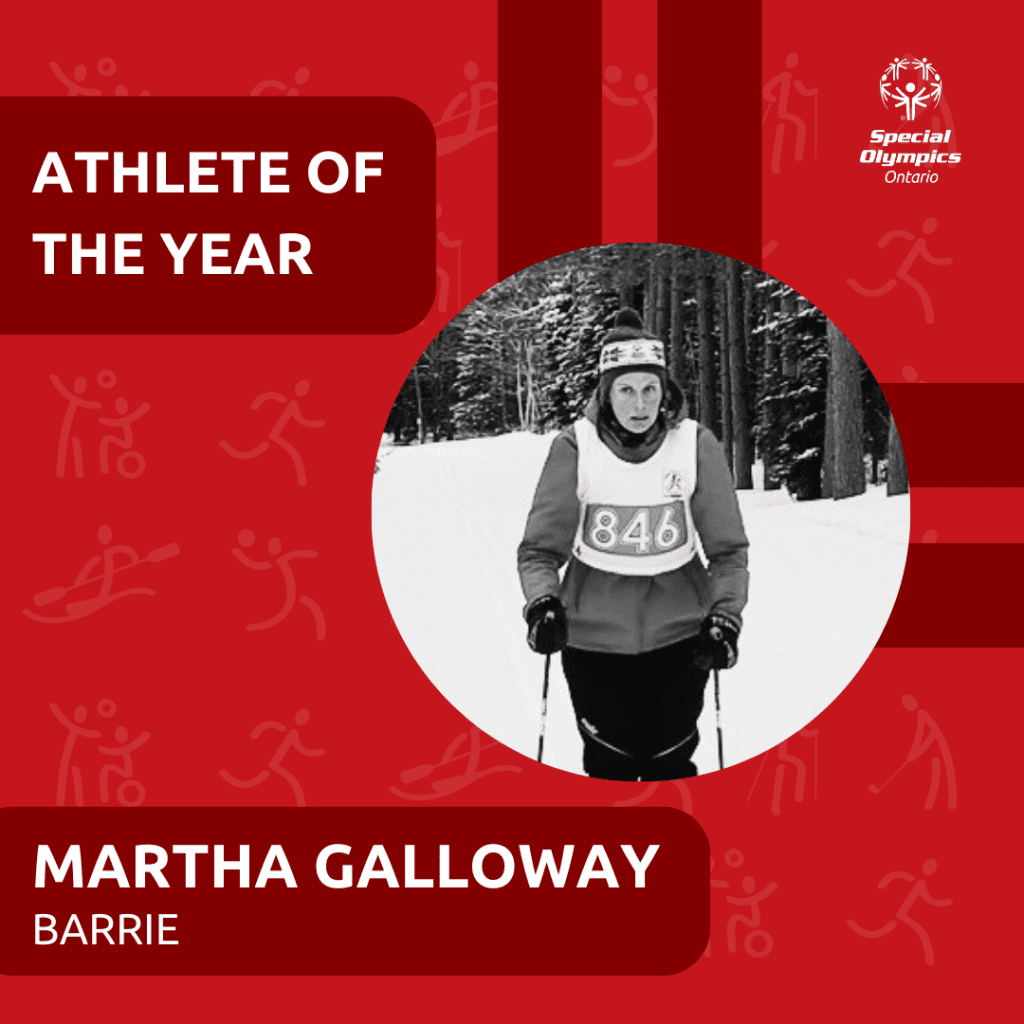 Martha Galloway is a versatile athlete actively engaged in a wide range of programs in Barrie, including Alpine Skiing, Nordic Skiing, Track and Field, Bocce, 5-Pin Bowling, and Mountain Biking. This year, Martha participated in both Alpine and Nordic Qualifiers, earning medals in Alpine and achieving double gold in Nordic. She's currently under consideration for the National Games 2024 for Nordic. Known for her unwavering positivity and constant smile during training, she's made remarkable personal breakthroughs in all aspects of her life.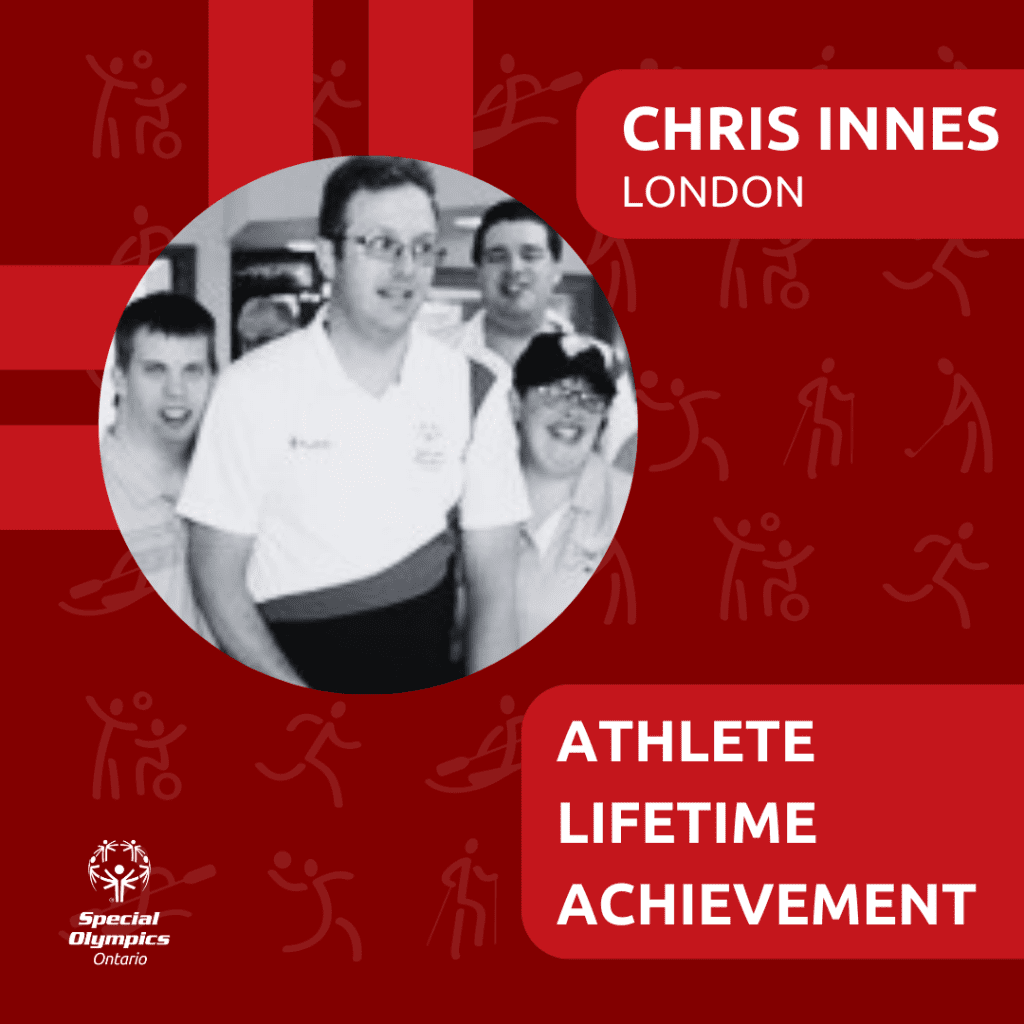 Chris Innes, fresh from the World Games in Berlin with a Gold Medal, adds another accolade to his extensive collection. With seven National Games, thirteen Provincials, and two International Games under his belt, Chris is no stranger to success. He earned Athlete of the Year in 2001 and has received awards in swimming and skiing. Beyond his sporting achievements, he's been a dedicated participant in the annual Polar Plunge, a reliable contributor to community fundraisers, and even had the honour of carrying the Olympic Torch ahead of the 2010 Winter Olympics in Vancouver.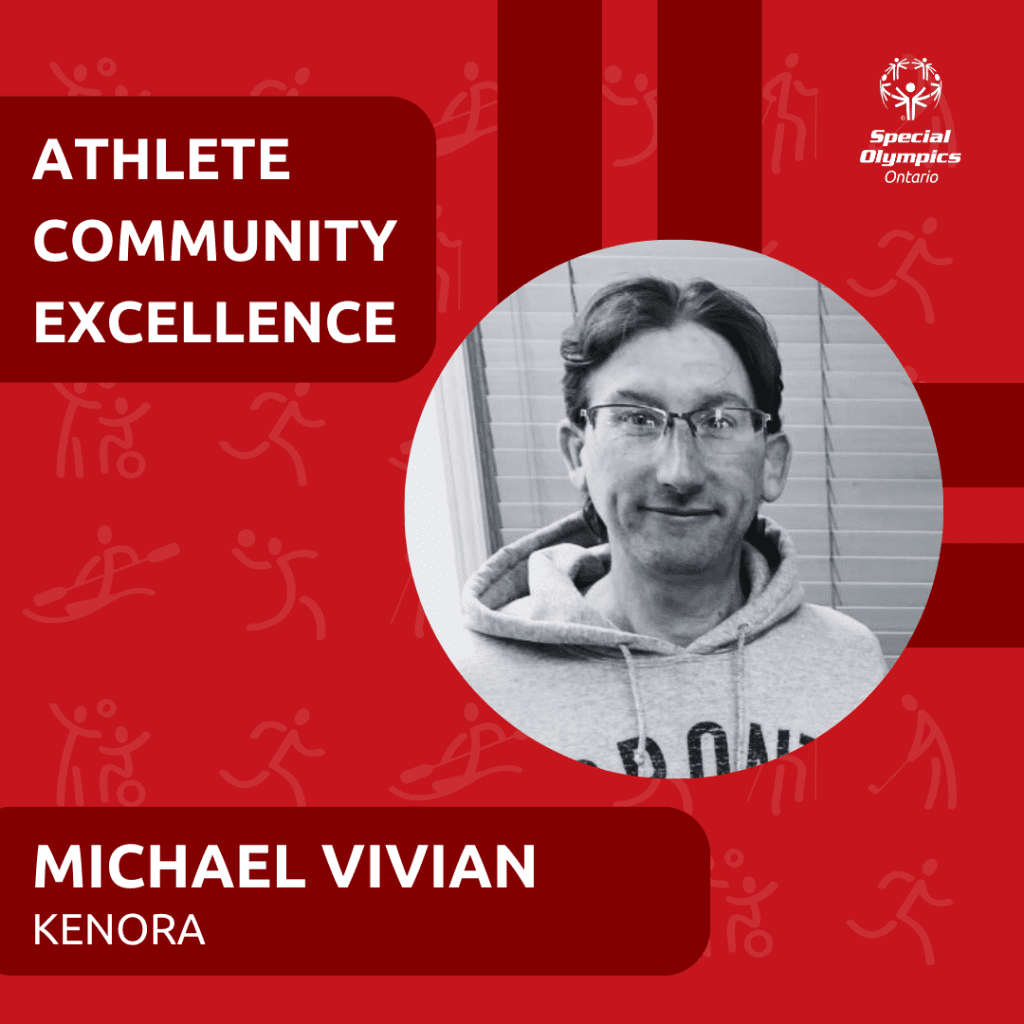 Michael Vivian is an athlete who embodies the spirit of respect, kindness, and concern for others. He goes the extra mile by offering rides to Special Olympics events and providing snacks to those who may need them.
A skillful athlete, he shines even brighter as a teammate, adding immense value to Kenora Special Olympics. During regionals, he extends a helping hand to less capable athletes by offering rides to the bus, carrying bags, assisting with hotel arrangements, and generally ensuring everyone's comfort. Michael, who is also married and holds a regular job, contributes to the swimming program, helps neighbours, and serves as a spirited cheerleader for all athletes, ready to lend a hand at any moment.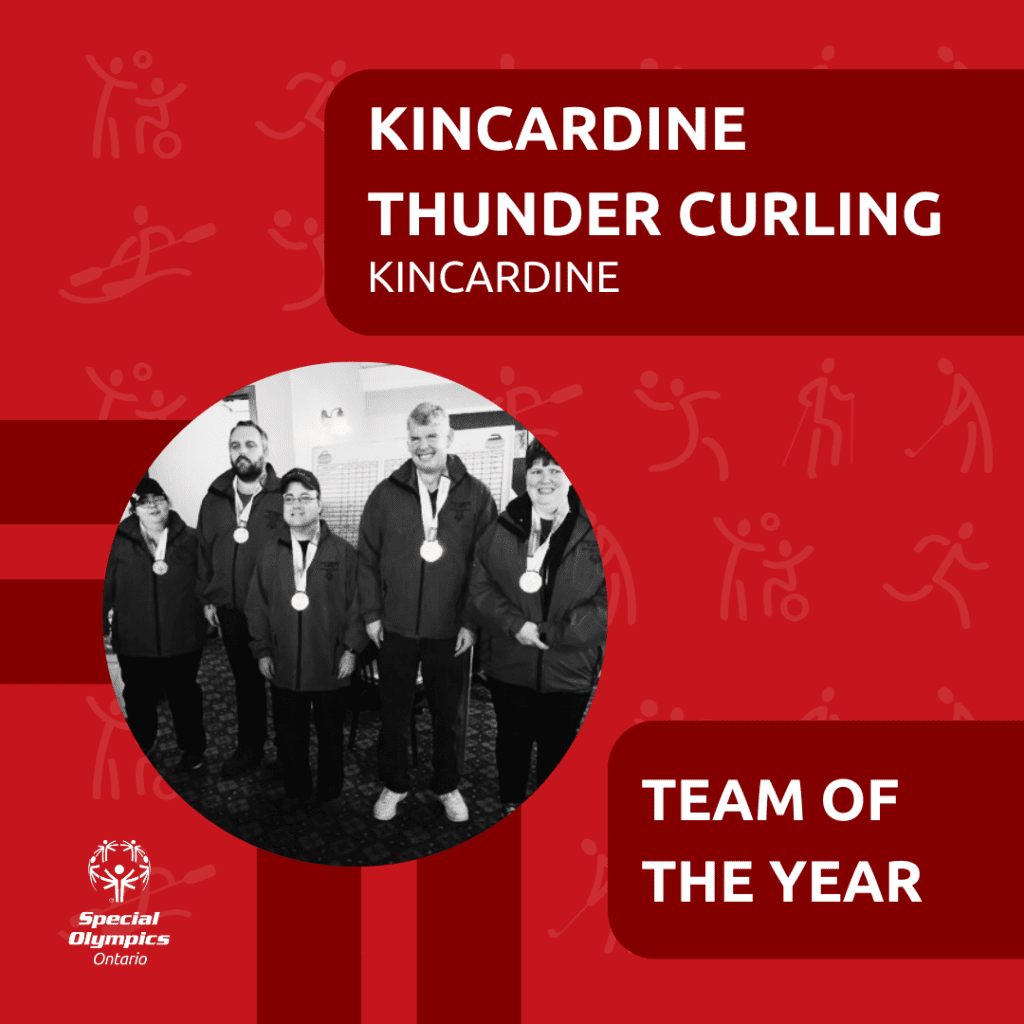 The Kincardine Thunder Curling team, comprising of Ryan Brodhagen-Wood, Chris Weese, Jackie McDonald, Jessica Belyea, and Richard Wright, boasts a remarkable decade-long history of playing together. Competing in the Tankard Playdowns and National Qualifier in 2022 and 2023, they secured Silver in both the first and secondround Tankard Playdowns. In 2023, they went a step further by hosting the National Qualifier at their home rink in Kincardine, even braving a snowstorm. These athletes consistently challenge themselves by taking on Women's league and Mixed league teams from the Kincardine Curling Club.
Beyond the ice, they actively participate in community fundraising events and local Torch Runs and are members of local organizations including the Legion and the Bridge Drop-in Centre, demonstrating their commitment to making a positive impact on and off the curling sheet.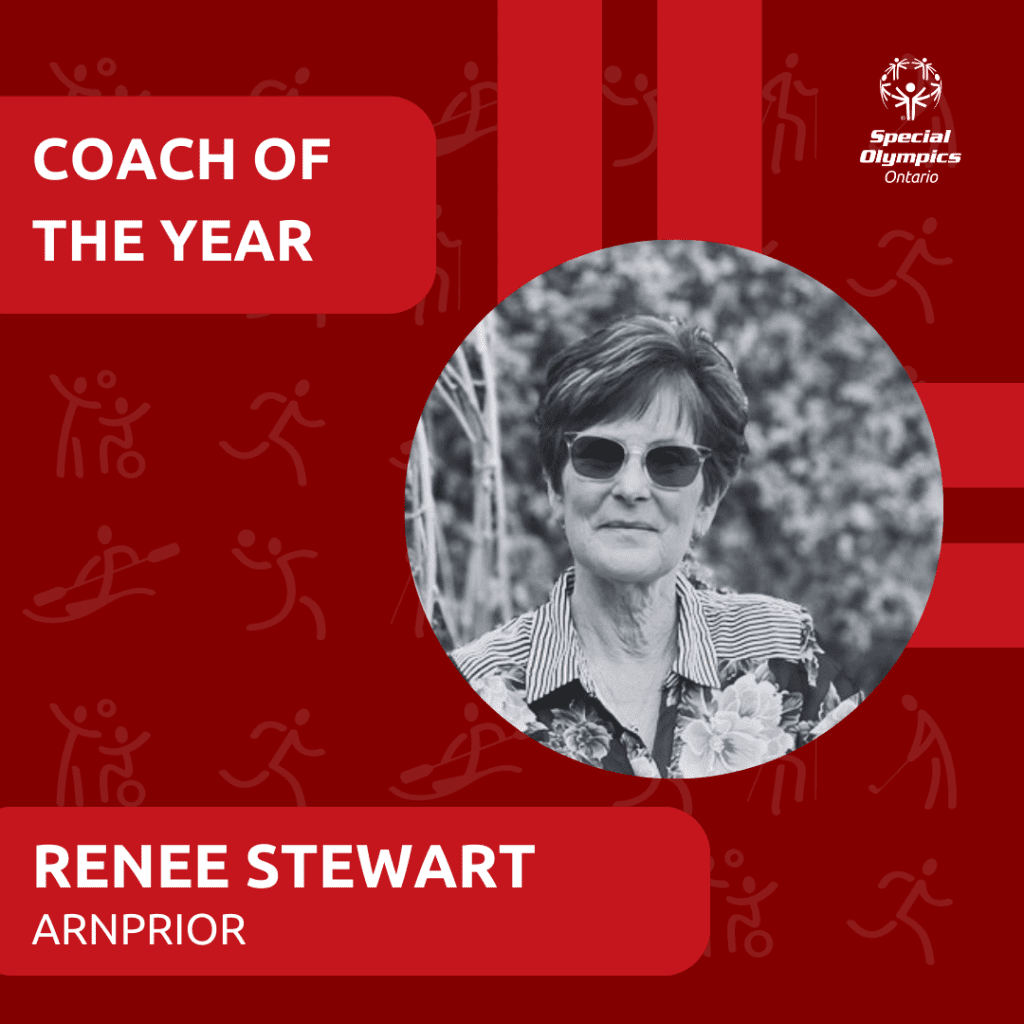 Renee Stewart's coaching journey spans over 15 years at the Provincial level, culminating in her recent role as a coach at the World Games in Berlin. Over the past year, Renee has led the way as head coach for basketball, athletics, and swimming, while also contributing as a coach for snowshoeing, golf, and bowling. Her impact extends beyond the sports arena; she has organized and directed the regional basketball tournament for many years and was an integral organizer in this year's local swim meet. She's a key figure in Arnprior's coaching landscape, having initiated several programs, and she's been a pillar of the Community Council since 2006, efficiently coordinating training, events, facilities, and support for fellow coaches in Arnprior.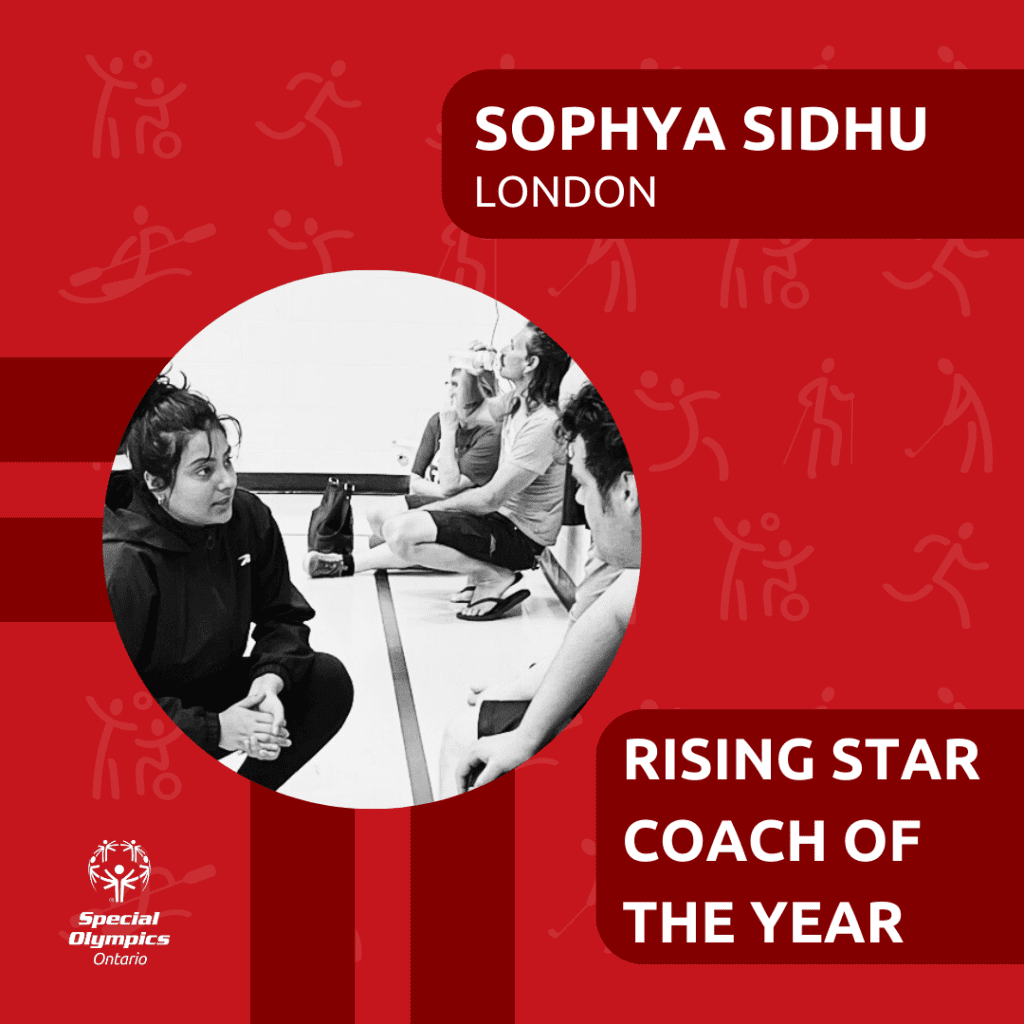 Sophya Sidhu is an enthusiastic and encouraging coach who has wholeheartedly embraced various roles within Special Olympics. Over the past year, she initiated a volleyball program, allowing athletes to explore a new sport and develop new skills. She dedicates her time to ensuring athletes grasp the sport's various aspects, and she's even planning a beach volleyball session for the upcoming summer to introduce more athletes to the sport.
Beyond volleyball, she serves as a coach in Basketball, Track and Field, and T-Ball. Recently, she assumed the role of Health and Wellness Coordinator for London's Community Council, contributing to the organization of free eye exams for athletes on registration days. Her passion for enabling athletes to learn and grow in sports is truly commendable.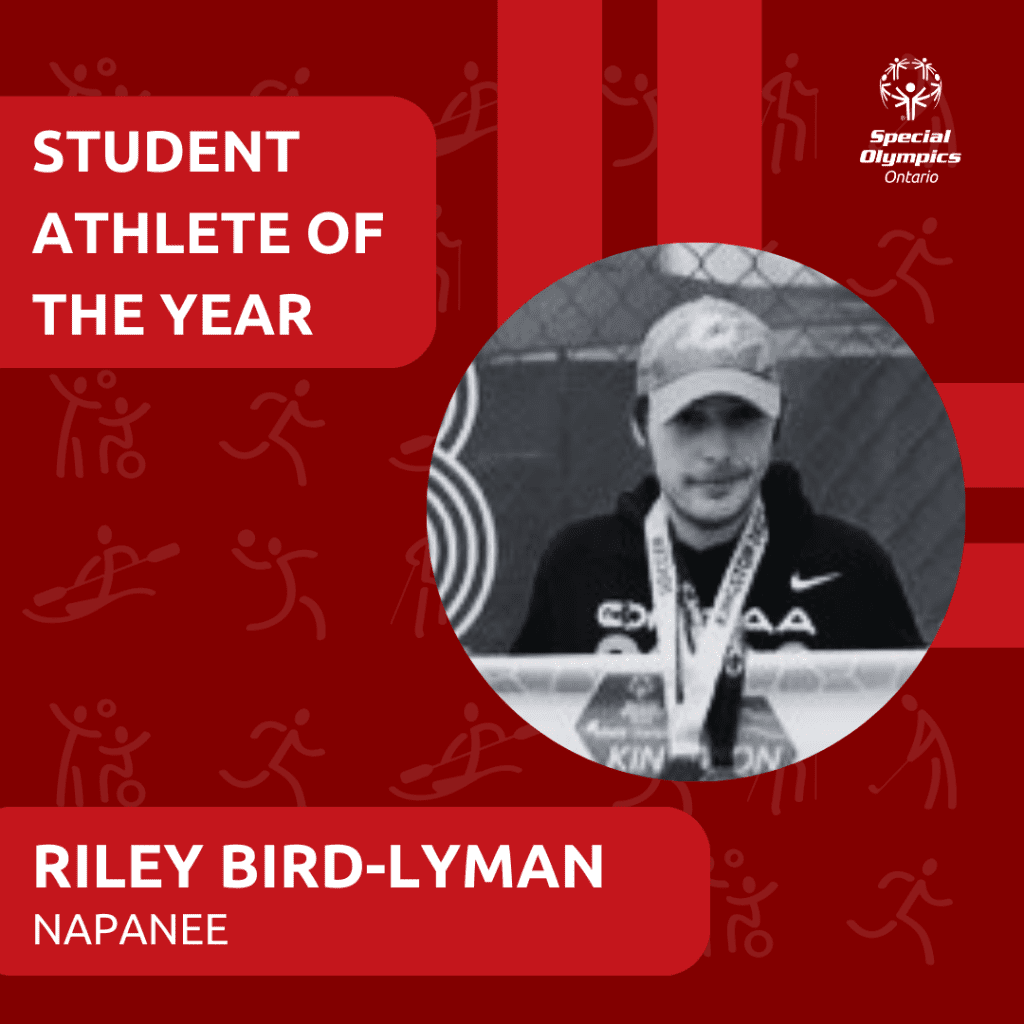 Riley Bird-Lyman is a dedicated student at Napanee District Secondary School, where he has actively participated in Special Olympics activities, including soccer, basketball, bocce, and floor hockey, for seven years. Riley's competitive spirit shone at the School Championships at Queen's University, where he secured a gold medal in soccer.
Beyond his athletic prowess, Riley is an active member of the student council, representing as a School to Community representative. He demonstrates school spirit by donning the school mascot costume during assemblies, earning recognition through the Golden Hawk Volunteer Award and the Hawk Spirit Award for consistent contributions to enhancing school spirit and citizenship. Additionally, Riley's resilience and kindness towards others earned him the prestigious Emily Teeple award, symbolizing his perseverance in challenging situations and showing kindness towards others.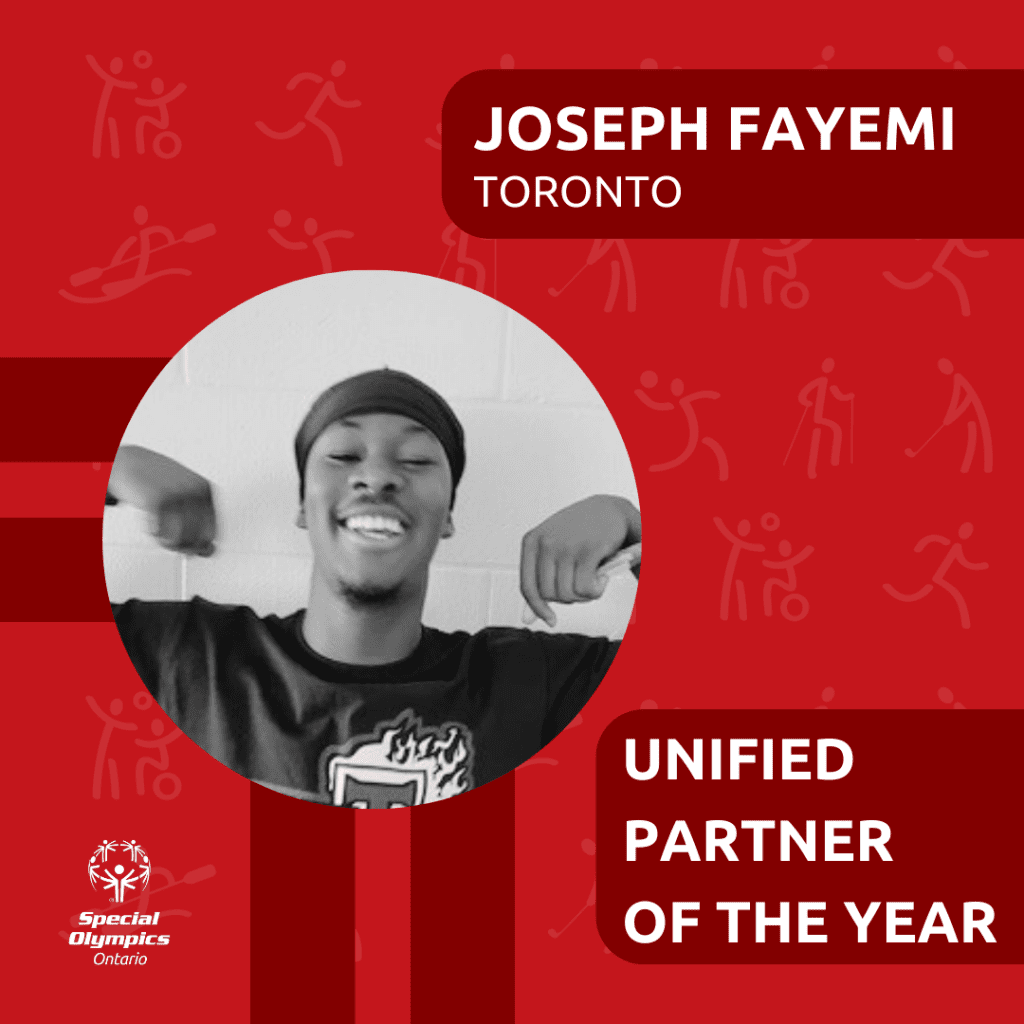 Joseph Fayemi has dedicated his past school year to serving as a Unified Partner at David and Mary Thomson CI. He actively participated in Unified Soccer and Basketball as a Unified Partner at the Special Olympics School Qualifiers, representing his school at the Provincial School Championships in Kingston as a Unified Soccer Athlete. He also travelled to Montreal with Special Olympics Ontario as part of the TFC soccer program.
Joseph has assumed a positive leadership role, both on the soccer field and in his Health and Physical Leadership class. His unwavering support for newer players has fostered team growth and cohesiveness. Joseph goes above and beyond, helping to build stronger bonds and teamwork among athletes. His commitment and leadership contributes significantly to the success of the Special Olympics programs.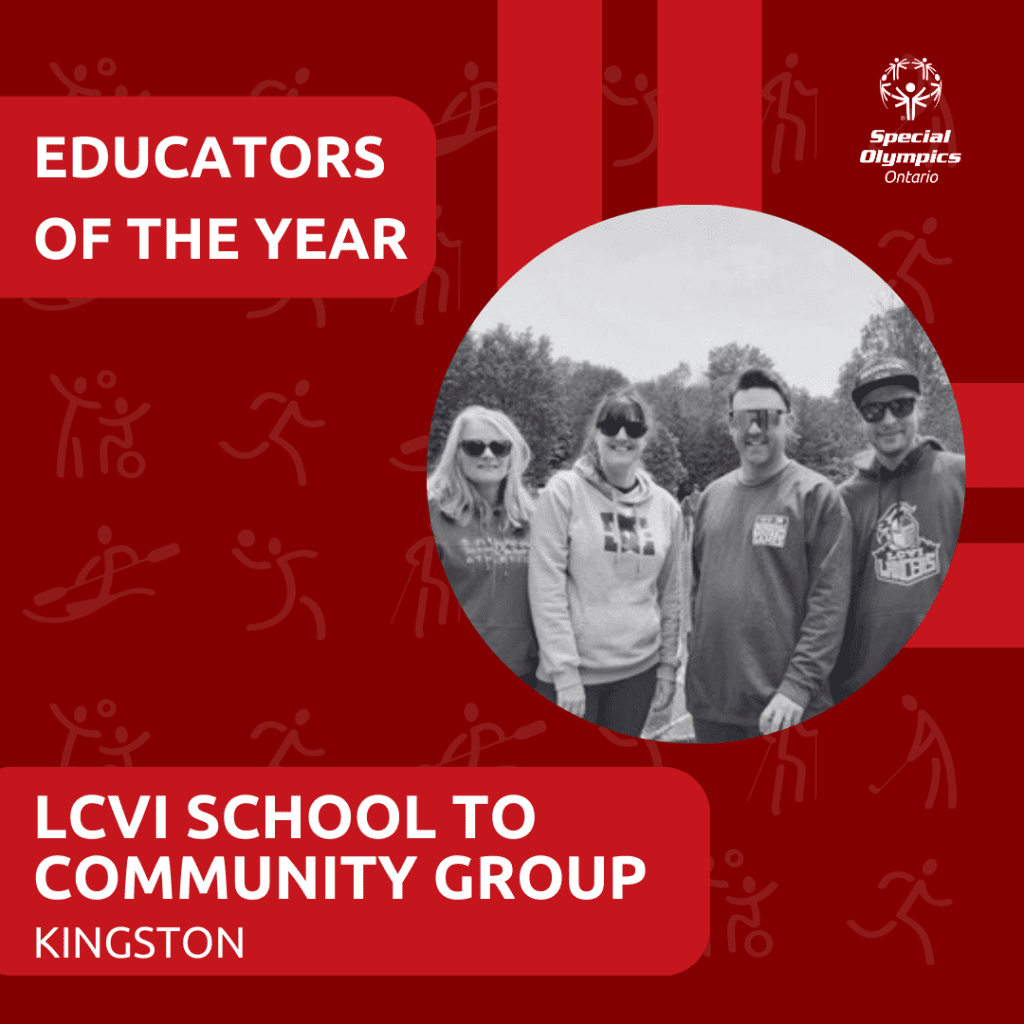 Jordan DeRooy, Beth Lyons, Sharon Amsden, Ben Draper, and Kelly Donnelly stand as exceptional advocates for Special Olympics, working tirelessly to provide athletic opportunities in basketball, floor hockey, bocce ball, and track and field to their students.
Over the years, they've nurtured their student athletes, ensuring they're well-prepared and competitive at both regional and provincial levels. Hosting numerous regional competitions, they've demonstrated exemplary leadership and collaboration with Special Olympics staff. Beyond the playing field, they serve as passionate supporters of their student athletes in academics and the community, making them vocal cheerleaders on the field and dedicated mentors off it. Their dedication is a testament to their unwavering commitment to the success and well-being of their students.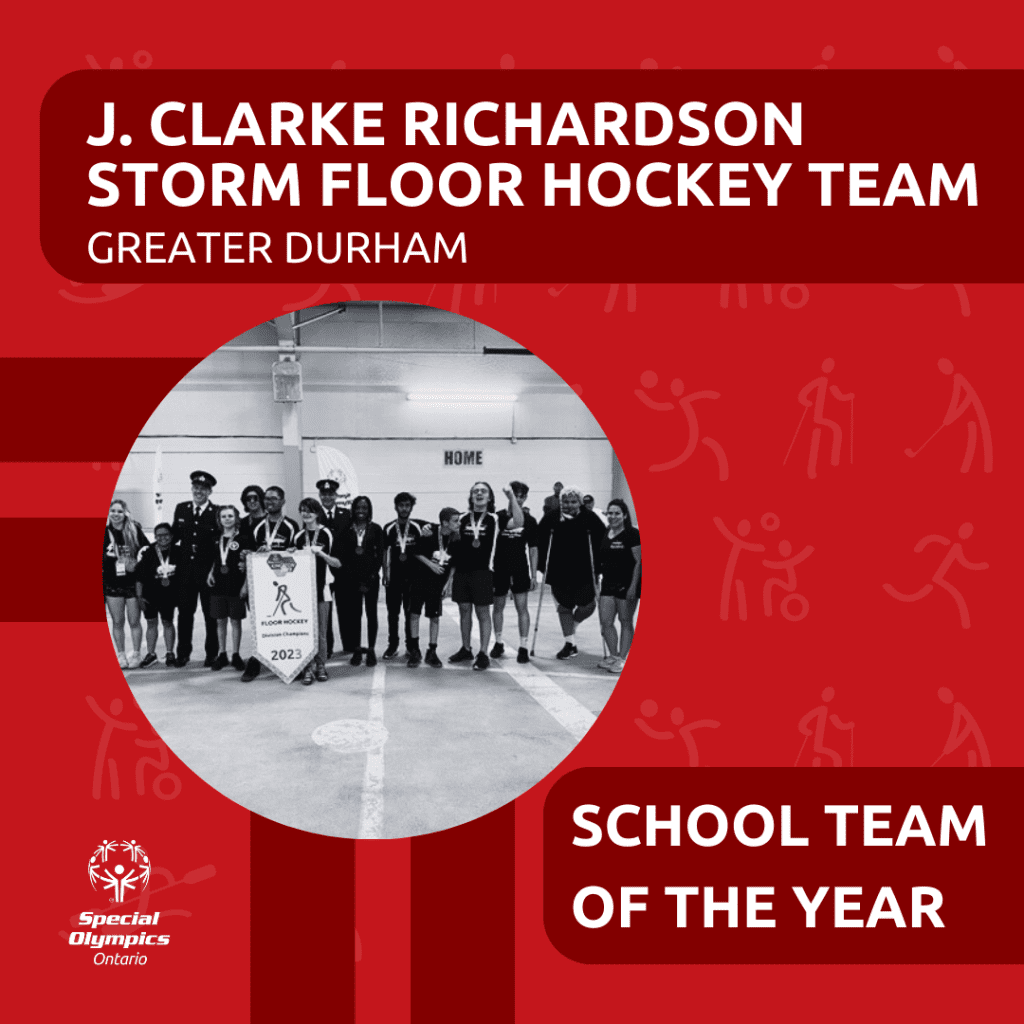 The J. Clarke Richardson Storm Floor Hockey team emerged triumphant at the 2023 School Championships in Kingston, clinching the Gold Medal. Notably, Isaac Ramos, the team's goalkeeper, received the Male SO Athlete of the Year award at JCR, while forward Shayne Adraincem was awarded with the Female SO Athlete of the Year. Forward Trinity Earl secured the Spirit Award at JCR, and Andersen Moore (Unified) was recognized as the MVP for Varsity Hockey.
The team demonstrates strong leadership qualities, extending their assistance not only to their teammates but also to other teams. They embody the spirit of Unified play by prioritizing inclusion and teamwork, setting a shining example of sportsmanship.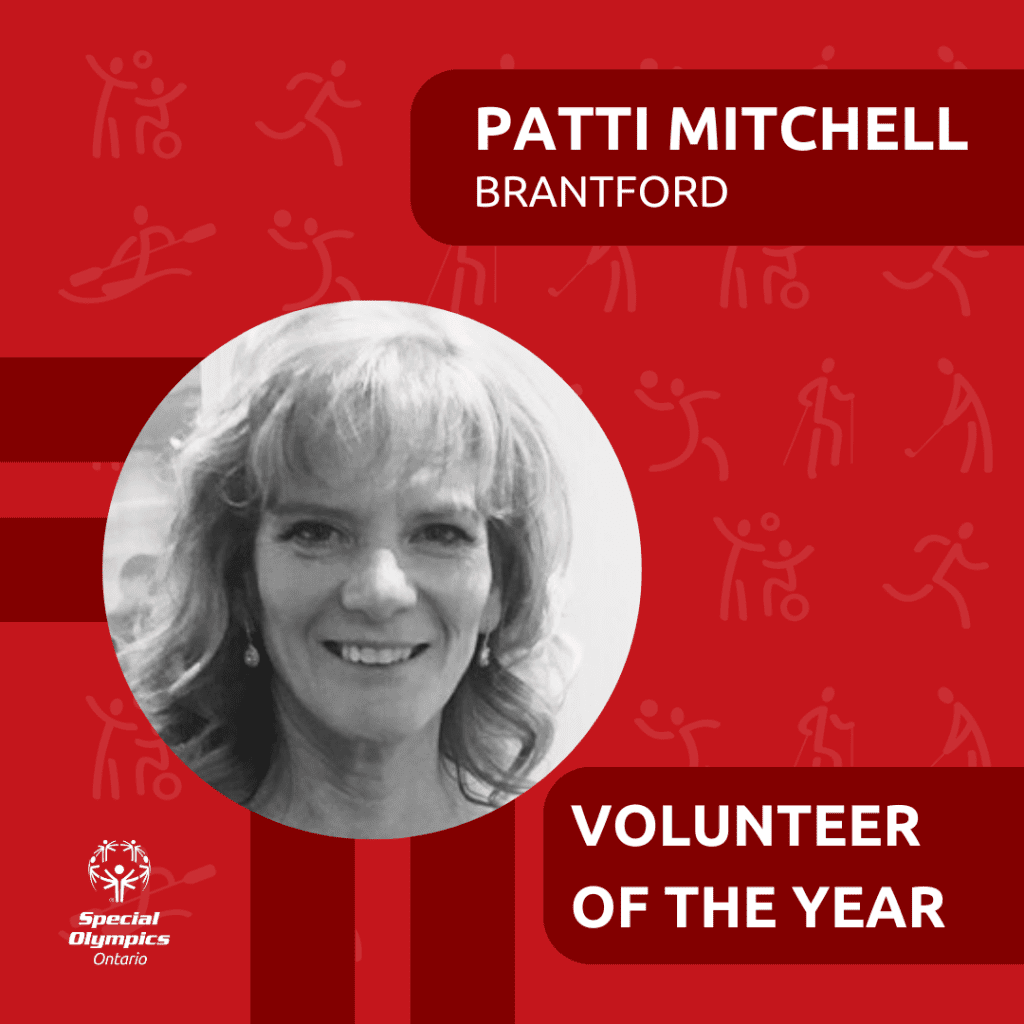 Patti Mitchell is an exemplary leader who has served as Co-Coordinator and Secretary for the local Community Council. Currently managing the track team, Patti goes above and beyond to support numerous local clubs. She single-handedly orchestrates the annual local track meet, organizes basketball games against the police, and spearheads various fundraisers.
Patti also actively engages with the community, speaking to different groups about how they can contribute to Special Olympics. She sets agendas for Council meetings, plans banquets and picnics, supports the Sobeys and Tim Horton campaigns, and is a coach on top of it all. Beyond these roles, she aids in coaching and remains an advocate for individuals with special needs, demonstrating remarkable support for them and their families. Patti's consistent communication with board members and coaches, her unwavering motivation, enthusiasm, and never-give-up attitude make her an embodiment of positive leadership.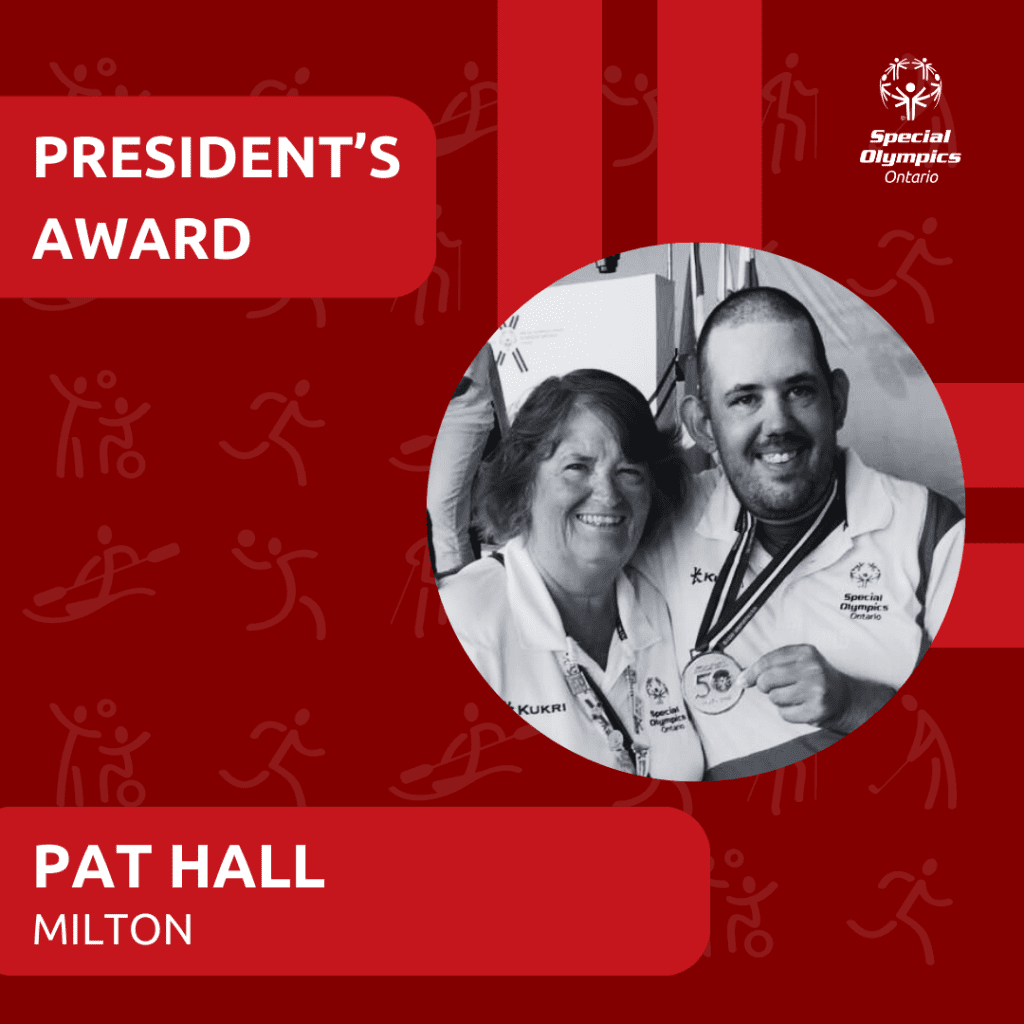 Pat Hall has been a dedicated contributor to Special Olympics since 1998 when she started as a Manager with the North Halton Stingers. From that moment on, she's remained unwaveringly committed to coaching, consistently guiding her athletes towards success.
Pat's support, encouragement, and guidance have played pivotal roles in helping her athletes achieve their goals, refine their techniques, and boost their self-confidence. In addition to her coaching career, she actively participates in various roles within her community, readily accepting opportunities presented by Special Olympics Ontario and her Milton community. Her contributions extend from DTM for Provincial Games, Milton Public Relations Coordinator, Sport Tech Coordinator, Coach, Volunteer, and developing a unified golf program for Milton to hosting Hometown Games – she says "yes" let's do it for the athletes.
2023 Special Olympics Ontario Hall of Fame Inductees
The Special Olympics Ontario Hall of Fame serves as a testament to the unwavering dedication and exceptional contributions of individuals who have made a significant impact in the world of Special Olympics. This year, we proudly extend our heartfelt congratulations to the distinguished 2023 inductees: retired Chief Andrew Fletcher, Laurence Pattillo, Don Burke, Lisa Langevin, and Commissioner Thomas Carrique. Each of these remarkable individuals has shown extraordinary commitment, not only to their athletic pursuits but also to the broader Special Olympics community.