Amidst the global pandemic, Special Olympics athletes have been pursuing new hobbies to fill their time while they waited for sports to return. In some cases, these activities have included trying out a new exercise program, investing in a craft or creative project from home. For Chef Anthony Go, a Special Olympics Ontario athlete and culinary connoisseur, cooking is and always has been a reliable and creatives outlet for the Richmond Hill native.
In addition to testing new recipes and practicing his culinary skills as a chef, Anthony has also used this time at home to connect with and inspire other Special Olympics athletes to embark on their own culinary explorations.
One of Chef Anthony's current projects includes a collection of free, virtual cooking classes – The Healthy at Home Cooking Series, where Chef Anthony leads participants through a variety of simple seasonal recipes. Chef Anthony's online cooking program is used as an outlet to encourage and inspire other athletes to try their hand at creating delicious and nutritious recipes from the comfort of their home. As noted by Chef Anthony, these classes are a way to stay connected with peers, try something new and expand culinary horizons as a unified community.
The George Brown Chef School graduate took the time to answer a few questions for us all in the hopes of us learning more about his culinary passions and how he has served to positively impact his surrounding community.
Q: How old were you when you starting cooking?
A: In high school I started my culinary journey through my volunteer work at a long-term care center. I worked there as a shopkeeper in a tuck shop, serving food and drinks to staff, seniors and their visiting families. In order to do the job, I had to get my Food Handler Certification. This experience led me to my Summer Company, where I sold waffles in the Farmers' Market. At the end of this experience, I received the Best Entrepreneur Award from the Ministry of Economic Development and the Ministry of Research Innovation & Science.
After running my own small business, I wanted to pursue a more formal study of the culinary arts, so I joined the George Brown Chef School program. Now, I have established my own e-commerce business, ILLIMITABLE Kitchen. I selected this name because there are no limits in terms of valued roles that people with developmental disabilities can do. I also work with non-profits to teach cooking classes for their members.
Q: Outside of cooking, what are some of your other hobbies that you love to do?
A: I like photography. I take photos wherever I go. We don't know when something beautiful will appear, for example a sunset, beautiful sky or cute animal.
Q: Who is your biggest inspiration?
A: My biggest inspiration is Chef José Andrés. I admire his humanitarian effort through World Central Kitchen. He and other chefs around the world cook together with local communities to provide food in disaster-stricken areas. Their mission is "Feed the people in need."
Q: Do you have any culinary mentors that you look up to?
A: My Mom is my mentor. We cook together and test recipes together. This reflects my tagline "Cook Together, Have Fun Together, Explore the Foodie in you." This is what I encourage my students to do – enjoy cooking with loved ones, socialize, share a meal together, and explore new tastes and appreciate other cultures.
Q: What is your favourite dish to make? Do you have any specific recipes for the fall that you like to cook?
A: My favourite dish is Spanish Chicken Stew because it is delicious and simple to make. Traditionally, it uses smoked paprika and saffron. However, saffron is expensive. Not everybody can afford saffron. I use turmeric instead because we can get turmeric anywhere, it is cheaper and it tastes great. In the fall, I like to cook comfort food. I use produce that is in season to create dishes such as butternut squash soup, sweet potato salad with kale, chicken pot pie etc.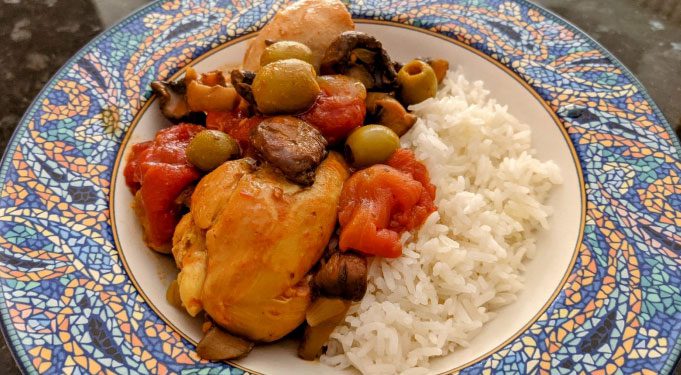 Q: Why do you think it is important for other Special Olympic athletes to learn about cooking and develop their skills in the kitchen?
A: Cooking is a life skill. Knowing how to cook healthy food allows us eat healthy. My cooking program provides the opportunity to practice planning a meal, organizing grocery shopping lists, following recipe instructions and utilizing math skills to calculate how much ingredients to buy versus how much the recipe requires. All of these elements are life skills that will promote independent living. The more life skills we master, the more independent we will be. Practice makes perfect!
Q: What has been your favourite part so far about leading the virtual cooking classes with Special Olympic athletes?
A: As a Chef, I dedicate my time to showing people with developmental disabilities what they can do through cooking. In my class, my students demonstrate their gifts and talents and they gain confidence in the kitchen. My favorite part is seeing my students cook together with their caregivers and loved ones. It brings great joy to see families working together and sharing a meal.
I also love reading their emails and feedback about how my program impacts them positively. I love teaching Special Olympics families because they are always on time to start, very enthusiastic about the recipes and always very appreciative of the effort I put into each class. It is my great joy to teach Special Olympics families. I am looking forward to continuing my work with the families.
Q: Do you have a favourite meal that you like to make before playing sports or being active?
A: Before playing sports, I like to eat light food that gives me full energy. I am talking about super foods – food that is nutrient-dense but has low calories, such as sweet potatoes, kale, chickpeas, avocado, oatmeal etc. My favorite is a bowl of warm oatmeal with a drizzle of 2% milk and a teaspoon of Becel. The milk gives creaminess and the Becel gives a salty touch to the sweet and warm oatmeal. Yummy!
Q: What tip(s) would you give to other Special Olympic athletes who are looking to improve their diet and eat healthier?
A: I often discuss the Canada Food Guide in my classes. In each plate, Canadians need 50% fruits and veggies, 25% protein which can be tofu, tempeh (fermented soy bean), eggs, beans, nuts, seeds, fish and meat and 25% grains which can be bread, rice, pasta, corn, barley, oats etc. Don't forget to drink water!
Q: Moving forward, are there any culinary goals or plans you want to achieve?
A: I miss traveling. I love to visit new places and explore their food and culture. Traveling enriches me as a chef.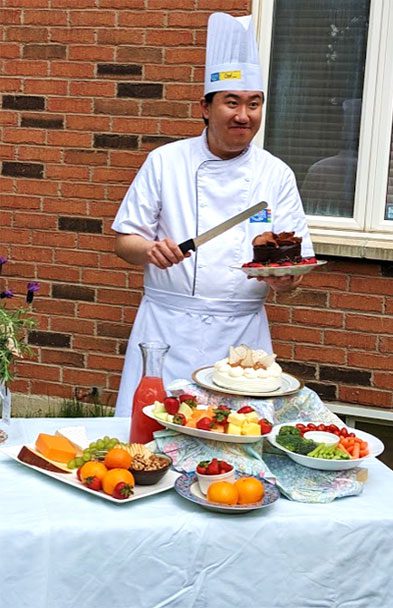 This information is shared by Chef Anthony Go with Special Olympics Ontario for the purpose of showcasing the The Healthy at Home Cooking Series program which will be published on the Special Olympics Ontario website and social media platforms. For other purpose, please contact jasminav@specialolympicsontario.com for permission/use.
On behalf of Special Olympics Ontario, congratulations to Chef Anthony for such a successful cooking program thus far. Despite current restrictions, Chef Anthony has managed to cultivate a welcoming and adaptable environment for all Special Olympics Ontario athletes. Chef Anthony's leadership, passion and dedication to his craft has served to inspire our community in both an engaging and unifying way; we can't wait to see what you'll cook up for us next! If you would like to register for Chef Anthony's upcoming virtual classes and discover your inner 'foodie', please visit the link to enroll.