CELEBRATING THE 2022 PROVINCIAL AWARD WINNERS
Congratulations to the 2022 Special Olympics Ontario Provincial Award Winners!
The Provincial Awards Ceremony will take place on THURSDAY, NOVEMBER 3, 2022 at the TORONTO DON VALLEY HOTEL.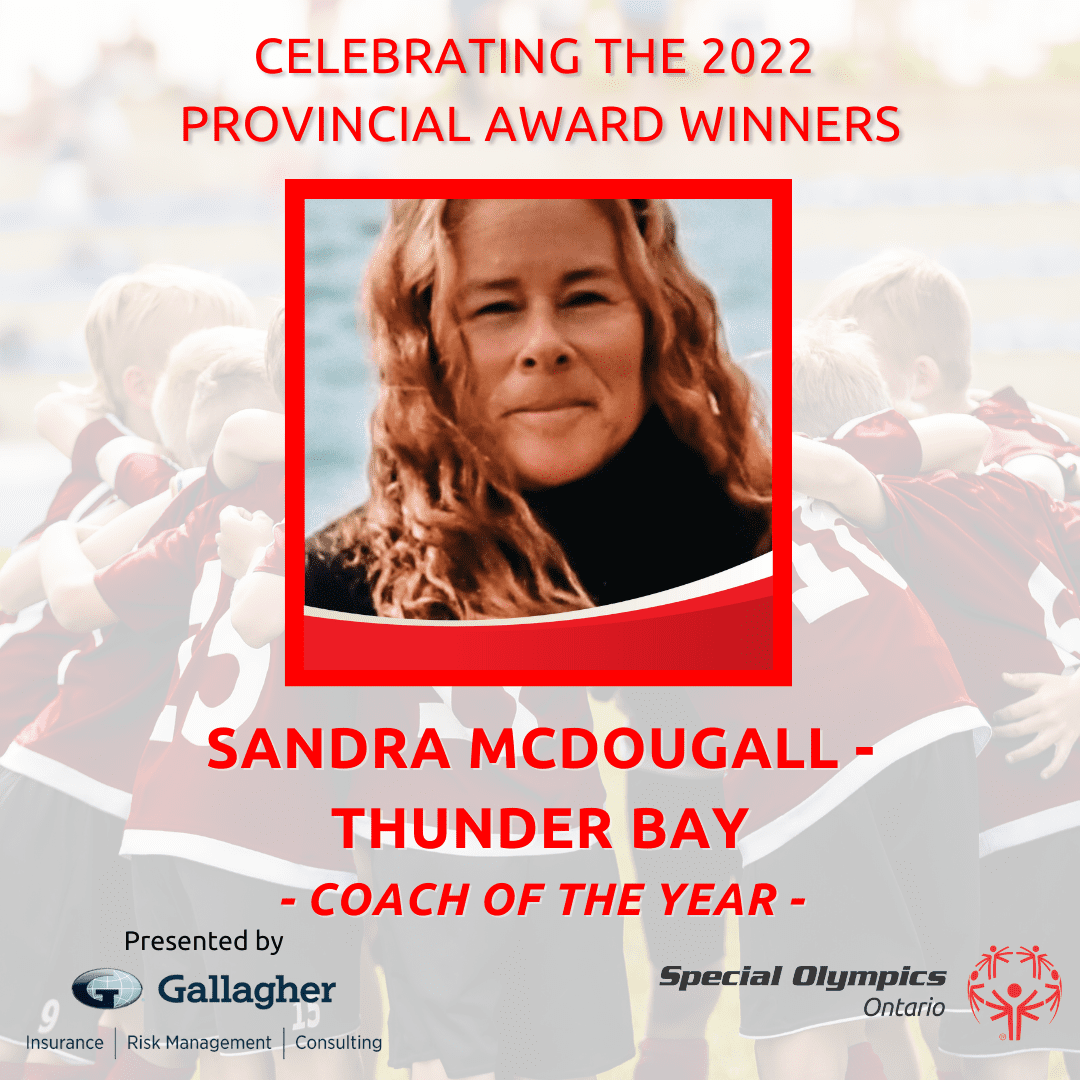 This year's Coach of the Year honour goes to Sandra McDougall from Thunder Bay, a central figure in Special Olympics Thunder Bay's programming since 2010. Sandra serves as head coach for SOTB's Basketball, Soccer and Floor Hockey clubs, and also assists with other sports when needed. Sandra has helped to organize regional Games on a regular basis, and has championed the Unified movement in Thunder Bay. Last year, Sandra organized a trip to Whitehorse, Yukon to compete in the Special Olympics Yukon tournament, an incredible opportunity for her athletes to expand their horizons. During the recent pauses for in-person practices, Sandra was active in virtual sessions for the athletes she coaches. Thank you for all of your hard work, Sandra, and congratulations!
Ontario's first winner of the Rising Star Coach of the Year is Sierra Sumner from Greater Durham. Sierra has been involved with Special Olympics since 2018, and in that time has made a huge impact. Sierra started as an Assistant Coach with the Ajax Active Start and FUNdamentals programs, and is now is the Head Coach of both clubs. Over the past year, she helped the athletes stay active through virtual platforms when they were not able to practice in-person. Sierra studies Child and Youth Studies in University and has been accepted into a Bachelor of Education Program to become a Teacher. Congratulations on this award, Sierra!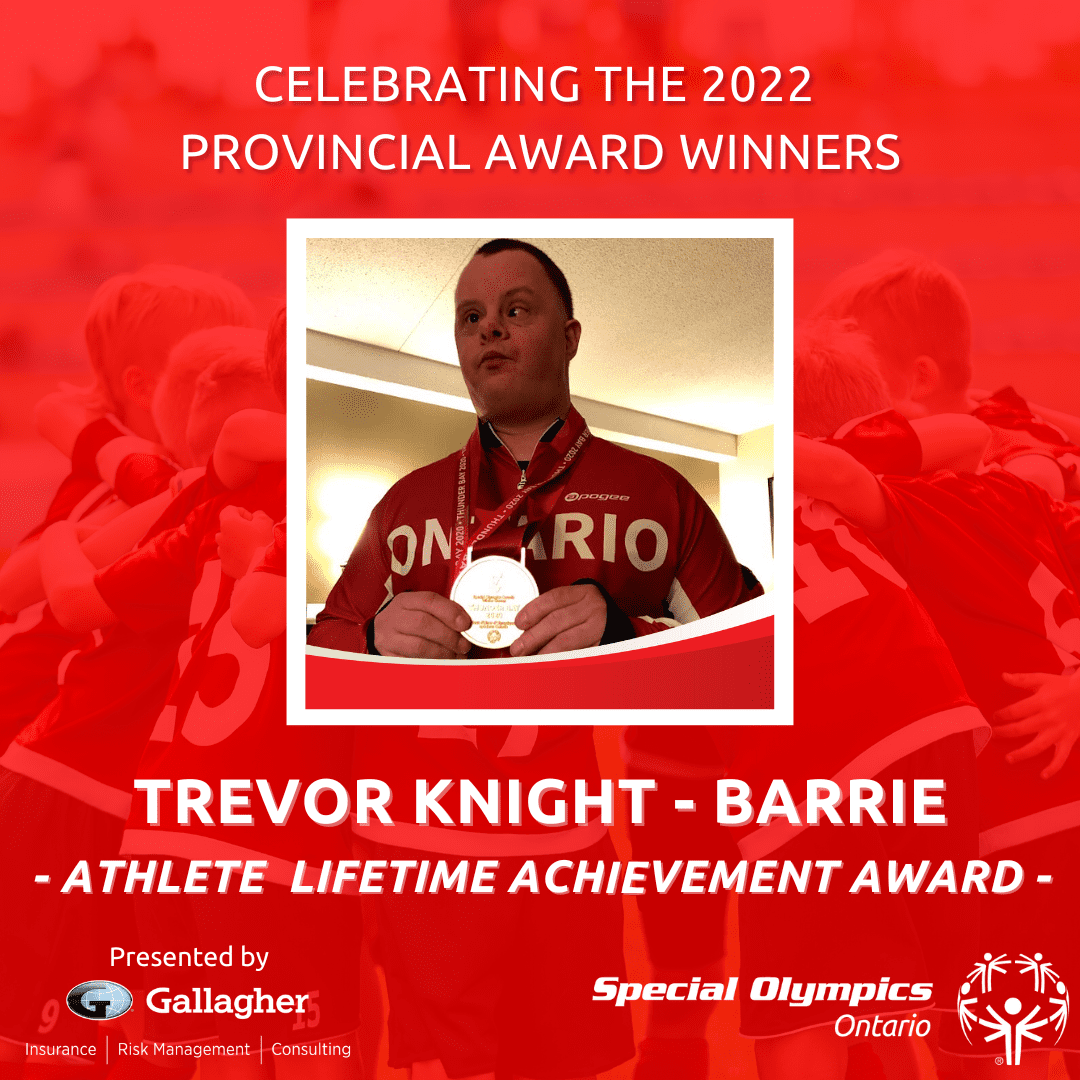 The Athlete Lifetime Achievement Award goes to Trevor Knight from Barrie. Trevor has been participating with Special Olympics since 1993, has become a leader in his community, and has gained the respect of all coaches, volunteers and fellow athletes in Barrie. Trevor competes in Alpine Skiing, Nordic Skiing, 5-Pin Bowling, Athletics, Floor Hockey and Bocce. He has also previously competed in Basketball, Golf, Curling and Swimming. Trevor has been to Provincials an amazing 14 times and has been to Nationals 6 times. Congratulations Trevor on winning this year's Athlete Lifetime Achievement Award.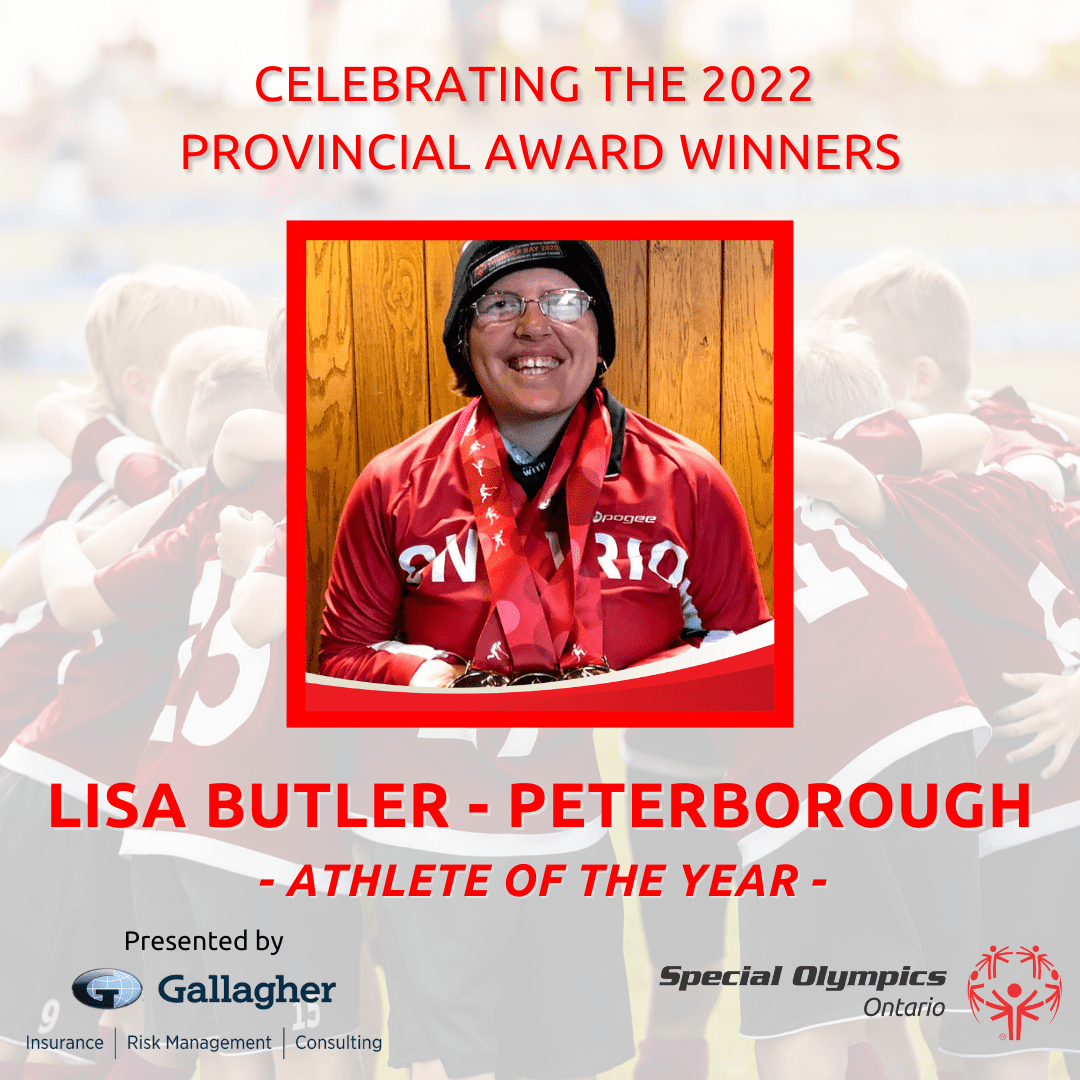 Our Athlete of the Year winner is Lisa Butler from Peterborough. Lisa competes in Cross-Country Skiing, Track and Field, Basketball and Swimming. Lisa qualified for the Provincial Games in Basketball and for the World Games for Cross-Country Skiing. Over the past year, Lisa has continued to train every day in all her sports, and has been very active in Special Olympics Ontario's virtual programming. On her teams, Lisa is known as a great teammate and motivator for her fellow athletes. Lisa also volunteers regularly in her community, and is a regular participant in social activities with her peers. Congratulations Lisa!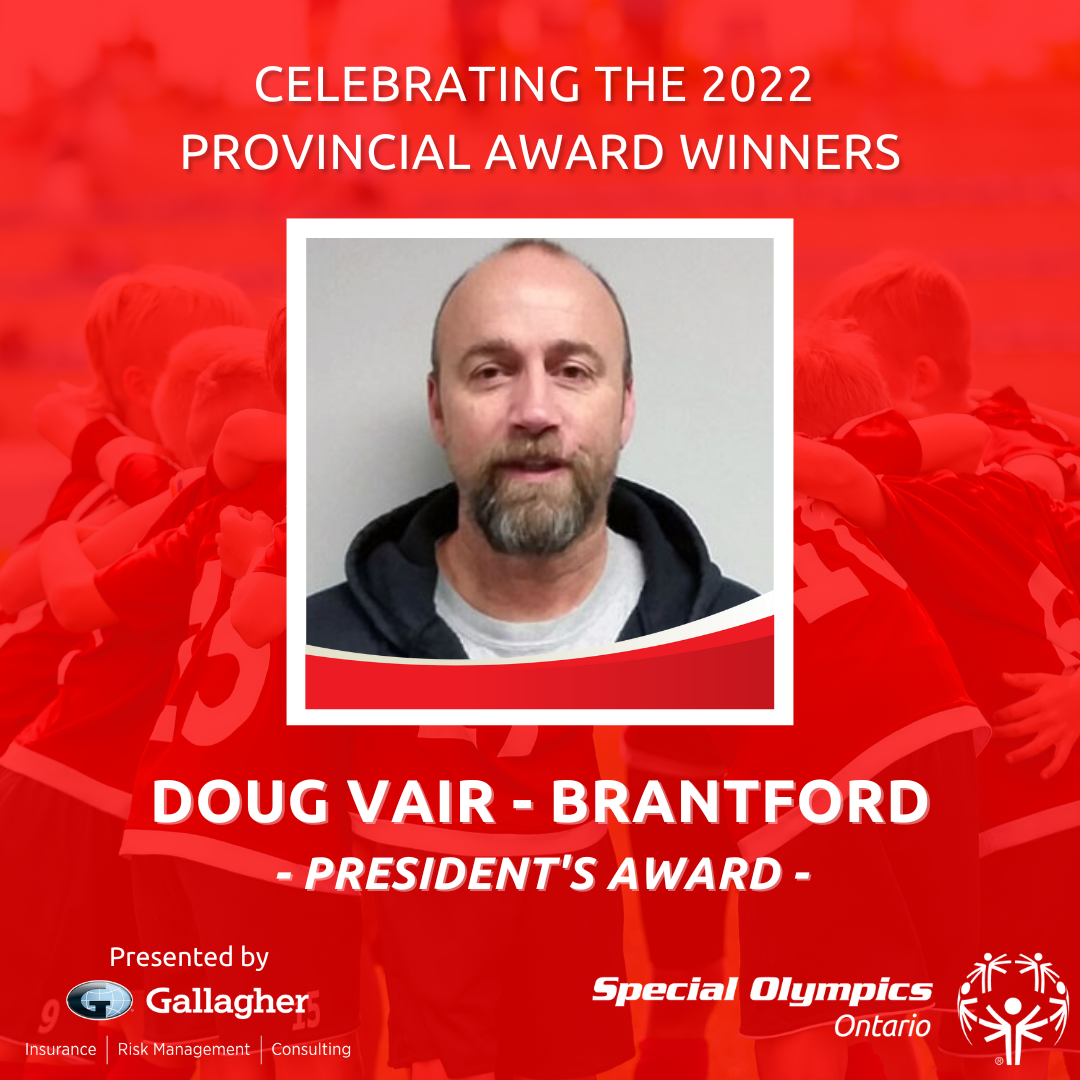 This year's President's Award winner is Doug Vair from Brantford. Doug has been volunteering with Special Olympics for over 25 years, and has coached at the local, Provincial and National Games levels. Many of Doug's athletes have gone on to compete in the World Games. Doug has been instrumental in recruiting and promoting Powerlifting popularity in Ontario over the past few years. Doug was named Special Olympics Ontario's first and only Provincial Powerlifting Coordinator, and has provided guidance to new clubs starting up in several communities across the Southwest. Thank you Doug for all of your contributions to Special Olympics Ontario, and congratulations!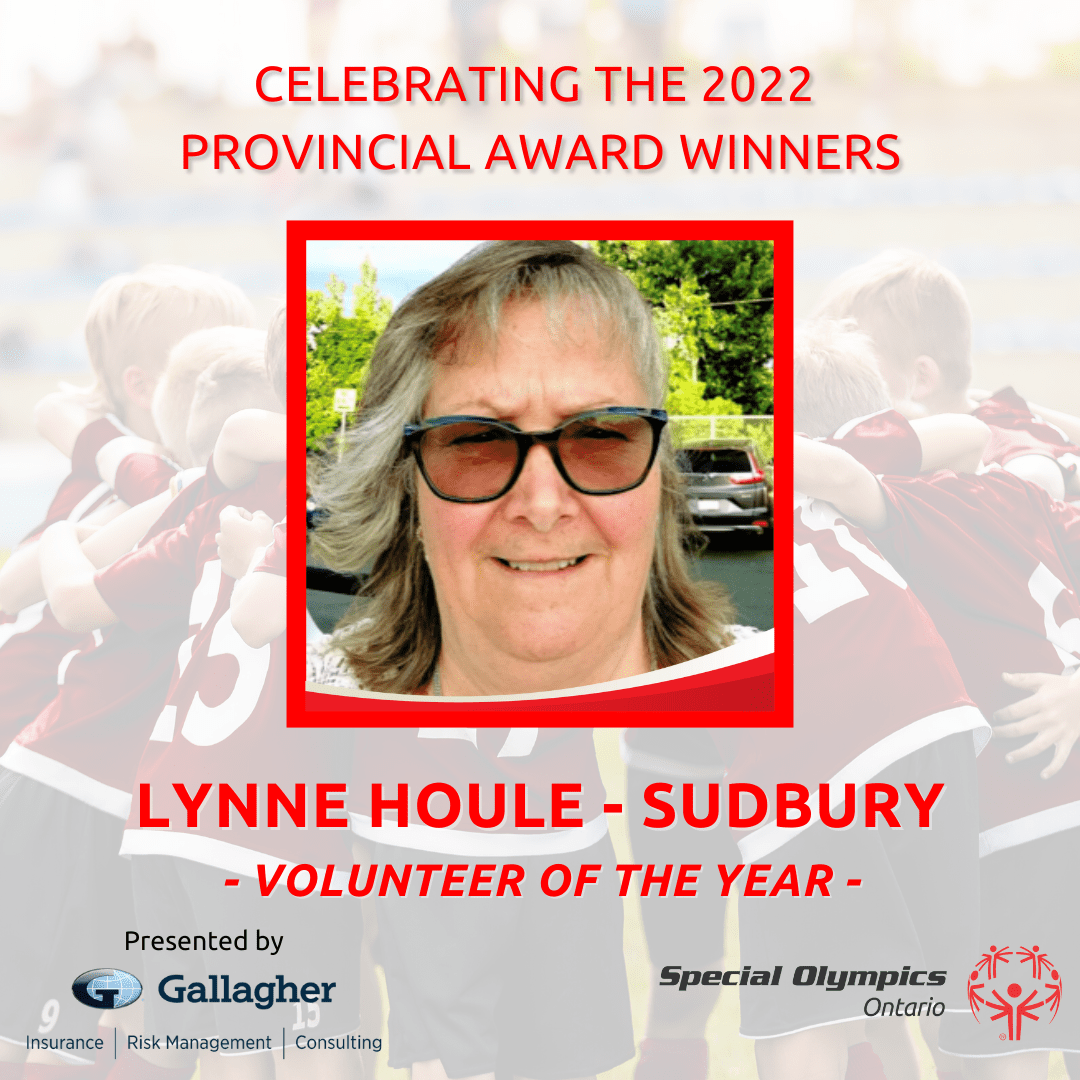 This year's Volunteer of the Year winner is Lynne Houle from Sudbury. Lynne is the backbone of Special Olympics Sudbury, over the past two years she made sure the athletes were kept up-to-date on health and safety protocols. She would bring tablets to those who didn't have a computer, so they could keep up with their training. Lynne also hosted online dances and cooking seminars so athletes could stay connected while their programs were on pause. Lynne has been a volunteer for over 17 years and on the Executive for 15 years. During the Christmas season, Lynne organizes a basket drive that provides local families with a Christmas meal and gifts. Congratulations on this well-deserved award, Lynne.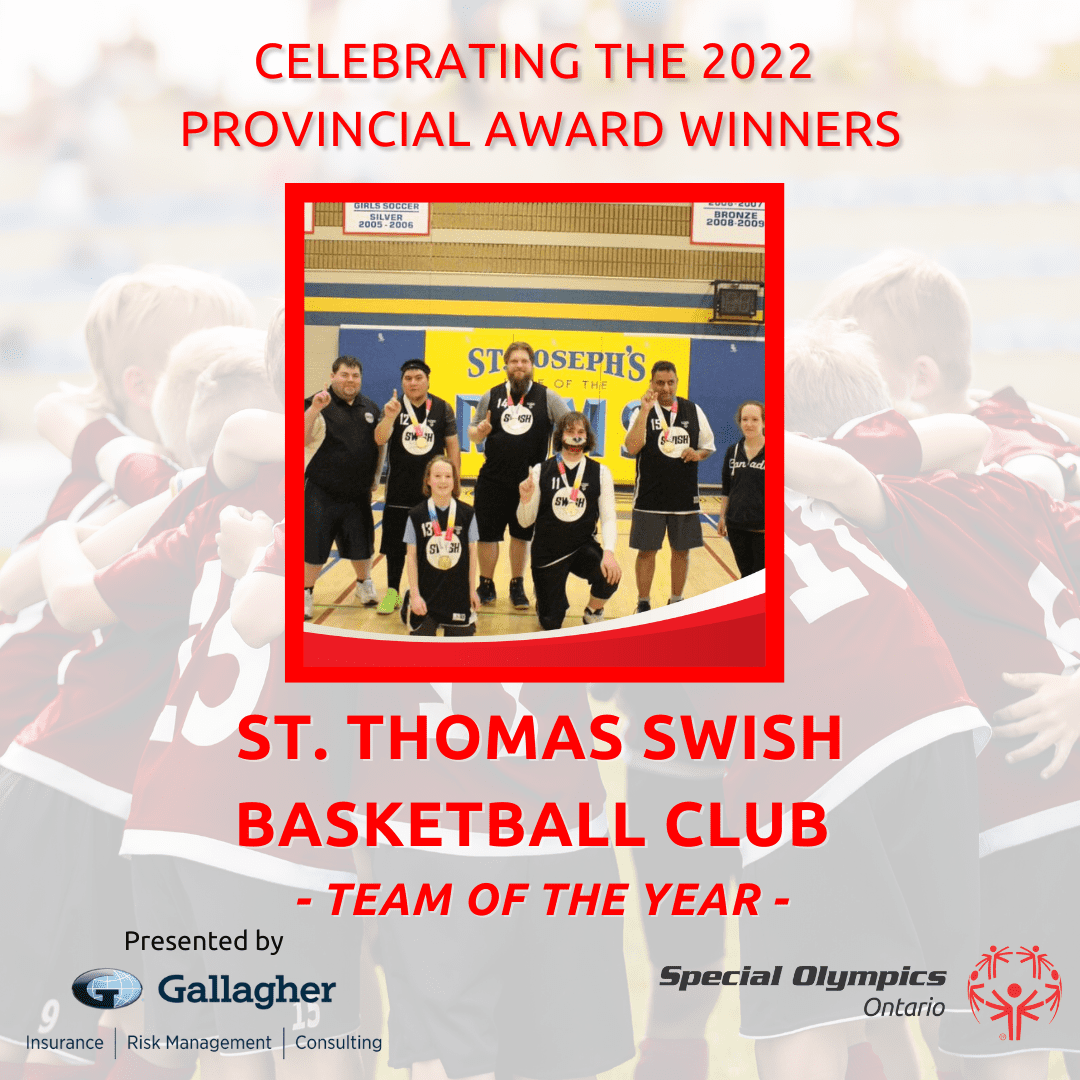 Our Team of the Year is the St. Thomas Swish Basketball Club. (Athletes: Dillon Calvert, Andrew Clarke-Cruickshank, Donald Clarke-Cruickshank, Christopher Freeman, Daniel Grant, Gideon Greevink, Joy Greevink, Zackary Griffith, Rahim Jamani. Coaches: Trevor Armstrong, Beth Clarke) The Swish have been together since 2015, and in that time have grown from a group of individuals to a Provincials finalist. In the past year, the Swish attended two Hometown Games tournaments, including one as hosts, and won Gold in both while staying undefeated. The Swish are active fundraisers for the St. Thomas chapter, planning activities like chocolate sales, barbecues and car washes. The team also plays annual games against the local police and fire services. Congratulations to the St. Thomas Swish for this award.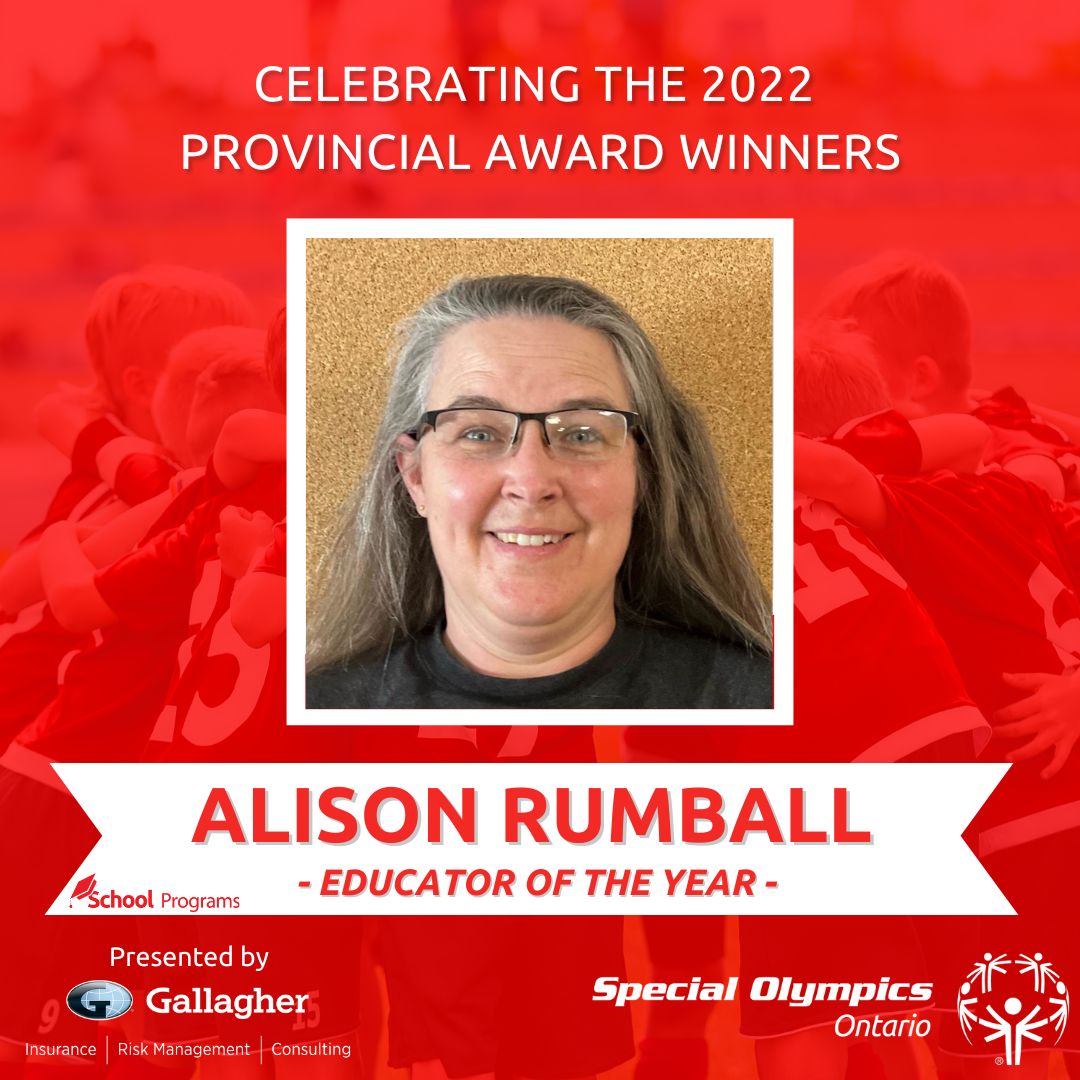 This year's Educator of the Year, Alison Rumball has been involved with Special Olympics Ontario for over 12 years, as both an educator as well as a community volunteer. Alison has brought her passion for Special Olympics to several schools, most recently hosting a Hometown Games Track Meet for her students at Regency Acres Public School. Alison has been a key contributor to the development of our elementary school programs and a regular attendee at Special Olympics Ontario volunteer conferences over the years. Special Olympics Ontario's elementary school programs would not be where they are today without the help and support of volunteers like Alison!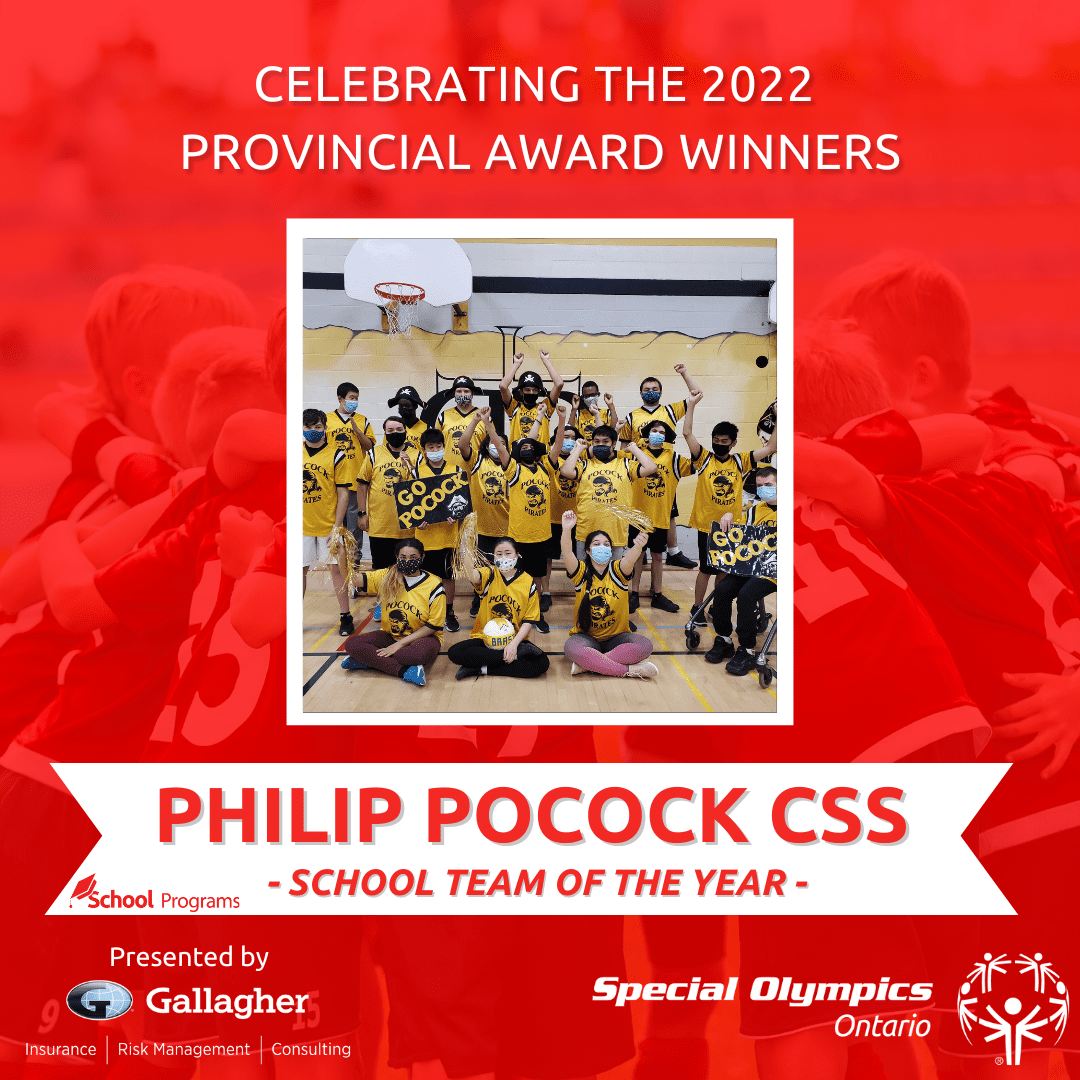 Philip Pocock CSS in Mississauga is the winner of this year's School Team of the Year: Jared Abasolo, Heury Botones, Erich Clausi, Mark Czupiel, Andrew Da Ponte, Peter Do, Dylan Donovan, Dominykas Dubinskas, Emil Feliz-Padilla, Tyler Finlay, Anthony Gatta, Jasmine Griffith, Dylan Halford-Donovan, Jordan Hopkins, Yuta Iwamura, Ben Kobi, Mateusz Kusy, Zi Li, Nilan Muthupillai, Philbert Obeng-Darko, Xavier Perez, Lucas Ribeiro-Quintas, Judy Tram Shen, Miriam Wysocka, Victor Zapata
Philip Pocock Catholic Secondary School in Mississauga was one of our most competitive schools through the 2021-2022 school year.  Not only did they have a consistent presence on the leaderboard at all school competitions, they were also one of the top teams for school spirit.  Despite the limitations of an entirely online season, the students and educators at Philip Pocock found a way to have their incredible team spirit shine through the screens!  We are excited to see what they have to offer at our in-person events this year.  Congratulations to the Pocock Pirates!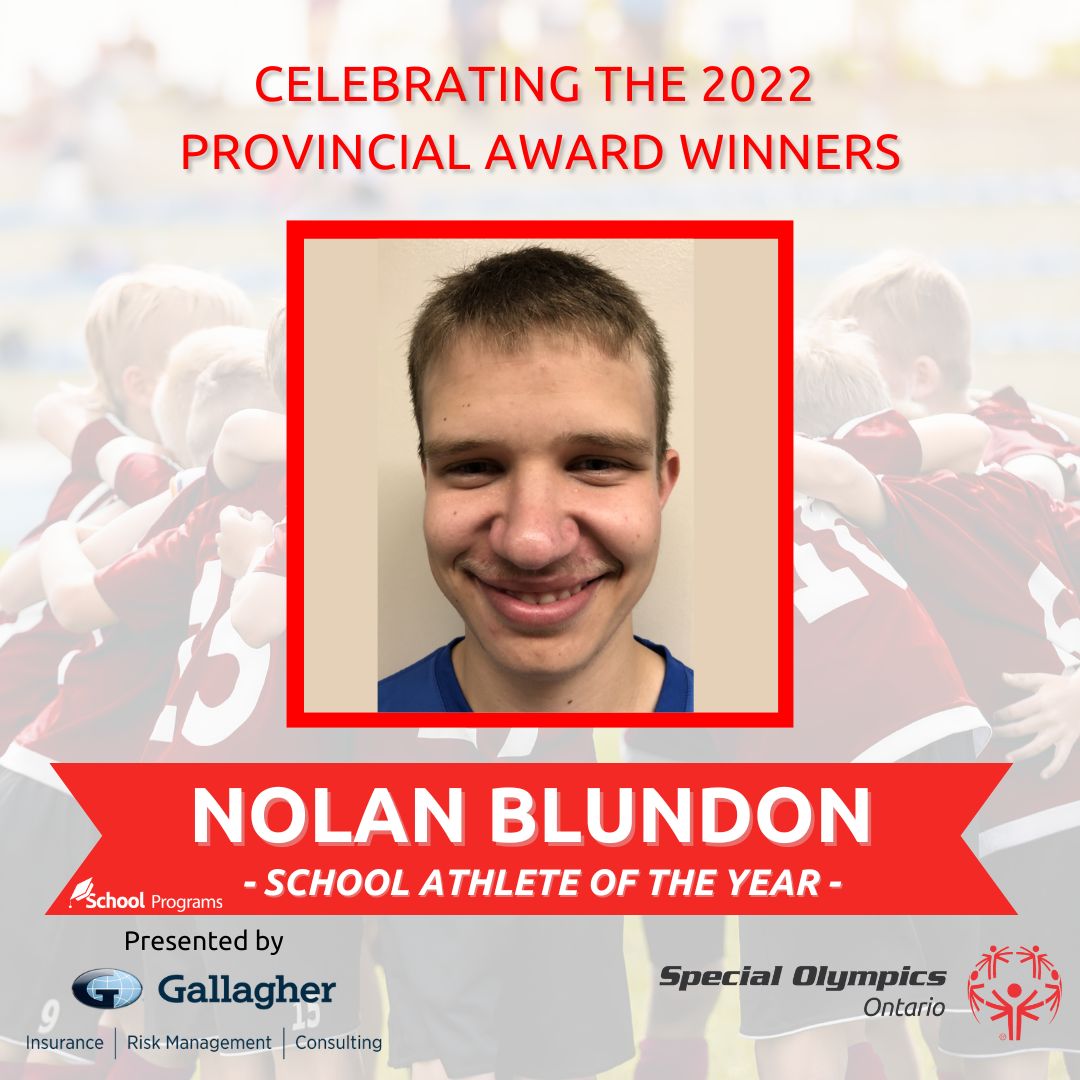 This year's School Athlete of the Year, Nolan Blundon has been an active Special Olympics Athlete throughout the 2021-2022 school year. Nolan has participating in all of our virtual sports competitions including, Soccer, Bocce, Basketball and Floor Hockey. Most recently Nolan has competed in the Thunder Bay Hometown Games track meet. The past school year has been difficult with the reduced opportunities for in person competition, however, Nolan has embodied the Special Olympics Athlete's Oath at each of his competitions, always competing to the best of his ability. Nolan truly exemplifies what it means to be a Special Olympics Athlete!