"Let me win. But if I cannot win, let me be brave in the attempt ."Athletes' Oath
Why Get Involved?
Having fun, developing important skills and building self-esteem through sport training and competition is the life of a Special Olympics Ontario athlete. With 18 sports to choose from, our organization offers something for every person with an intellectual disability.
With opportunities to excel come benefits of improved health and self-respect. For many athletes, participating in Special Olympics Ontario is a path to healthy living, empowerment, acceptance and friendship. Our organization is dedicated to increasing physical fitness, confidence and other critical sport and life skills of our athletes in a positive and supportive environment.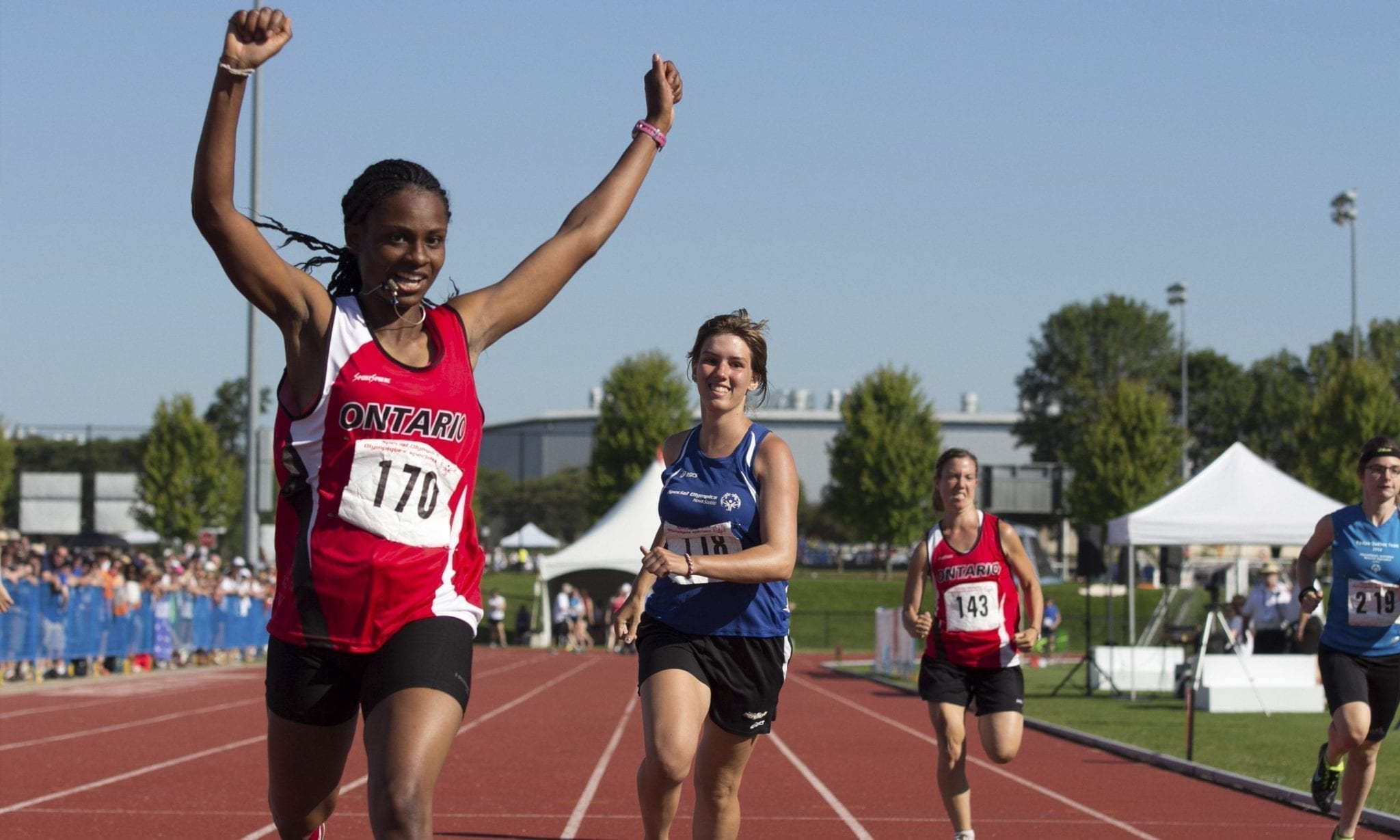 Eligibility
"Intellectual Disability" refers to substantial limitation in present functioning. An intellectual disability is characterized by significant limitations in intellectual functioning and adaptive behaviour as expressed in conceptual, social and practical adaptive skills. This exists concurrently with related limitations in two or more of the following applicable adaptive skill areas: communication, self care, home living, social skills, community use, self direction, health and safety, functional academics, leisure and work.
All individuals two years of age or older with an intellectual disability have access to Special Olympic Ontario's sport programs. Those with multiple disabilities are also eligible to participate, but one disability must be an intellectual one.
---
Become an Athlete
If you are interested in joining Special Olympics Ontario, you must:
Contact your local Special Olympics Ontario chapter – Special Olympics Ontario is divided into 7 districts, each of which consists of many local community chapters. Visit our online guide to find the community chapter closest to you. Your local community council will be able to provide you with information about the Special Olympics teams in your area.
Decide which sport or club is best for you – Most communities, depending on the season, will have more than one type of sport available. If you do not find the sport you are looking for in your designated location, you may travel to a nearby community offering the same program.
Complete your Athlete Registration Package – Before you can participate as an athlete with Special Olympics Ontario, you must complete an athlete registration form. It includes the athlete's emergency contact and medical information. The form must be completely filled out, signed and returned to the athlete registrar or head coach. For athlete safety purposes, a copy of this form is held by the head coach or team manager. Some programs may require a registration fee for participation.
Contact the Head Coach / Team Manager – Most communities will have an Athlete Registrar or Coordinator responsible for connecting you to a program. Once you have decided, contact the head coach, team manager or club contact to arrange a visit to the program and learn additional details such as required equipment.