Below, you will find a link labelled "LATEST SOO REPORTS  SET". This will automatically download a set of preset report templates for heat-sheets, results, etc. to your computer.
*NEW & UPDATED REPORTS FOR 2019/2020 CAN BE FOUND IN THE REPORTS IMPORT FILE
Instructions for download and importing are as follows:
1. Download the .zip file by clicking "Download" underneath the file name. If a dialogue box appears asking whether you want to "Run" or "Save" the file, select "Save". Ensure you save the file to a folder you can easily locate afterwards.
2. Open GMS and expand the "GMS Transfer" tab. Select
"GMS Transfer Importer" from the list.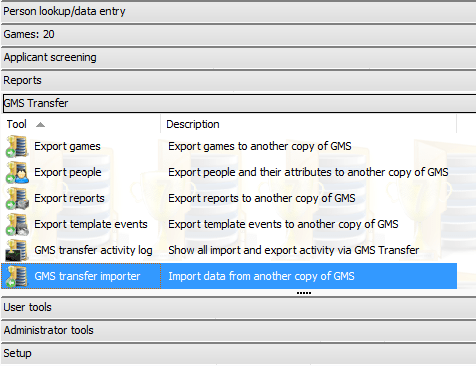 3. A browse window should appear. Locate and select the .zip file from the folder in which you saved it.
4. The settings of the transfer will appear. Expand the drop-down menu under "Import these reports:" and right-click. This will give you the option to select all, as shown on the right.
5. Once all reports are selected, you can press "Run". The reports should be transferred onto your copy of GMS.