Steps to submit volunteer application click on Get Involved and follow the instructions
From Home Page Select Volunteer – Join Program button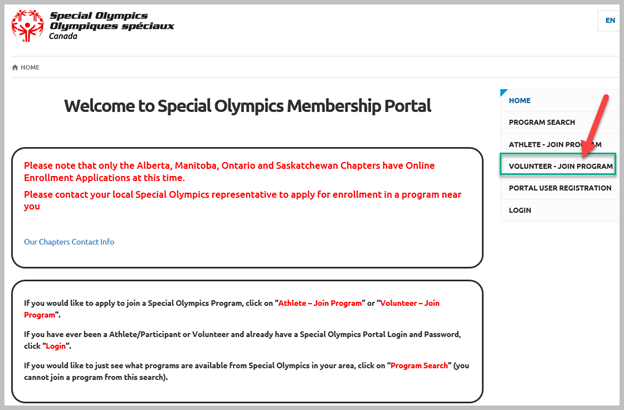 In Window below, fill out appropriate info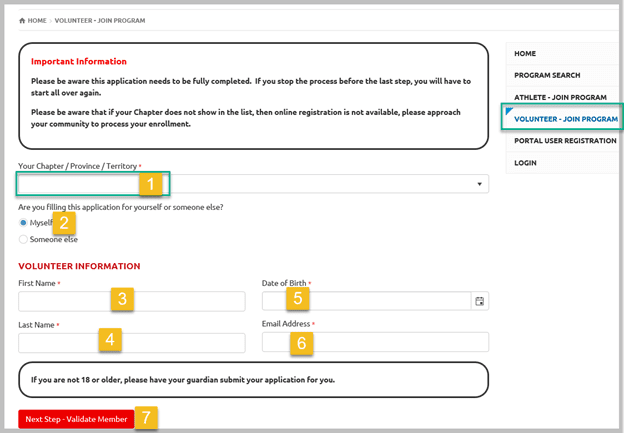 Select your Chapter, Ontario

If you are 18 or older Select Myself if Minor then your parent/guardian needs to fill out this form, click Someone else (popped out window will have more fields to fill in)

First Name (legal name, no nick name)

Last Name

DOB

Your primary email – this email will be your Portal email to login

Click Next Step – Validate Member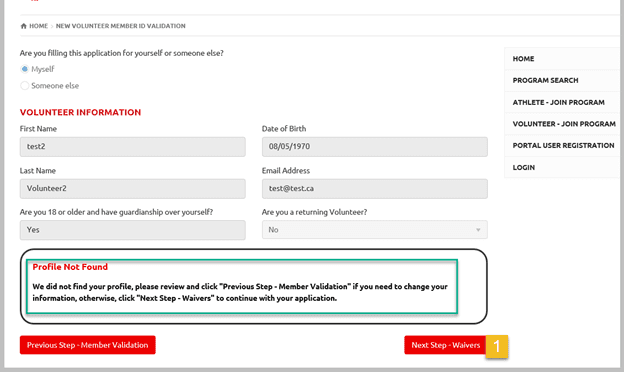 System did not find you, to proceed forward click Next Step – Waivers
In the window below you have to select Yes for 1, 2 & 3. In Media Release you can pick as you wish.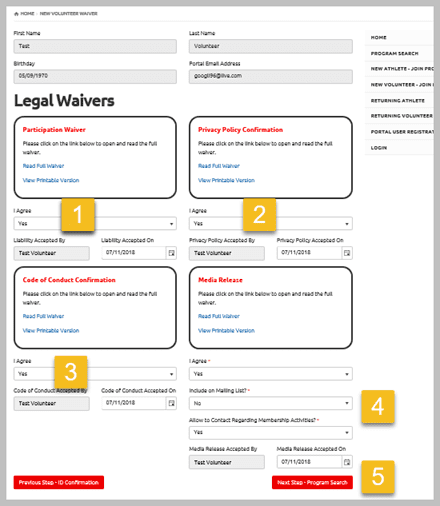 Click Next Step – Program Search
In the window below
Select your Region

Community

Sport if you wish to join a particular sport, otherwise on search you will get list of all sport programs

Search – you will get list of programs in your community/area

Pick club in which you wish to be a volunteer

Click Next Step – Member Profile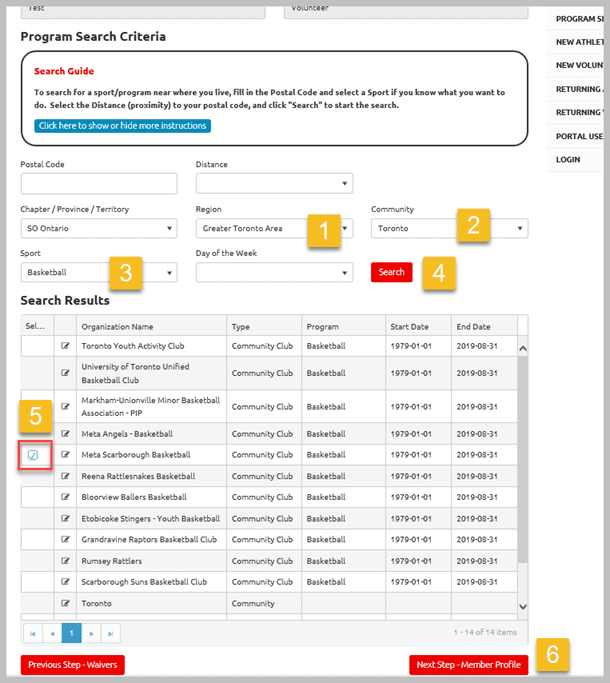 In this window, fill out appropriate info including mandatory fields then click Next Step – Address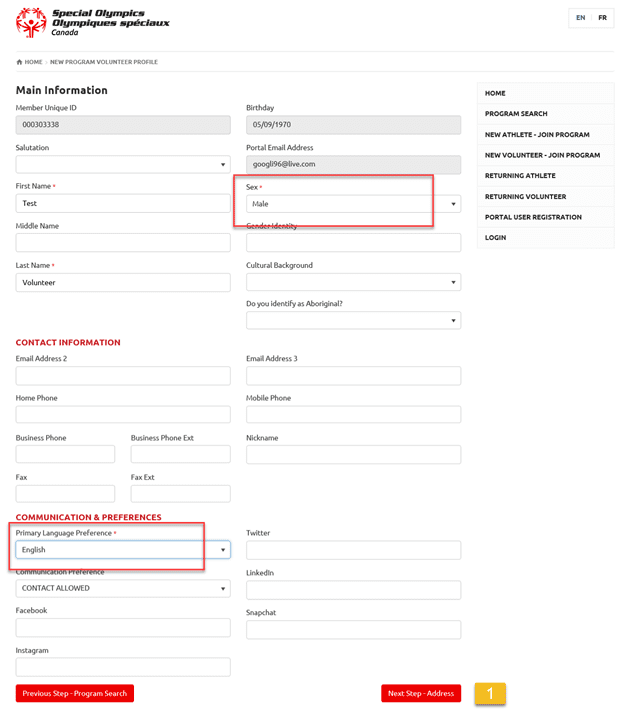 Provide Primary Address and Secondary if any
Click Next Step – Criminal Record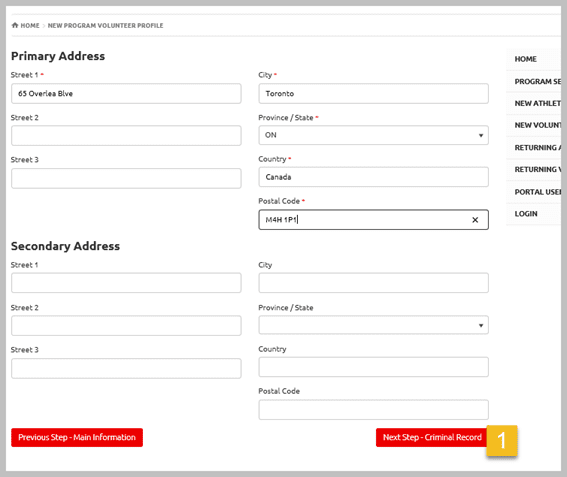 In Criminal Record Window
If you have any criminal history you have to declare here

If you have current complete police check (current means not older than a year, complete means Criminal +VSS),  Click Add and provide info

You can upload E-police checks (some police services issue E-copy of police check result)

Click Next Step – Medical Information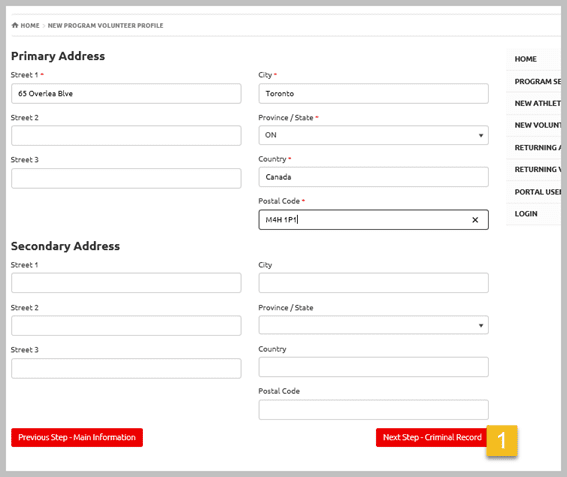 Police check upload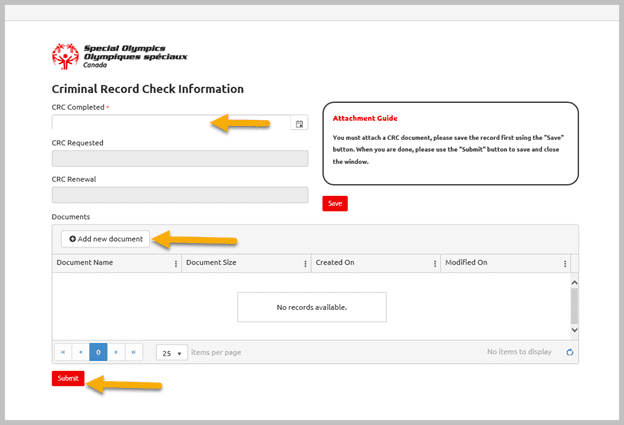 In Medical Info fill in appropriate fields including 2 mandatory fields
Click Next Step – Emergency Contacts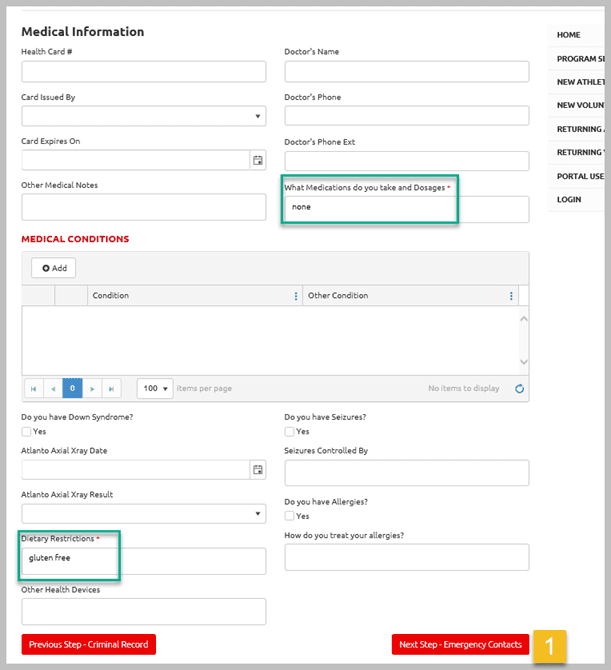 Add contact info for a person to whom we can contact in any Emergency

Click Next Step – Member Training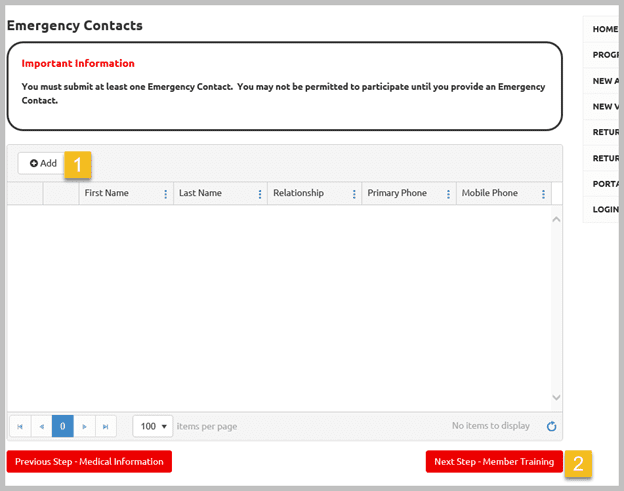 Add info of the courses you have taken from the list provided below. If course name is not in the list Select Other Course, Other Course field will be enabled to enter the Course Name. Add date completed & renewal date if any and submit.
Click Next Step – Volunteer Profile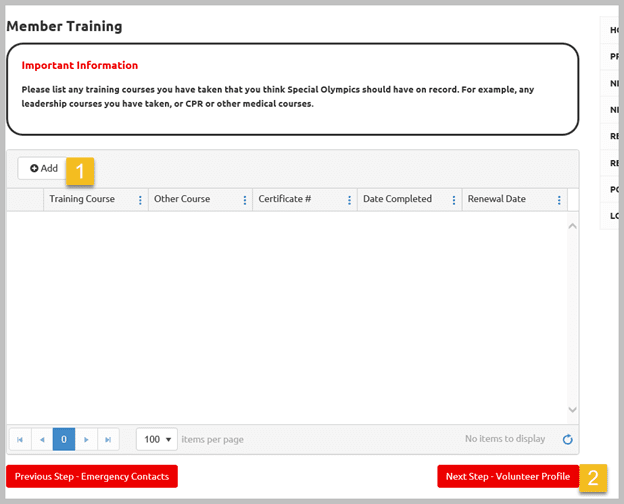 Fill in profile info if any
Provide 2 non relation Reference info to whom community will contact before approving your application (these are mandatory)

Click Next Step – Enrollment Details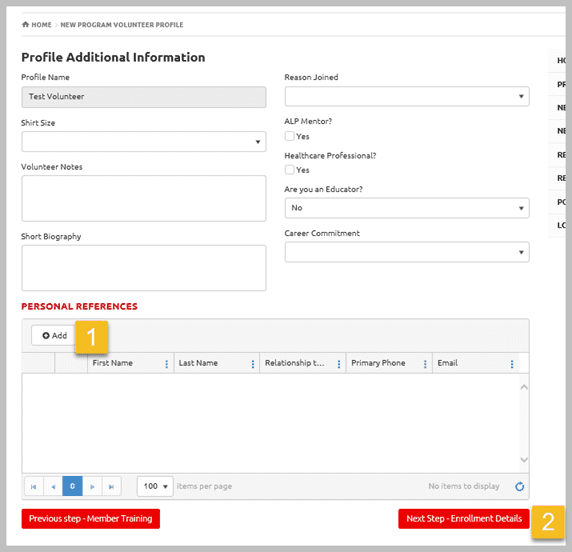 Check your info if it is correct so far in the window below. Then
Select Category (when you will select Category, Organization Role field with pop up)

Select Organization Role

If you are not sure about your Category or Role add this info in this field, community will contact you to help to pick correct Role OR you can add any enrollment related info here

Click Next Step – Submit Enrollment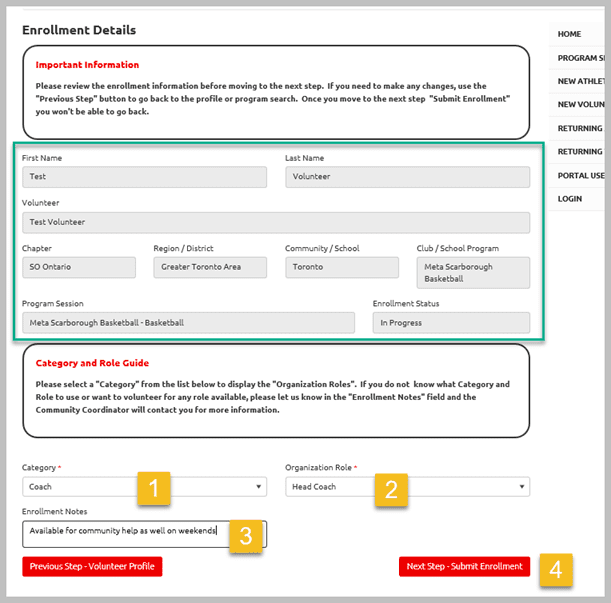 If you wish to apply to another program, click on Add New Enrollment, you will be enrolled in fewer steps in new club/program ( this is elaborated with screen shots after this window)
After submitting Enrollment you will get confirmation email with enrollment detail. If you are good with this enrollment you can go on portal to create your account, Click Go To Portal Registration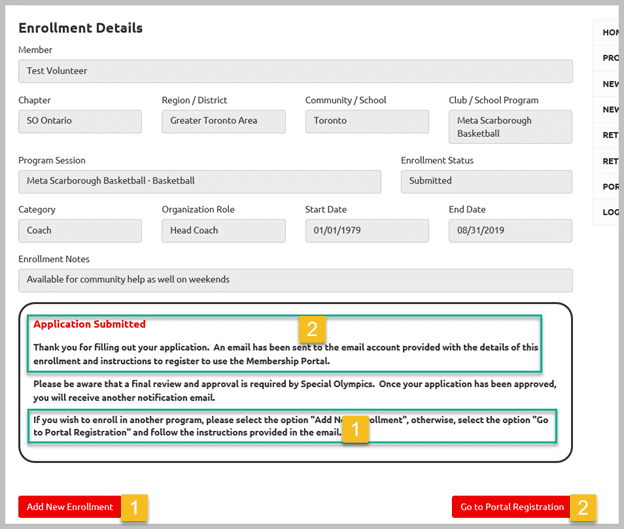 Following are steps to get enrolled in another program with fewer Steps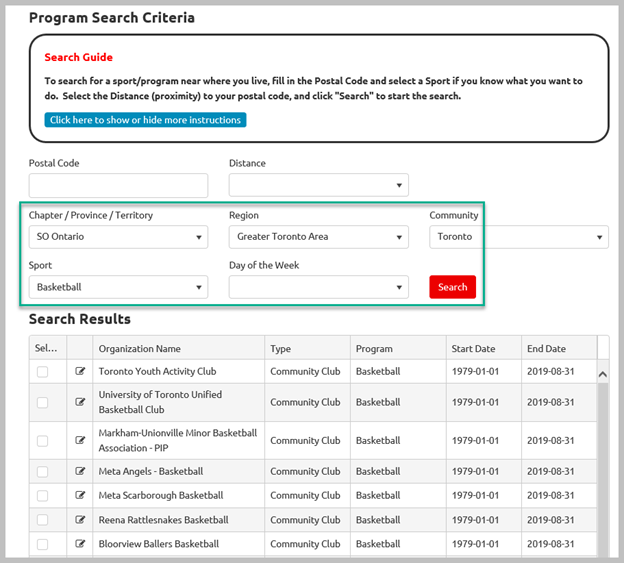 After program selection it will take you to Profile additional info window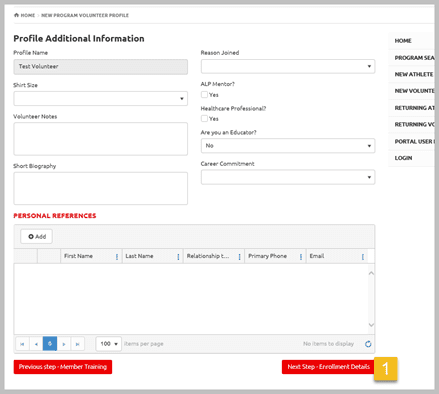 and then to enrollment details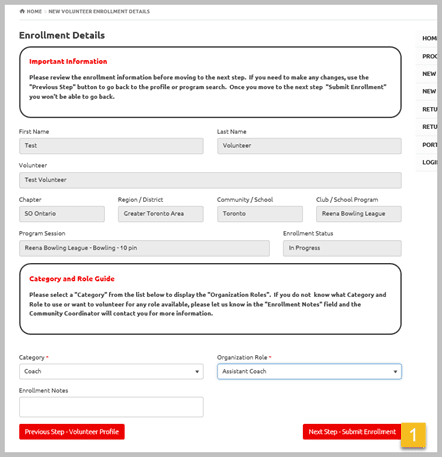 then confirmation window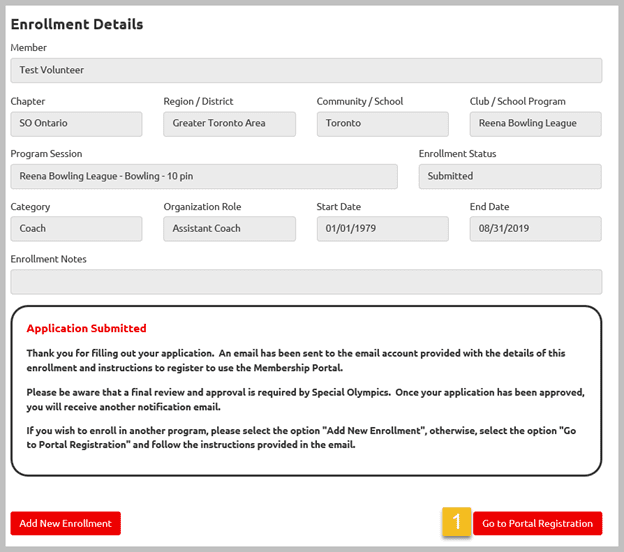 Select Go To Portal Registration to get registered on Portal
In registration Window fill out all fields and click Register. System will send you an emails with a link to activate. If you don't find in your inbox, check Junk folder as well.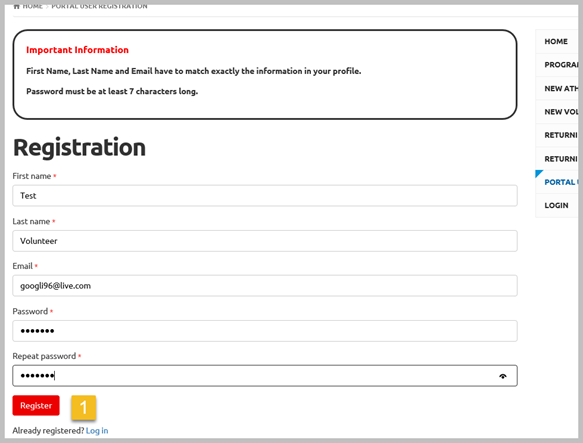 For some reason if you did not get email, click send again, you will get another one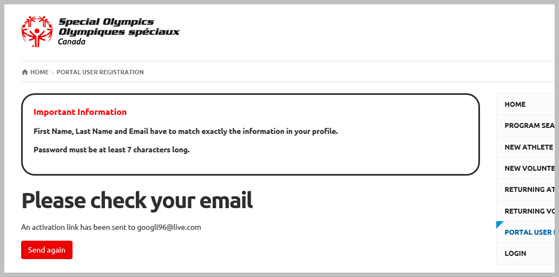 Click on the hyperlink to activate your account.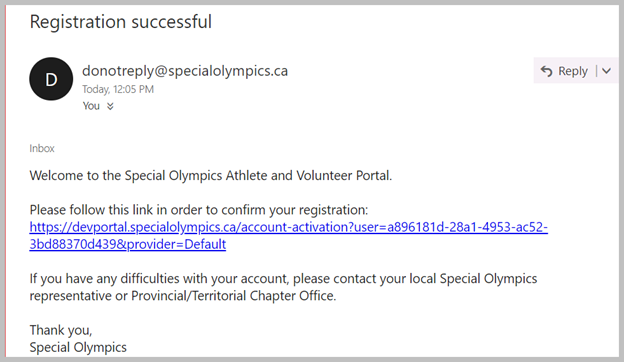 You will get following message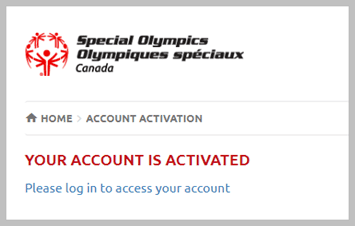 From Home page click on Login, Enter Email and password to login.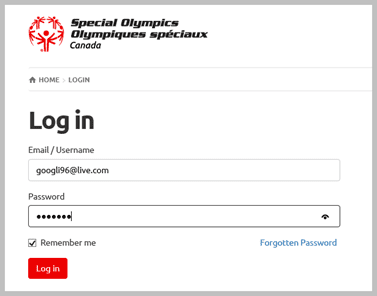 After Login your landing page is My Roles Window. You have submitted your registration but you will not see your roles in Volunteer Roles window till your registration is approved by Community and SO office.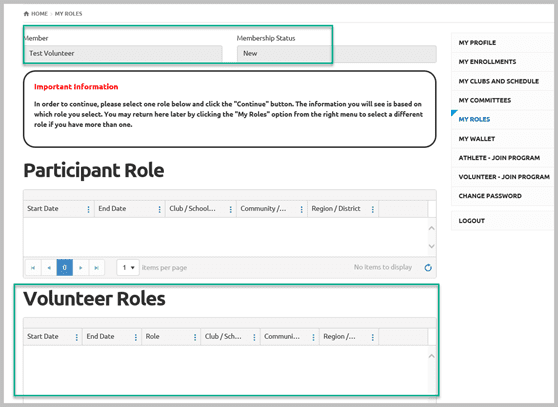 Once your registration is complete you will see your roles like Head Coach,  Assistant Coach or any other role if you will be joining afterwards in other sports.